Organisers of the People's Uprising Rally are calling on participants to join seven processions towards Stadium Merdeka before the Saturday rally officially gets underway.
According to the latest instructions by rally organisers, the seven rally points for the procession and the respective leaders of the processions are as follows:
Universiti Malaya mosque
Nurul Izzah Anwar (PKR)
Ng Suee Lim (DAP)
Adam Adli (Solidariti Mahasiswa Malaysia)
Brickfields
Maria Chin Abdullah (Bersih 2.0)
S Arutchelvan (PSM)
Zulkiflee Anwar Ulhaque @ Zunar (cartoonist)
M Kulasegaran (DAP)
KLCC
Husam Musa (PAS)
Teo Kok Seong (DAP)
Mazlan Aliman (Anak, PAS)
Jalan Sultan
Ishak Surin (Muafakat)
Tan Kok Wai (DAP)
Wong Tack (Himpunan Hijau)
Central Market
Dr Siti Mariah Mahmud (PAS)
Teresa Kok (DAP)
Elizabeth Wong (PKR)
Kelab Sultan Sulaiman, Kampung Baru
Badrul Hisham Shaharin @ Chegubard (Solidariti Anak Muda Malaysia)
Masjid Negara
Azmin Ali (PKR)
Muhajid Yusof Rawa (PAS)
Khalid Samad (PAS)
According to political activist Hishamuddin Rais, who is on the organising committee, the announcement of designated procession leaders was requested by the police.
He told Malaysiakini that the organisers will also be heeding a police request not to march from Dataran Merdeka.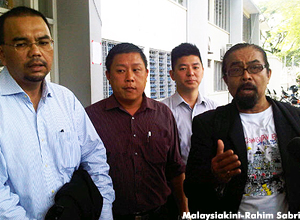 Hishamuddin ( far right ) also announced that organisers strongly discourage the use of private vehicles by rally participants and urged them to use public transport to reach the rally points.
He said those setting up stalls to cater for the participants are only allowed to operate at the Maharajalela monorail station, the vicinity of the Kuala Lumpur and Selangor Chinese Assembly Hall and the Hang Tuah LRT station.
Once the stadium reaches saturation point, late-comers are required to sit outside the stadium.
He also urged all participants to behave appropriately during the rally.
"This is a peaceful assembly. Please avoid all forms of provocation. Don't create chaos," he said.
Related stories
Cops about-turn: Use Bukit Jalil stadium instead
Police aim for 'zero casualties' at weekend rally
Cops relax rule, allow banners at Saturday rally
Police marshals to accompany media covering rally