Projects undertaken under the Sarawak Corridor of Renewable Energy (Score) will drive "significant" profits for Chief Minister Abdul Taib Mahmud-linked construction company Cahya Mata Sarawak.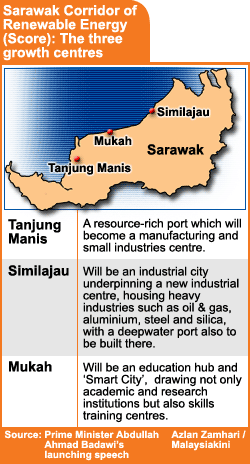 In a report today, TA Securities said that the company led by Abdul Taib's son-in-law Syed Ahmad Alwee Alsree and son Mahmud Abu Bekir, will see a boost from its investments in the Samalaju district near Bintulu starting 2015.
It said that earnings from the energy intensive industry and property developments in the Samalaju township would see profits from the group's Samalaju division grow beyond the 11 percent of profit before tax it currently contributes.
"If successfully implemented, it could be the earnings growth driver or even a game changer to the group," TA said.
The Taib family via Majaharta Sdn Bhd and directly, has about 42.7 percent equity interest in Cahya Mata.
Cahya Mata Sarawak has a 20 percent stake in OM Materials Sarawak Sdn Bhd for the manufacturing in ferrosilicon alloys.
"We expect a decent margin as OM Material had secured a 20 year electricity tariff deal for the plant in Samalaju," the research house said.
Go to KiniBiz for more .