Malaysia's stock market saw a huge swing with the benchmark FBM KLCI tumbling three percent before rebounding into positive territory after Prime Minister Najib Abdul Razak dissolved Parliament on Wednesday, to pave the way for the 13th general election.
The prime minister said that any change in power at the state and federal level should be peaceful in an apparent bid to assuage any fears of instability.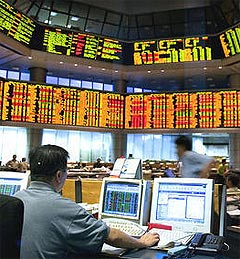 However analysts expected a fiercely contested election to ensue, which could further swing trading sentiment in the days ahead.
"There are some local funds buying to support but overall sentiment is not so great," said Edmund Tham, head of research at Mercury Securities.
Tham said that he expected a downward drift over the election campaign period.
Tham said retail investors would likely be more cautious, even though the Bursa Malaysia has underperformed so far this year, when compared to its regional peers.
The Benchmark FBM KLCI index which had hit an 11 week high on Tuesday, took a near 50 point dive in early trade on Wednesday, sliding nearly three percent to below 1,640 levels, before rebounding sharply to close flat, at 1,685 levels.
Some 1.35 billion shares changed hands and the market's total traded value stood close to RM3 billion as big cap stocks such as CIMB, Maybank and Tenaga , YTL and Genting were among the most active.
"Until the election outcome is known, we will likely see a volatile period but there would be underlying economic fundamentals to back," Yeah Kim Leng, chief economists of RAM Holdings said.
"Local funds and foreign buying would lend some liquidity."
Go to KiniBiz for more .