In a research report yesterday, TA Securities speculated that the opposition Pakatan Rakyat coming into power could spell the end of 1Malaysia Development Bhd (1MDB), and that its assets could be transferred to state-controlled investment arm Khazanah Nasional Bhd.
"Perhaps, the only difference between both sides of the divide is the fate of 1MDB," TA Securities said in its report.
The comparison between the two has been ongoing since 1MDB first came about in September 2009 - when it transferred from Terengganu Investment Authority (TIA) to federal control.
On paper, there is little differentiating the two - with broad guidelines governing both.
1MDB's website states that "1MDB is a strategic development company wholly owned by the government of Malaysia.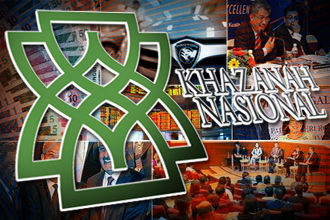 As a strategic enabler for new ideas and new sources of growth, 1MDB leads in market-driven initiatives to help transform Malaysia into a thriving economy".
Khazanah, on its website, says that its role is "to promote economic growth and make strategic investments on behalf of the government, which would contribute towards nation-building.
"Khazanah is also tasked to nurture the development of selected strategic industries in Malaysia with the aim of pursuing the nation's long-term economic interests."
'Basically rhetoric'
An analyst sums it up with the words, "It's all basically rhetoric".
But then again, there is a huge difference between the two.
Many of Khazanah's companies today were bought as distressed assets and bought from politically-connected individuals, as opposed to 1MDB's buying choice - mature assets at inflated prices.
Back in the day, Khazanah came under a lot of flak when it was perceived to have bailed out Halim Saad and his flagship Renong Bhd and United Engineers Malaysia Bhd (UEM), Malaysia Airlines (MAS) and Technology Resources Industries Bhd (TRI) from Tajudin Ramli.
Go to KiniBiz for more .