It is and it is not a numbers game. If manifestos are judged by the amount of promises made, then incumbent 13-party coalition Barisan Nasional (BN) has an upper hand at the 13th general election.
BN's manifesto has 17 broad thrusts compared to the three-party Pakatan Rakyat's only four broad thrusts. BN has ruled Malaysia for 55 years while Pakatan has ruled up to 4 states for five years.
On first impression, both manifestos seem like wide-ranging populist attempts to buy as many votes as possible. Both are easily dismissed as political ploys.
"I don't think there are a lot of governing details in both the manifestos. People shouldn't vote based on populist policies because these are short run fixes," Hafiz Noor Shams, a research fellow from the Institute for Democracy and Economic Affairs (Ideas) said.
Hafiz, like many others, are rightly wondering if both manifestos would burn a big hole in government pockets if put into practise.
But that's not all the manifestos offer, really. A closer read reveals that the two documents are written from very different governing principles, offering two almost contrasting ways of doing "Malaysian" business.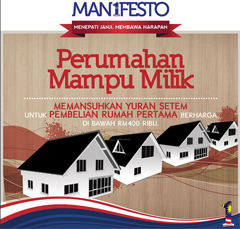 At stake is power over a federal budget of some RM230 billion a year, power to direct the country's RM488 billion of oil assets and Southeast Asia's third biggest economy.
Malaysia also boasts natural forests, a tourism hotspot, oil palm plantations, an educated population and the 25th most competitive economy in the world.
After 55 years in power, one could argue that BN is a victim of its own success. A burgeoning middle class vote which is more demanding, never satisfied. We are no more talking about bread and butter issues. We are talking bigger houses, bigger cars and better jobs.
On all three fronts, BN boldly promises more. It offers 3.3 million jobs, 20-30 percent lower car prices and 500,000 houses for the poor at 20 percent below market prices.
Not fair
Pakatan had one million jobs, abolishing a car excise tax which currently adds 75-115 percent to the price of a car in Malaysia, and 150,000 low and medium cost houses.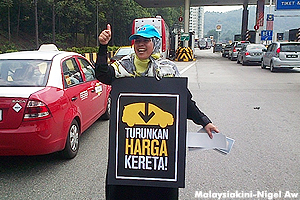 Arguably, it's not fair. BN's manifesto came out more than a month later than Pakatan. Surely, it had to have bigger headline numbers.
Both are giving away money. BN is going to double its cash handouts to the poor, almost RM7 billion by some estimates.
Pakatan is going to lower petrol, electricity, and water bills, offer free tertiary education and abolish highway tolls and handout money to the marginalised – from single mothers to indigenous Orang Asli and retired soldiers.
That's just the sweeteners... the interesting parts are the economic engines.
Caretaker Prime Minister Najib Abdul Razak wants to continue his Economic Tranformation Program (ETP), a plan to attract RM1.3 trillion investments to fast-track the country to developed status by 2020, a vision first mooted in 1991 by Malaysia's longest serving prime minister Mahathir Mohammad.
Big infrastructure construction jobs, oil, gas and petrochemical investments and world class education are part of the deal.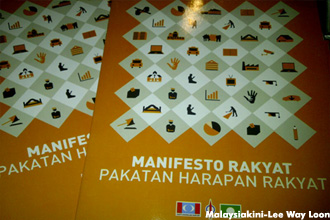 Najib is throwing around billion dollar figures as if it is spare change for Malaysia. Even after dissolution of Parliament, the caretaker prime minister announced that three Putrajaya projects which involved RM8 billion of funds.
Pakatan's manifesto does not spell out what it would do about Najib's ETP but in their campaigns, Pakatan leaders have often cited that all contracts which handed out extraordinary profits in order to draw in the investments – highway contracts, oil service contracts, logging contracts and independent power purchase contracts – this would be reviewed... even if it involved politically-connected individuals.
Pakatan's stated aim is simply make the government accountable, transparent and cost-effective. To this end, Pakatan promises to be pro small and medium-sized enterprises or SMEs, an often overlooked sector.
Lopsided investments
SMEs contributes 32 per cent to Gross Domestic Products, 56.4 per cent to total work force and 19 per cent to total exports, according to Malaysia's International Trade and Industry Ministry (Miti).
Pakatan aims to raise research and development funding to 5 percent of GDP and support SME's innovative ideas.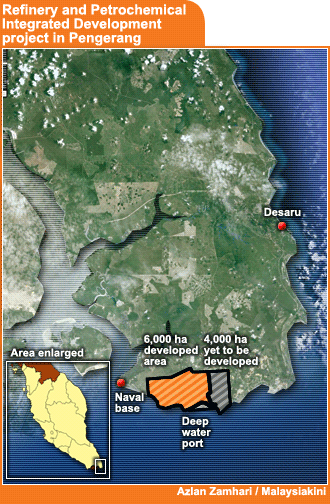 Big projects – even if they will bring in billions of dollars of investments – Lynas, 1MDB and Rapid, for example – may be simply scrapped, Pakatan said.
Pakatan said it wants equal development. To fight lopsided investments which have seen the west coast of peninsular Malaysia and Federal-controlled Kuala Lumpur develop much more rapidly than the east coast and Sabah and Sarawak, Pakatan promises to raise oil royalty for Sabah, Sarawak, Kelantan, Terengganu and Pahang to 20 percent from the current 5 percent.
Both manifestos touch on corruption and law enforcement, a big stumbling block to doing business in Malaysia.
In a recent Transparency International survey on bribery, Malaysia topped the list of 30 countries. Over 3000 executives were asked whether they had lost a contract in the past year from competitors paying bribes, and 50 percent of Malaysians said yes. It was ahead of India and Indonesia.
BN thinks that it is a result of understaffing. It said it would let the Malaysian Anti-Corruption Commission (MACC) choose its own staff and raise police personnel by 4,000 a year and add 50,000 police volunteer reserves and more courts to charge corruption cases.
Pakatan thinks it is a lack of independence. Pakatan said they would give the MACC power to prosecute and detach police from political control by bolstering the Crime Investigation Department (CID) and refocus attention on chasing big corruption cases.
And these are just a few key differences. Reading the manifesto has never been more important for anyone who truly cares about democracy in Malaysia and wishes to vote wisely. Neither answers all policy questions, nor can manifestos be expected to.
The 13th general elections is going to be an election unlike any in the history of Malaysia's elections. For the first time, comes a credible challenger to dislodge BN from power, even if most so-called experts give Pakatan the slimmest of chances.
This is the first time BN has to publish a manifesto to counter the opposition and they took more than a month to respond.
Why the delay?
Go to KiniBiz for more .