Selangor BN coordinator Mohd Zin Mohamed believes that Zulkifli Noordin is being fielded against incumbent Shah Alam MP Khalid Samad because he is a "most winnable" candidate.
Speaking to reporters after BN chairperson Najib Abdul Razak announced the list of BN candidates for Selangor, Mohd Zin said Zulkifli fits the coalition's transformation plans.
"We welcome (him)... We have to transform. This is what we call a political transformation that has been initiated by the (interim) prime minister.
"Shah Alam is an Umno seat. But today, we are ready to invite a BN-friendly person to be our candidate. So that itself is a transformation.
"The leadership is willing to do it. Otherwise, (we will be) forever on the same track. There will be no opportunity to explore."
While he was the Kulim-Bandar Baru MP, Zulkifli ( right ) had been sacked from PKR.
He went on to declare himself as a BN-friendly Independent, and has since been on trips abroad with Najib.
He is among the handful of BN 'direct members' - members of the coalition, rather than any component party - who is being fielded in the 13th general election.
'Breaking with tradition'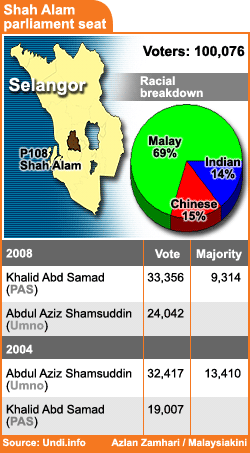 Mohd Zin said BN was breaking free from its traditional formula of choosing candidates from among Umno division chiefs and their deputies, division Wanita, as well as division Youth chiefs.
"If you look at the list, a lot of them are not division chiefs or deputy division chiefs. Faisal Sufia, for example, is a divisional assistant Youth wing secretary," said Mohd Zin.
"(In the past), we were trapped in the established (way of doing things)."
Zulkifli is a known firebrand and has accused Pakatan Rakyat of going against the basic tenets of Islam.
His opponent Khalid is one of PAS' most progressive leaders.
Zulkifli had insulted Hindus in a speech made in 2007, but has later apologised for this.
Surendran: BN's choice explains inaction
In an immediate response, PKR vice-president N Surendran stated the selection of the Perkasa vice-president showed that "despite the 1Malaysia rhetoric, BN continues to support racism and religious bigotry".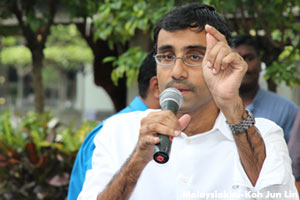 In a statement, Surendran ( right ) said it has now become "clear" as to why Zulkifli was never prosecuted for his "criminal" remarks against the Hindu and Indian communities.
"Despite public outrage, the police and attorney-general have taken no action against Zulkifli, although his remarks constitute offences under Section 298A of the Penal Code.
"It has now become clear why Zulkifli Noordin was protected by the BN government and the authorities under them."
He said this also showed serious contradictions and conflict within the BN coalition.
Related stories
Ibrahim Ali: Why Zul Noordin but not me?
Perkasa veep Zulkifli Noordin takes on Khalid Samad