Rapp, a communications company owned by Foetus International, has come under fire for creating a series of incisive political advertisements for the BN.
The ads have irked netizens enough to make them initiate a petition after it ran extensively in mainstream newspaper The Star and other newspapers since last Sunday, and had been circulated widely on Facebook .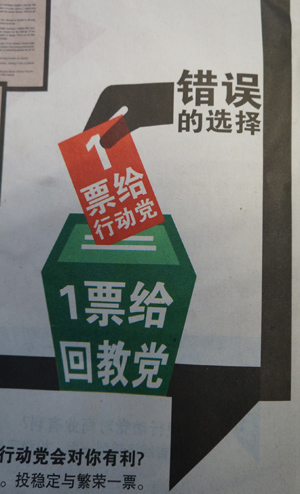 Quoting unidentified sources, trade magazine Campaign Asia-Pacific reported that Kuala Lumpur-based Rapp was said to be the agency which created the ads, insinuating that a vote for DAP in the 13th general election would be the same as endorsing PAS.
This drew much flak from the Malaysian online community with 648 so far signing an online petition calling for advertisers to stop using racial and religious tactics against Malaysians.
The petition also urged Naga DDB, the parent of Rapp to stop the ad campaign.
However, Naga DDB chief operating officer (COO) David Mitchell told KiniBiz that Rapp was a separate company from Naga DDB, related only by their common parent, Foetus International.
Lim Wai Yee, Rapp's COO did not respond to queries at publication time.
Go to KiniBiz for more .