DAY 15 LAST DAY Quotable quotes, planned events and unplanned incidents as they take place in the run-up to GE13.
PHOTO GALLERY 1 l PHOTO GALLERY 2
---
12 midnight: The 15-day campaign has come to an end. There is an eight-hour cooling-off period before polling stations open at 8am tomorrow.
Voters are urged to vote early as showers and thunderstorms are expected in many parts of the country in the afternoon. Polling will end at 5pm tomorrow and the counting of votes will begin soon after. Results will start coming in at around 8pm.
Malaysiakini will be reporting LIVE all day tomorrow.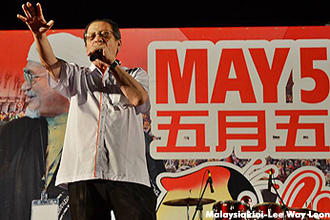 11.50pm - Gelang Patah: In his final speech before polling day, DAP supremo and Gelang Patah candidate Lim Kit Siang praises Malaysians for creating history in the 15-day campaign.
"There were thousands of people who attended our ceramah in Gelang Patah and elsewhere in Johor.
"Thousands of people want change. Ubah! Wu Yue Wu, Huan Zheng Fu ! (Change, May 5th, change the government)"
The veteran politician also urges party supporters to stay calm no matter what the election outcome tomorrow.
11.50pm - Kuala Lumpur: PAS says a letter dated May 2, purportedly signed by party secretary-general Mustafa Ali urging party members to vote only for PAS candidates and that the Islamic party is quitting Pakatan Rakyat is fake. According to Nanyang , Mustafa has lodged a police report over the matter.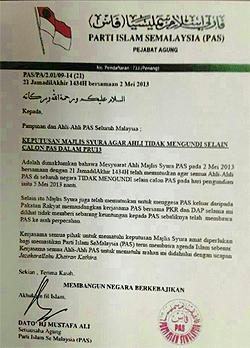 PAS vice-president Husam Musa, who is contesting for the Putrajaya parliamentary seat, in a text message to
Malaysiakini
has also denied the rumours.
Party spiritual advisor and Kelantan Menteri Besar Nik Abdul Aziz Nik Mat, in a
Facebook posting
several minutes before midnight, has asked voters to vote for Pakatan and lamented that Umno-BN is selling citizenship to foreigners in the bid to hold on to power.
"Oh ye Umno voters, realise from your slumber sleep of 55 years and think about the country's future and that of your race if you let this to continue all for the purpose of vote," he said in the posting.
Rumours are abound over the possibility of several newspapers printing the false news tomorrow to confuse PAS supporters on polling day.
11.45pm - Kuala Lumpur: The police urge supporters of all political parties not to hold any gathering or procession tomorrow evening.
"I emphasise here that any procession to be held tomorrow to celebrate the election victory or protest the result of the polls will be totally prohibited, and police will not hesitate to arrest those who try to jeopardise public order," deputy inspector-general of police Khalid Abu Bakar told Bernama .
11.45pm - Ipoh: Perak Pakatan Menteri Besar candidate Mohd Nizar Jamaluddin appears in front of the 50,000-strong crowd at Jalan Laxamana, leading everyone to chant "May 5, change the government" in Chinese.
The emcee announces that the donation collected for the night exceeds RM100,000 and still counting.
11.40pm - Kulai, Johor: Some 50 Pakatan supporters gather in front of the main gate of Kulaijaya government office building after hearing news that a bus fetching 'phantom voters' has entered the compound.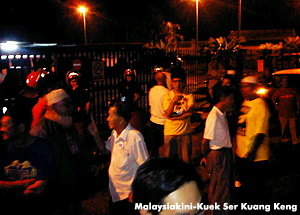 According to Chin Yee Leong, one of the supporters, there were apparently three buses which arrived at around 10.15pm but all have left except one.
However, Kulaijaya district police chief superintendent Zulkefly Yahya told Malaysiakini that there was only one bus ferrying some 50 Rela members.
After hearing his explanation, PKR's Buloh Batu candidate Jimmy Puah asks his supporters to disperse.
11.30pm - Penang: Close to 100,000 people attended rallies held in three separate locations - IJM Promenade (30,000) on the island, Bukit Mertajam (50,000) and Seberang Jaya (20,000) in the mainland.
Despite the limited space at the IJM Promenade and Seberang Jaya Expo site, the crowd filled the two areas to the brim, and many supporters found it difficult to make their way to the rallies.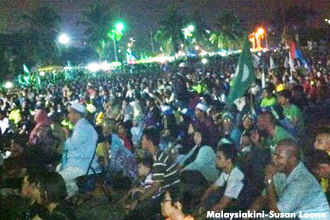 Both top leaders of Penang Pakatan - PKR
de facto l
eader Anwar Ibrahim and DAP secretary-general Lim Guan Eng make appearances at the rallies.
Anwar however did not attend the rally in Penang island as he was in Perak and Selangor before arriving late in Seberang Jaya for the grand finale.
Seberang Jaya is nestled within the Permatang Pauh constituency, where Anwar has been MP since 1982.
Despite BN Permatang Pauh candidate Mazlan Ismail - who dubs himself as the "cleanest candidate" - claiming that he would trounce Anwar at this election, support for the former deputy prime minister remains solid.
Anwar urges everyone to come out to vote, assuring both his supporters and opponents that there shall be a smooth transition of power if Pakatan seizes Putrajaya tomorrow.
11.15pm - Seremban: Forty-five minutes before the official end of the campaign period, about 10,000 people flooded the Taman Seremban Jaya for DAP's final rally.
The crowd, many of whom are carrying umbrellas as there is a slight drizzle, sing 'Ubah' and a number of Chinese songs together with the DAP candidates on stage.
11pm - Petaling Jaya: Stadium Kelana Jaya is packed with Pakatan Rakyat supporters for the final rally before polling day tomorrow, where candidates from four nearby constituencies address the crowd ( topmost photo ).
The constituencies are Kelana Jaya, Subang, Petaling Jaya Utara and Petaling Jaya Selatan.
The organiser announces that the crowd size at the stadium is more than 50,000.
10.30pm - Ipoh: DAP Ipoh Barat candidate M Kulasegaran takes the stage and urges all the Perakian to cast their vote as early as possible tomorrow.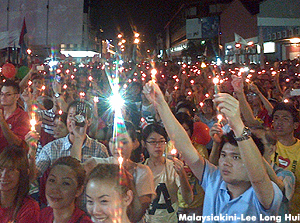 He claims that BN is trying to bring phantom voters from Bangladesh and Pakistan to vote for BN.
"To offset the phantom voters, we need to achieve a great turnout. If we have a turnout of 90 percent, then we can win easily," he tells the 50,000-strong crowd in downtown Ipoh.
10.30pm - Johor Bahru: The crowd at the Pakatan Rakyat ceramah in Kampung Melayu Majidee increased slightly to 300 when DAP leader Lim Kit Siang arrives.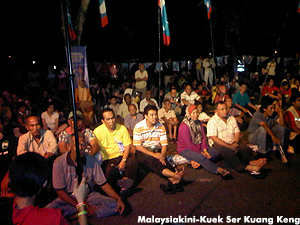 Held outside a residential house, part of the crowd sit on the tarred road as they listen to the speeches.
Citing the Merdeka Centre survey, Kit Siang says Pakatan has good chance in winning the general election tomorrow.
One of the first things Pakatan will do after capturing federal power is to enhance the security of Johor Bahru city, which he describes as "crime capital".
After Kit Siang, PKR's Johor Bahru candidate Hashim Hussein takes the stage.
10.30pm - Putrajaya: PAS Putrajaya and PKR have denied that a youth group dressed up as Pakatan supporters and causing mischief in Putrajaya tonight were their members.

"We have received reports from our representatives from the area who can attest that these individuals are not associated with Pakatan or the individual parties in the coalition.
"We suspect this is an attempt to provide a false image of Pakatan and its coalition members.
"Further, eyewitnesses have confirmed that this group was escorted up to Presint 10 by the police before they started their actions," a statement by both PAS and PKR said.
10.15pm - Ipoh: A pro-Pakatan youth wearing a Bersih T-shirt was injured in Perak following an attack earlier today by a rival group ( right ).
The incident allegedly happened at the junction of Kolej Hillciti, near the Pengkalan Emas Mall, Jalan Pasir Putih, Ipoh.
A video of the incident has been posted on Facebook where it shows the youth being seriously injured in the face following the attack.
According to the clip, pro-Pakatan supporters were holding placards by the roadside before another group arrived and attacked them.
10.13pm - Segamat: Almost 20,000 people have once again converge on a field in Segamat town at Pakatan Rakyat's finale rally with more still trickling in.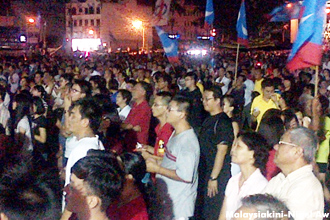 In contrast to last week's rally which attracted similar numbers due to PKR supremo Anwar Ibrahim's presence, the crowd this time are made up of mostly youths.
The atmosphere is electric as the young and energetic crowd chant "Ubah" as it reverberates across the field.
There are no big guns coming to town tonight. Top speakers in this final ceramah include the parliamentary candidates for Segamat and Sekijang - Chua Jui Meng and Julailey Jemadi - as well as their respective state seat candidates.
Several vehicles with Singapore number plates are spotted in the vicinity of the rally.
"I see many young people have returned. When young people return, Umno, MCA and MIC will be destroyed.
"I have entered many Felda areas and they are all black areas, but today when I see so many young people here, I know Segamat is safe for us!" declared Chua.
10pm - Sibu: The last ceramah held by DAP at Jalan Kampung Datu attracts a 25,000-strong crowd - a new record for this city in Sarawak.
The street is turned into carnival with firecrackers mixed with cheers and laughter.
DAP's 'Superman' Hew Kuan Yau, who dons his signature T-shirt adorned with the superhero logo, tells the crowd that should Pakatan take power tomorrow, it will turn the Sarawak chief minister's official residence into a museum to showcase corruption.
Hew, who is on hunger strike over the past 15 days as part of the campaign to topple the BN government, urges voters in Sarawak to back Pakatan in order to promote a two-party system.
9.45pm - Johor Bahru: With less than 12 hours before polling stations open, only about 200 people, mostly Malay, attend the last ceramah by PKR at Kampung Melayu Majidee, Johor Bahru.
It appears Malay voters' response to Pakatan is still lukewarm despite an aggressive campaign in the past two weeks.
PKR's Johor Bahru candidate Hashim Hussein and DAP's Gelang Patah candidate Lim Kit Siang are slated to address the crowd later.
9:45pm - Lembah Pantai: Some 1,500 people gathered at the Kerinchi low-cost housing project's field to hear BN candidate Raja Nong Chik Raja Zainal Abidin's final speech before polling day tomorrow. Also present is former Kedah menteri besar Sanusi Junid.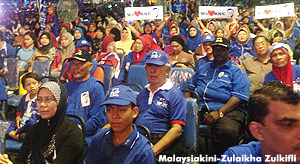 Sanusi expresses his confidence that BN will win Lembah Pantai.
Raja Nong Chik speaks about his report card consisting of 630 projects that he had done over the past four years in the constituency.
"I am called the Lembah Pantai minister. But is it wrong that I focus on Lembah Pantai? You should be thankful that I focus on Lembah Pantai," he said to loud cheers of "RNC" from the crowd.
He promises that the Mass Rapid Transit system will be built in the constituency and urged the people to vote for BN.
9pm - Gelang Patah: About 5,000 people gather Seri Omega High School field in Skudai, Johor, anticipating Pakatan grand finale ceramah before the official end of campaigning period at 12 midnight.
The crowd is slowly streaming in after parking their cars along the main road outside the school.
DAP supremo and candidate for Gelang Patah Lim Kit Siang is scheduled to speak here later.
8.50pm - Kapayan, Sabah: DAP Sepanggar candidate Jeffrey Kumin reminds the crowd not to go boozing tonight as they will have to vote early tomorrow morning.
"Don't go out drinking, no aramaiti, unless of course you only drink teh-o," he said.
The crowd has grown to about 1,000 people at this final ceramah.
8:46pm - Kuala Lumpur: A survey conducted by pollster Zentrum Future Studies Malaysia shows Pakatan Rakyat leading in 10 states against BN's four in popular votes.
According to Zentrum, Pakatan is ahead in Penang (66 percent), the Federal Territory (57 percent), Kelantan (56 percent), Selangor (54 percent), Terengganu (53 percent) Negri Sembilan (51 percent), Perak (52 percent), Johor (52 percent), Kedah (51 per cent) and Perlis (51 per cent).
BN leads in Sarawak (58 percent), Malacca (56 percent), Pahang (53 percent) and Sabah (52 percent).
In its Facebook page yesterday, the pollster claimed that Pakatan is leading BN by 52 percent against 48 percent nationwide. However, popular votes do not directly translate into seats due to widespread gerrymandering.
Yesterday Merdeka Centre's latest poll said Pakatan may win 89 parliamentary seats compared to 81 by BN, while 46 seats are too close to call.
Meanwhile, University Malaya Centre for Democracy and Elections (Umcedel) in another survey indicates that 43 percent of 1,407 respondents
back
opposition leader Anwar Ibrahim as prime minister while 39 percent support Najib.
8.30pm - Lembah Pantai – PKR de facto leader Anwar Ibrahim makes a brief visit to Lembah Pantai to give his daughter Nurul Izzah one last push in her bid to defend Lembah Pantai.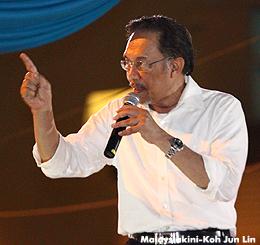 Addressing a boisterous crowd of about 12,000 people, he said he came to Lembah Pantai because he has heard that dubious voters will be voting here by post, or being flown in by plane.
In addition, he claims that the BN chief has named Nurul Izzah as one of three Pakatan Rakyat's young leaders that must be defeated "at all cost".
"Since we know there will be fraud, we must remain vigilant.
"Everyone must go vote early and after that, keep watch at the polling stations. Stand guard, Chinese, Indians, and Malays, stand guard, please.
"This is our battle.
"This is going to be our victory, and no one has the right to steal it from us," he said, before rushing to catch a flight to two speaking engagements in mainland Penang tonight.
Just two hours ago, the Anwar was speaking in Tambun, Perak, where he arrived from earlier speech on Penang island.
Nurul Izzah, the incumbent MP, faces a neck-and-neck race against caretaker Federal Territories Minister Raja Nong Chik Zainal Abidin in this mixed constituency.
8.20pm - Kuala Lumpur: BN chief Najib Abdul Razak announces that Mukhriz Mahathir, the caretaker deputy minister of international trade and industry, will be appointed Kedah menteri besar if BN wins the state in tomorrow's polls.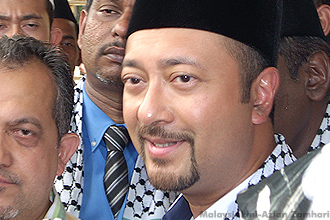 Mukhriz is contesting for the Ayer Hitam state seat with Abd Ghani Ahmad from PAS as his opponent.
The seat is under Jerlun constituency, where Mahathir Mohamad's son is the incumbent.
8pm - Kapayan, Sabah: The audience of about 250 cheers when local PKR leader Chong Eng Leong, who has spent 10 years researching the alleged Project IC, blames the fast tracking of citizenship for the Lahad Datu incursion.
He speaks in both Chinese and Bahasa Malaysia to address the multiracial crowd slowly trickling into DAP's finale event for the Kota Kinabalu region.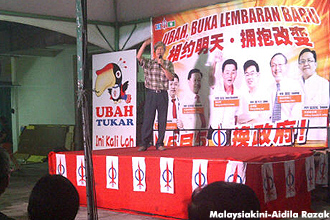 The DAP chose to hold its finale in Kapayan as a last ditch effort to shore up support for its candidate Edwin Bosi in this mixed seat. Their stage is set up in front of SAPP's office.
"Bernard Dompok who is contesting here in Penampang says we can chop his neck off if the IC issues is not resolved.
"(But) there's no need for chopping off necks as he will lose tomorrow anyway, am I right?" he asks, to cheers.
6.45pm - Tambun, Perak: PKR de facto leader Anwar Ibrahim arrives in Tanjung Rambutan, Tambun, by helicopter to address a 2,000-strong crowd.
PKR Women's Youth wing chief Siti Aishah Shaik is contesting the Tambun parliamentary seat, while A Tinagaran is contesting the Hulu Kinta state seat.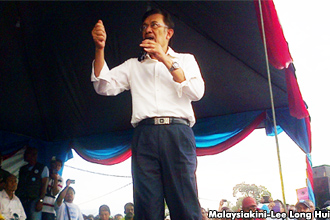 Anwar says he has purposely come by helicopter to deliver victory to Pakatan Rakyat.
"Pakatan can almost get a win, so I am supposed to be at Permatang Pauh today.
"But I asked, whether can I come here, because I want to push a little bit, so that we can (definitely) win.
"I will go to Lembah Pantai by helicopter, I want to push a little bit there, so that (BN Lembah Pantai candidate) Raja Nong Chik will fall," he says, drawing a loud cheer from the crowd.
Siti Aishah is challenge the incumbent second finance minister Ahmad Husni Hanadzlah, who is seeking his as fifth term as Tambun MP.
After delivering the 45-minutes speech Anwar leaves for Lembah Pantai, KL.
7pm - Selangor: Flash mobs comprising PAS supporters are occupying almost every corner of the coastal road stretch from Kapar until Sekinchan in Selangor.
Their "honk to support" campaign seems to be receiving encouraging response from motorists.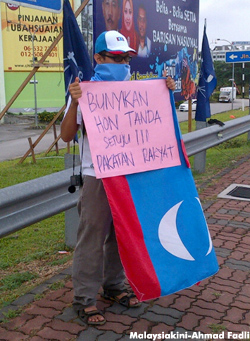 Traffic, however, is moving at snail's pace as the road is heavy with vehicles as many Malaysian are driving back to their hometowns to vote.
6.10pm - Terachi, Kuala Pilah: Several Pakatan supporters carry banners along Jalan Kuala Pilah - Seremban asking motorists to honk in support.
They are following PKR campaigners in Lembah Pantai, KL and Ampangan, Seramban who have been canvassing support by the roadsides with banners such as '#IniKalilah Ubah! Honk if you agree'.
5pm - Gelang Patah: Johor PAS has directed all campaign activities to be halted by 7pm tonight, five hours earlier than the official time.
Deputy state commissioner Dzulkefly Ahmad tells Malaysiakini that is it their normal practice as the party needs to prepare their polling and counting agents for tomorrow's polling day.
"We need to brief them especially on the issues of phantom voters and foreigners. We need to equip them with the necessary information."
He reveals that the party is also closely monitoring the situation at Senai airport after rumours are rife that foreigners will be flown in to vote.
Meanwhile, DAP will proceed with its grand finale in Skudai, which is expected to draw in tens of thousands of participants, as many outstation voters have returned today to vote.
Similar rallies will also be held in Kulai and Kluang, another two major DAP battlefields.
Lim Kit Siang is slated to speak in Kulai, Kampung Melayu Majidee and Skudai.
PKR has decided to hold its last ceramah in Kampung Melayu Majidee, an Umno vote bank in Johor Bahru city.
It is also where PKR's Johor Bahru candidate Hashim Hussein was born.
In a related development, a Kuala Lumpur resident this afternoon complains to Malaysiakini that he has never registered to vote before, but has found his name registered as a voter in Kluang.
5pm - Kota Kinabalu: DAP Likas candidate Junz Wong is growing more optimistic over his chances following a walkabout in the constituency in the capital city.
"See, Muslim supporters took photos with me during my walkabout this morning.
"My chances are not so bad," he tells Malaysiakini while showing a photograph with him and two young Muslim women.
Wong, who is going against BN's Yee Moh Chai and SAPP's Yong Teck Lee, has been the target of a smear campaign trying to paint him as a womaniser.
2pm - Gelang Patah: With less than 24 hours to polling day, DAP supremo Lim Kit Siang reiterates that Pakatan stands the chance to win at least nine parliamentary seats in Johor and take federal power.
"The chance is there. This is something we cannot miss it. This is the first time we have such possibility," he says.
However, he refuses to speculate how many parliamentary seats Pakatan can win tomorrow.
Instead, he cites the survey result of Merdeka Centre, saying Pakatan can win in 89 seats while BN will win an estimated 81 parliamentary seats while 46 seats remain marginal.
"I am very confident that we can do better than 2008," says Kit Siang, who is contesting the Gelang Patah parliamentary seat in Johor.
He also urges fellow Malaysians to keep calm and practice restraint so that there won't be any untoward incidents.
2.45pm - Lembah Pantai: There is continuous honking at the busy road outside Dataran Maybank when Lembah Pantai PKR candidate Nurul Izzah Anwar shows up with about 50 campaigners bearing placards that read 'Honk if you support (Pakatan Rakyat)'.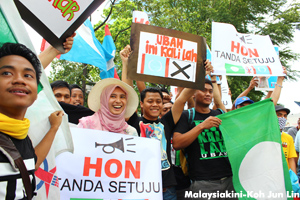 Many motorists responded to their 45-minute show with a thumbs-up, hand wave, or fist pump, but there are also the occasional middle-finger salute or those who wave their BN caps in the air.
Speaking to the media, Nurul Izzah slams BN deputy Muhyiddin Yassin and deputy inspector general of police Khalid Abu Bakar for their recent statements linking small colourful flags that have been placed in various locations nationwide to a plot to cause chaos after the polls.
She says the initiative, dubbed 'Malaysian Spring', is in fact the brainchild of landscape architect Ng Seksan, who had started the flag display with a resident group in Lucky Gardens to express hope for a better Malaysia, that has since been replicated nationwide.
"We hope Malaysians would be far more discerning. Enough of ridiculous politicians. Enough of politicising such a hopeful initiative.
"We want change. We want a free, fair, and clean elections," she says, adding that Ng will be lodging a police report on the allegations of chaos.
1pm - Gelang Patah: DAP's 'bald' protest continues as 55 DAP leaders, members and supporters shave their heads to show solidarity with yesterday's Penang protest against vote buying in Penang.
Johor DAP Wanita chief Ng Siam Luang leads the symbolic protest at a Taoist temple in Skudai. Some women supporters are seen tearful before the ceremony.
11am - Kota Kinabalu: Police are still looking for leads on the explosives and detonators that have gone missing from a high security quarry store in Teluk Sepanggar several days ago.
Nine suspects have been brought in for questioning and will be detained until tomorrow.
It is unclear if the case has anything to do with the polls, but explosive devices have been found in several party operation centres in the peninsula in the past two weeks.
10.18am - Labis: With just a day to go, BN's Labis candidate Chua Tee Yong appeals to outstation voters coming back to cast their ballots not to be emotional.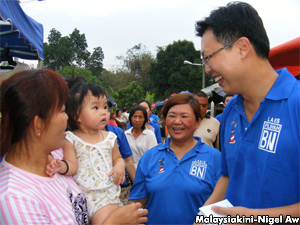 "If those coming back need to know what BN has done, they can go to my website or Facebook," he says, adding that these voters make up about 30 percent of Labis' population.
He adds that BN has also prepared some 100 vehicles to ferry voters on polling day tomorrow.
9.39am - Kota Kinabalu: A former Unduk Ngadau , a winner of the annual pageant held in conjunction with Kaamatan, is campaigning for Pakatan Rakyat for the Penampang parliamentary seat.
20-year-old Bo Tiza Arthur S Disimon, who was crowned the state-level Unduk Ngadau in 2011, is too young to vote but joined PKR on Apr 28.
Both her uncles Ignatius Dorell Leiking (PKR) and Bernard Dompok (BN) are contesting against each other in Penampang, where the former is an underdog.
8.30am - Bau, Sarawak: BN national vice-chairperson William Mawan warns civil servants and government-appointed community leaders who campaign against BN will be removed.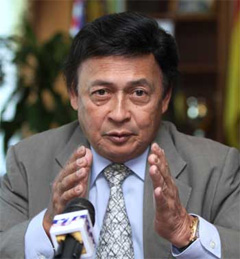 According to Borneo Post yesterday, Mawan ( right ) says this is fair as it is BN's government who is paying their salaries and allowances.
Calling it a "common understanding" and "nothing unusual", Mawan pointed out that village headmen have recently had their allowance nearly doubled from RM450 to RM800 while temenggong, pemanca and penghulu "should be receiving higher allowances and increments", but did not specify when.