LIVE REPORTS
11.40pm: Traffic congestion worsens and motorists continue to snake their way home. Some are even still trying to get to the stadium.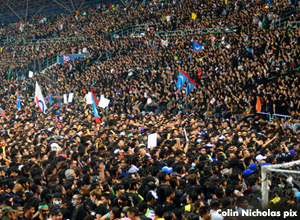 Malaysiakini reporter Aidila Razak was unable to make it to the stadium as she has been stuck in traffic for four hours.
Including those caught in traffic jams all around Petaling Jaya, the crowd is estimated at 120,000 - making it one of the biggest rallies in recent times.
11.27pm: Although the event is over, there are still people dressed in black walking towards the stadium from a couple of kilometres away.
Traffic is at an absolute standstill from least five kilometres away in various direction and many who were heading to the rally are still stuck.
This includes the Damansara-Puchong highway from the Federal Highway in one direction and Kelana Jaya LRT station in the other. Many have parked their cars on major roads leaving only one lane for traffic.
11.25pm: Met by reporters later, Anwar says he is impressed by the spontaneous turnout despite the rally only being called on Monday.
"I would not quit until we reach Putrajaya, until we expose all (fraud) and claim Putrajaya for the rakyat.
"They deserved it as we, Pakatan, won the popular vote," he says.
Anwar then announced that there is to be another rally on Saturday in Penang, while they are still considering holing one in Ipoh on Friday. [ VIDEO l 25.52 min]
11pm: Despite the drizzle, the crowd is still trickling into the stadium. Cars have been parked as far as 2km away and the party doesn't seem to end anytime soon for supporters.
Many cannot not make out their leaders' speeches but still chime in with chants of reformasi and ubah.
The rally then ends with the singing of 'Negaraku'.
10.45pm: Gelang Patah MP Lim Kit Siang takes to the stage, after having earlier arrived via the back of a motorcycle.
He begins by thanking all Malaysians, even those who did not support the Pakatan coalition, for their commitment towards making the country and people stronger and states that now is the time to "turn our resolve into the tasks that can move our country forward".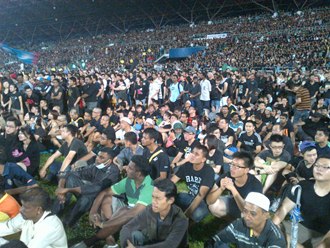 "Foremost is the need to properly account for all of the irregularities during an election that was not only the dirtiest election in our country's history, but also the most marred in its process.
"We support Bersih's people's tribunal as an essential step for justice and transparency. We call on all Malaysians to come forward to share their experiences and help us get to the truth," he says, and adds Pakatan also supports electoral petitions.
"In our initial assessment, we can point to multiple seats where serious irregularities occurred - Labis, Tapah, Segamat and Bentong, to name just a few. We believe that the irregularities are extensive and nation-wide and minimally affect up to 30 seats.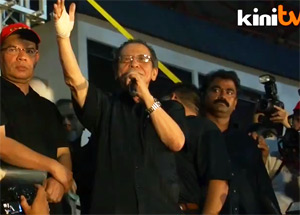 "As the irregularities impact more than 21 seats, the margin for which we would have won government, and involve at least two state governments - Perak and Terengganu.
"The DAP, working in collaboration with our partners in Pakatan Rakyat, will work to gather and present the evidence. If Malaysia had free and fair elections, we would be in Putrajaya and many other state capitals across the country. Malaysians know this, and the BN knows it."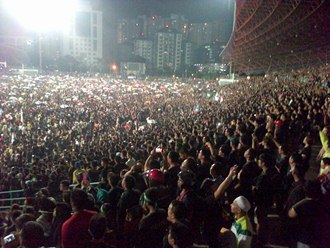 The DAP supremo says a victory that is earned through money, lies and manipulation is not a victory at all.
"The Malaysia I know is one that believes in fairness. The Malaysia that I know is one that believes in decency."
10.40pm: The way out of the stadium, heading towards Paradigm Mall is clogged as the car ferrying Abdul Khalid Ibrahim is forced to slow down as many people ask the latter to roll down his window so that they may take snapshots with him.
Khalid, meanwhile, smiles and graciously accomodates the requests of the crowd comprising of those leaving the stadium and those just heading in.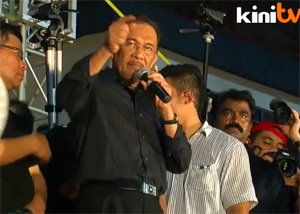 10.39pm: Pakatan Rakyat supremo Anwar Ibrahim declares that the people of Malaysia, be they Malay, Chinese, Indian, Kadazan or Dayak, want free and fair election.
He is taking a dig at Utusan Malaysia's inflammatory headline yesterday, " Apa lagi Cina mahu? ".
Anwar says every Malaysian, regardless of race, want to reclaim their rights and they want BN to fall.
The crowd, which has now swelled to 80,000 responds enthusiastically, raising their fists in a show support.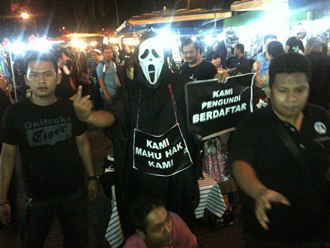 10.26pm:
With no traffic police guiding traffic, civilians have taken it upon themselves to help unclog the roads.
Almost all cars have their windows down and most are honking rhythms, in what appears to be the most jubilant traffic jam in the Klang Valley.
Along the LDP, people are still making their way to the stadium on foot.
Most of them wear black, to symbolise protest against what they allege as "electoral fraud".
Columns of cars and motorbikes, parked along the road and believed to belong to Pakatan supporters, have contributed to the traffic congestion.
10.19pm: Many are also walking to the stadium from Paradigm Mall, undeterred by the fact the rally was to have started two hours ago.
Those seen walking comprise of youth of various races.
10.15pm: Those still on the road start unwinding their windows to chat with each other. Among them are middle-aged Malay women and a group of young Chinese men.
"There was a bus which came all the way from Johor!" a man tells another.
"Well, I came from Kedah!" another man replies.
Then a young Malay man flies a PAS flag out a window and a car ferrying group of young women of different races honk wildly in support.
The traffic light has changed several times but there is no room to move.
10.05pm: Opposition Leader Anwar Ibrahim arrives. His arrival is greeted with wild cheers from the crowd, who also begin shouting, " Kami anak Malaysia ".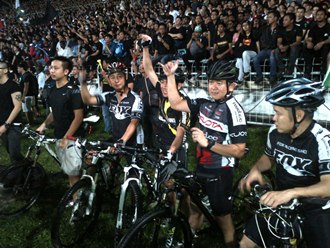 10pm: Four kilometres from the venue, passengers on a bus and several cars alight from their vehicles and begin making their way to the rally on foot. All are dressed in black.
Meanwhile, men in a pick-up truck waves a PKR flag, to honks of support.
DAP leader Lim Kit Siang is spotted riding pillion on a motorbike in the effort to beat the traffic jam so that he could get to the stadium on time for his speech.
PKR leader Anwar Ibrahim is also seen being ferried to the venue on a motorbike.
9.33pm: The traffic jam from Kelana Jaya goes as far as the NPE toll near Sunway. According to Google Map Traffic, the whole of Petaling Jaya is in a gridlock.
9.30pm: The audio system in the stadium is not fully functioning, making it difficult for the speakers to be heard from outside the stadium or even from certain areas inside.
Participants inside are also still having difficulty accessing active phone lines. Meanwhile, there's a substantial spillover crowd at the entrance and spaces have run out inside the stadium.
9.25pm: Motorcyclists passing by drivers dressed in black but stuck in the traffic crawl on the LDP, yell out "Ini Kalilah".
The roads around the stadium are clogged for several kilometres, with no sign of having eased over the past two hours.
Many people, adorning 'Ini Kalilah' T-shirst, are observed leaving their cars parked along the side of the highway and are legging it towards the stadium.
9.05pm: Stalls selling food and Pakatan memorabilia such as T-shirts, sashes and stickers, surround the stadium complex.
Meanwhile, people continue to stream into the stadium. All the seats have long been filled and so the crowd begin to sit on the field and running track.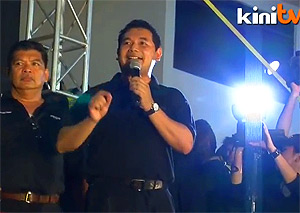 9pm: PKR director of strategy Rafizi Ramli warns Utusan Malaysia that if they still play the racial card, they will face the wrath of Malay people.
"I am Malay, but I support Pakatan Rakyat," he told the 50,000 crowd.
They are chanting "Najib, tipu", "Ubah" and blowing the noisy vuvuzelas.
Many of them have brought yellow flowers, symbolising Bersih, or clean and fair elections.
8.40pm : Many Pakatan Rakyat leaders tweeted that they are trapped in the traffic jam, including Tian Chua and Elizabeth Wong.
The drizzle has stopped and the participants of 'Suara Rakyat Suara Keramat' rally are packing up their umbrellas.
Newly-elected MP for Kelana Jaya Wong Chen takes the stage to address the excited crowd.
Telephone lines around the stadium are congested.
8.35pm: The rain has caused roads near the area to be jam-packed from the junction with the Federal Highway until Paradigm Mall.
Some of the participants have parked their cars at the side of the main road and are walking about 1km to the Kelana Jaya stadium.
Some of them are wearing black T-shirts and are walking while shouting "Hidup! Hidup! Hidup rakyat!"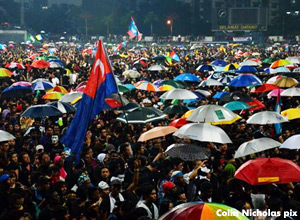 8.35pm: Massive traffic jams are reported in the vicinity of the stadium. Some participants have to walk more than 2km to get the venue.
"I am stuck in the biggest 'carpark' in the world. Haven't moved an inch for close to 15 minutes," reports Malaysiakini journalist Aidila Razak.
Those who have reached the stadium are finding it difficult to find a parking space.
8.15pm: Tens of thousands are already inside the stadium. The slight drizzle continues with the crowd unfurling their umbrellas or donning raincoats.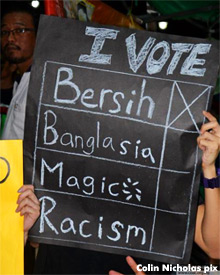 7.30pm: PKR de facto leader Anwar Ibrahim will today address his supporters for the first time since Sunday's elections, which he alleged were marred with fraudulent practices that ensured BN's win.
The rally in Kelana Jaya today is expected to draw a large crowd eager to listen to their leaders after an election that has left many Pakatan Rakyat supporters unhappy.
The crowd is slowly trickling in, with the stadium about a quarter full as a slight drizzle falls on the grounds of the Kelana Jaya stadium.
No police presence has been spotted yet despite speculations that there will be tight police control around the stadium, which housed 50,000 supporters during a pre-election rally.
Related stories
Putrajaya slams Anwar ahead of tonight's rally
IGP: No permit needed as long as gathering is peaceful