Prime Minister Najib Abdul Razak has stocked his cabinet with party stalwarts after the ruling coalition's biggest ethnic Chinese partner said that it wouldn't accept ministerial posts following its poor election showing.
Najib tapped Umno leaders for key positions before party polls later this year, and that will determine whether he stays on as prime minister.
He also gave posts to the heads of Malaysia's biggest bank, a corruption watchdog and a Hindu rights group.
Two of the new line-up are Chinese, as compared with more than a dozen in the previous cabinet.
"The cabinet reflects a prime minister concerned about retaining the premiership and the presidency of Umno," said Edmund Terence Gomez ( right ), a professor at Universiti Malaya in Kuala Lumpur.
"I don't see any move in the direction to talk about reconciliation, transformation and inclusivity in this cabinet."
Najib's coalition retained power in the May 5 election even after losing a majority of the popular vote for the first time since 1969, which the prime minister has since attributed to a loss of support from Chinese voters.
Besides an ethnic divide, his administration faces a weakening economy, with Malaysia's growth slowing to less than five percent for the first in seven quarters.
"The recovery in terms of exports is quite weak and will be determined by a growth rebound in developed markets," Singapore-based economist at United Overseas Bank Ltd Ho Woei Chen said yesterday before the release of economic data.
"But consumption, (and) investments will remain strong in Malaysia."
GDP misses
Gross domestic product (GDP) rose 4.1 percent in the three months through March from a year earlier, after a revised 6.5 percent gain in the previous quarter, the central bank said yesterday. That's lower than all 22 estimates in a Bloomberg News survey.
The monetary authority kept its full-year growth forecast at as much as six percent.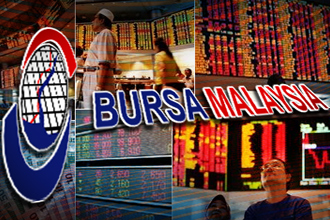 The ringgit slipped 0.4 percent before the GDP data was released. It has risen about 3.8 percent in the past 12 months, the fourth-best performer among the 11 most actively traded Asian currencies tracked by Bloomberg .
The benchmark FTSE Bursa Malaysia KLCI Index has gained more than 14 percent and closed 0.3 percent lower yesterday.
Najib's coalition won 133 seats, topping the 89 seats claimed by Anwar Ibrahim's three-party opposition, which captured 51 percent of the popular vote.
Anwar said that he'll challenge about 30 seats, enough to swing the result, and has since held several rallies in different states after the election.
Go to KiniBiz for more .