VIDEOS
Thousands defy police to attend rally l 2.57 min
Ambiga speaks out against crackdown l 2.34 min
Slow start but crowd grows fast l 1.11 min
Carnival atmosphere at Suara Rakyat 505 l 2.34 min
After eight successful Blackout 505 series of rallies nationwide, its ninth and final itineration - dubbed the 'People's Gathering' - will be held at 5pm in Petaling Jaya today.
The rally, in which NGO Solidariti Anak Muda Malaysia (SAMM) is among its main organisers, is to protest against alleged electoral fraud and misconduct in the recent general election.
Authorities have since investigated or charged those involved in organising the previous Blackout 505 rallies under the Peaceful Assembly Act (PAA), saying that insufficient notice have been given to the police.
Meanwhile, Home Minister Ahmad Zahid Hamidi ( right ) has said that today's rally is an " act of provocation " and does not follow provisions under the PAA.
Prior rallies have regularly drawn five-figure crowd numbers, of which the largest was held at the Kelana Jaya stadium several kilometres away from today's rally venue. Some 120,000 had attended that rally on May 8 - whether within the overcrowded stadium or beyond.
For today's rally, the venue Dataran Petaling Jaya has a maximum standing capacity of about 80,000.
If the previous rallies are of any indication, the crowd tonight is likely to spill onto the surrounding streets as well.
LIVE REPORTS
11.45pm - After seven hours, the Suara Rakyat 505 rally came to a close with everyone singing Negaraku.
Prior to that, emcee Badrul Hisham Shaharin says he needs 500,000 volunteers for an event he called "March to EC", hinting that there are far bigger rallies being planned.
11.20pm - In a show of humility, Anwar Ibrahim tells the crowd that he is sorry that Pakatan Rakyat was not able to form the federal government.
"So some of our plans can't be implemented because of that," he said.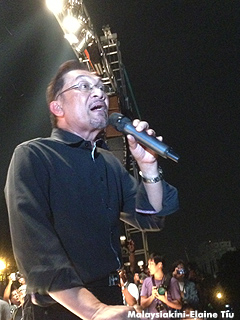 Regardless, Anwar ( left ) says that Pakatan will never give up and that it was BN who should be accepting defeat.
He says that the White House had congratulated Prime Minister Najib Abdul Razak with a condition: That the polls must be free and fair.
"That's why the EC must resign now! Now! Now!" he said.
He said that Monday is the last day for the public to lodge police reports on electoral fraud and urge them to do so, particularly over the fact that "indelible ink" was removable.
He added that there will be a few more Black 505 rallies left.
"Do we go on or stop here?" he asks, to which the crowd replied "Go on!".
He then promises that any mobilisation of the people will be done peacefully.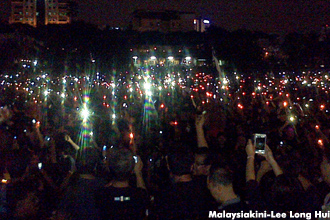 11.05pm - Emcee Badrul Hisham Shaharin has called for the Dataran PJ floodlamps to be switched off and for rally participants to whip out their phones and lighters to light up the venue.
The idea is to celebrate the release of Adam Adli, a student activist accused by the state of sedition. He is Penang now to visit his ailing mother.
"We will shine a path for democracy," he said, while estimating that the crowd size has now swelled to 70,000.
The crowd oblige and the wave their electronic devices. Looks like a swarm of fireflies.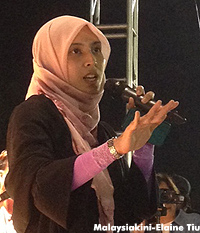 10.45pm - Lembah Pantai MP Nurul Izzah Anwar ( left ) says that the Election Commission must pay for their "crimes".
"You can never escape the clutches of the law," she said.
She said Pakatan had scored a moral victory on May 5 but the coalition and their supporters still have much to do.
"Tough times don't last. Tough people do," she said.
She adds that Pakatan will continue to mobilise the public to ensure that BN doesn't get its way when the electoral boundaries are re-drawn.
10.40pm - Haris Ibrahim urges the crowd to boycott media organisations that are lopsided or aligned to BN.
Following this, he announced that the Asalkan Bukan Umno group has prepared a video clip to show how BN had cheated during the general election.
"We want you to bring this video to the rural areas, to show how they were being cheated by BN," said Haris.
10.30pm - After sharing a cell in Jinjang, Tian Chua ( left ) and Haris Ibrahim share the stage together.
"Don't think that these arrests will scare the people. We will not be cowed.
"It is not us that are afraid. It is they, for they are holding to power without legitimacy," said Chua.
10.20pm - Bersih 2.0 co-chairperson Ambiga Sreenevasan says she was not scheduled to speak today but the recent arrest of Adam Adli, Tian Chua, Haris Ibrahim and Tamrin Ghaffar had moved her to do so.
He urges those with evidence of electoral fraud to approach Bersih's people's tribunal.
"If the EC has any dignity left, they must resign now. (The failure of the) indelible ink is reason enough," she said.
10.15pm - In a strange move, Kuala Kerai MP Dr Hatta Ramli and Sungai Petani MP Johari Abdul decided to speak at the same time.
But it was Hatta who stole the show with his wisecracks.
He said that BN was no so worried about a certain word and have asked the Multimedia and Communication Commission (MCMC) to investigate politicians who mention it.
"What is the word? The word is musim bunga . I dare not utter the word in English.
"What I got my car fixed, I couldn't tell the foreman to change my suspension. I had to say 'Please help me to change my musim bunga '," he quipped.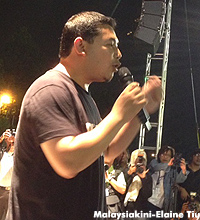 9.45pm - Pandan MP Rafizi Ramli ( left ) says there would not be enough jails for the government to incarcerate all those who voice out against electoral fraud.
Rafizi, who chairs Pakatan's committee to probe electoral fraud, says that people have lost confidence in the EC because the have broken their vows.
"If the rakyat says there is fraud, isn't it their duty to investigate?" asks Rafizi.
He says that Pakatan will be filing about 29 election petitions and strongly hinted that Bersih 4.0 might involve occupying Dataran Merdeka.
9.30pm - The Dataran PJ field has now reached saturation point. Emcee Badrul Hisham Shaharin ( right ) announces that there are 50,000 people in attendance.
9.25pm - Blues singer Ito, from the Blues Gang fame, belts out "Ubah Sekarang" to which the crowd responds by waving their hands in unison.
9.20pm - Kuantan MP Fuziah Salleh ( left in photo ) is speaking now and she said that the Election Commission chairperson Abdul Aziz Yusoff is living off public funds.
She says that his wages will not be "halal" if the EC continues to disregard public opinion.
9.10pm: Badrul Hisham Shaharin, aka Chegubard, takes over as the emcee and introduces DAP's Ronnie Liu onto the stage.
"We need to reform the electoral system. If not, we won't make it to Putrajaya.
"I believe it is time we launch Bersih 4.0!" he said, to the crowd's approval.
9pm : As the rally continues, the crowd size had doubled to approximately 20,000.
8.15pm - The sky is threatening to open up on the crowd and is serving up a slight drizzle. Many people are sporting umbrellas.
7.30pm - Crowd size has grown to 10,000, which is much smaller than anticipated by the organisers.
7.15pm - Solidariti Anak Muda Malaysia (SAMM) chief Badrul Hisham Shaharin, better known as Chegubard, takes the stage and urge participants to call on their friends to join the rally.
"Tonight, we will be joined by the reformasi 'tank' - Tian Chua! Then there's another person, whom before we had a chance to invite him told us that he will join us - Haris Ibrahim!" announced Badrul Hisham.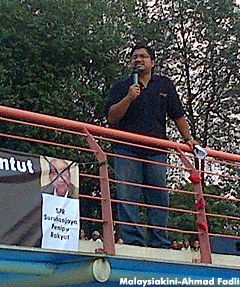 Chua, Haris and Tamrin Abdul Ghaffar are being investigated for making seditious speeches during a forum on May 13. Another speaker at the forum, Adam Adli, has already been charged for sedition. All four are expected to speak tonight.
Badrul Hisham ( left ), who is believed to be wanted by the police for making "seditious speeches" alongside the abovementioned group, also announced that PKR strategist Rafizi Ramli will be presenting a slideshow later to show examples of electoral fraud.
Meanwhile, Badrul Hisham said the main objective of the rally is to campaign for reform in the electoral system.
After Badrul Shaharin spoke, there is a short break for mahgrib prayers.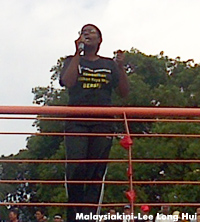 6.45pm - Student activist KS Bawani ( right ), of the "Listen, listen, listen" fame, urges participants to "incite" their friends and relatives to join the rally.
"We had said before the general election that if the EC cheats, we will go down the street, this is the right of the people.
"We don't want to talk anymore. We've had enough. The people are not stupid, we don't want to wait for another five years.
"We don't have much time, we need to incite more people. Please tell your uncles and aunties to come to Amcorp Mall," she says.
6.40pm - Rally goers are instructed not to smoke because they are making things uncomfortable for others.
6.30pm - Penang deputy chief minister Rashid Hasnor ( left ) takes the stage, claiming that Pakatan had won the general election as the opposition pact had won 51 percent of the popular vote.
"Although we had lost, but in reality, we won," he says.
He asks the crowd to continue to support Pakatan Rakyat in the 14th general election as one vote to Pakatan is one vote for the PKR de facto leader Anwar Ibrahim to become the Prime Minister.
6.10pm: PKR's Azmin Ali is among the first few major Pakatan Rakyat leaders spotted at the event. He says he needed to drop by early because he had other commitments in Batu Caves tonight.
The crowd is also streaming in from the Taman Jaya LRT station. Hawkers are making brisk sales of bandanas.
5.55pm: It's now sing-along time with the Malaysian Youth and Democracy movement, who belts a song called ' Suara Rakyat ' and 'Do you hear the people sing?', which is a song from the hit musical Les Miserables.
5.45pm: A representative from Royalti - a group that's trying pressure the federal government to make oil royalty payments to Kelantan - urges the group to stand up to mark the death of democracy.
He said that the Election Commission (EC) should be made responsible to the Parliament and not the prime minister's department.
"
We, the young Malaysian, want the general election to be held again," he said.
5.40pm: Hoslan Hussin ( left in photo ), a former imam at a mosque in Kampung Pandan who went to jail for throwing his shoe at a judge, tells the crowd that his wife gave birth to their 11th child while he was in jail.
"Don't be afriad to have a lot of children... In numbers, our children will overthrow the wretched," he said, to the crowd's cheers of approval.
5.30pm: Police presence around the venue is minimal, with only a handful of traffic police officers directing traffic.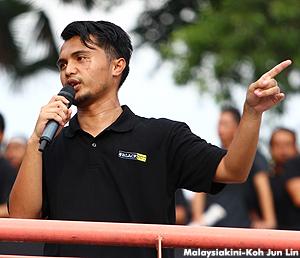 5.27pm: Student activist Safwan Anang ( left ) is the first speaker at the event.
"Some people just don't understand, they say if the people are not satisfy with the election results, they can get out of Malaysia. That's a stupid statement, isn't it?" he asks, drawing a loud "yes" from the crowd.
Safwan is referring to the statement by Home Minister Ahmad Zahid Hamidi, who wrote an article in Utusan Malaysia asking those who are not happy with the electoral system in Malaysia to emigrate elsewhere.
5.24pm: The crowd stands still to pay respect to the national anthem, Negaraku , as it is being sung, including those who are seeking to cross the main road to get to Dataran PJ.
5.15pm : The MC kick starts the event, proclaiming three main reasons for holding the rally today:
to call for the resignation of the Election Commission (EC) leaders
to demand re-election in constituencies where fraud has taken place
to support Bersih's tribunal to probe allegations of vote rigging
The national anthem is expected to be sung shortly. The crowd is growing fast and there are now around 5,000 people in the field.
5pm : A middle-aged Chinese, who only wants to known as Low, is at the rally with his wife, both in black.
The couple say they are from Kuala Lumpur and arrived here as early as 2pm to avoid the traffic jam.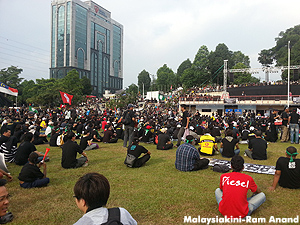 Low is unhappy with the alleged vote rigging at the recent 13th general election.
"Although we can do nothing now, we can at least show them our opposition (to the electoral fraud)," he tells Malaysiakini .
4.50pm: As the clock approaches 5pm , the time for the event to officially kick start, the people start gathering on the field.
The weather is getting cooler with the sun disappearing behind the clouds. There are about 300 people on the field with most of them wearing black. It is expected that the bulk of the crowd would appear later this evening.
The stage starts to play some music after the public announcement system is ready, which took hours to install.
4.45pm: The crowd has grown to about 500, and the atmosphere is proportionately more festive.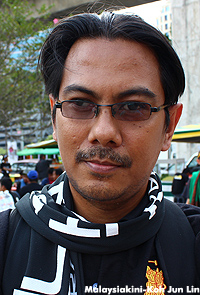 One of them, Yusri Mohd Yusof ( right ), says the rally is a means to express anger at the Election Commission (EC) over the alleged electoral fraud.
The 41-year-old lecturer, who was also at the earlier rally at Kelana Jaya, added that this is expected to be the grandest of the Blackout 505 rallies, and he hopes to meet with his friends from states as faraway as Kelantan, Penang and Kedah.
When pointed out that Home Minister Ahmad Zahid Hamidi had said that the rally does not meet the PAA's requirements, he retorted, "But we do, this is a peaceful rally.
"We are not causing chaos or holding a street demonstration. We are just gathering here in peace.
"It's just that, which party is this minister from? Whose side is he on? Of course, he doesn't agree with us," he said.
4.42pm: Among the many stalls around the venue, one of them is attempting to gather 100,000 signatures of people who wish to express: "Give me liberty, or give me death".
The person who is setting up the stall told Malaysiakini that the initiative is to get people to think about what are they willing to give up in the name of democracy.
"All these while, people said that they want democracy, but no one has thought about what is it worth to them.
"So it is not just that we go to the street asking for democracy but without giving up anything. So we are trying to tell the whole world that there are people who think democracy is very valuable to them," he said.
However, he declined to disclose his name, or who is behind the initiative, or the number of people who have signed up since it started last week.
Among the information collected is name, contact, number, location, and signature.
He said once 100,000 signatures have been collected, it would be submitted to the Agong to pressure the government to look into the people's demands.
4 .30pm : Several FRU trucks are spotted as they passed through the road next to the Dataran PJ field.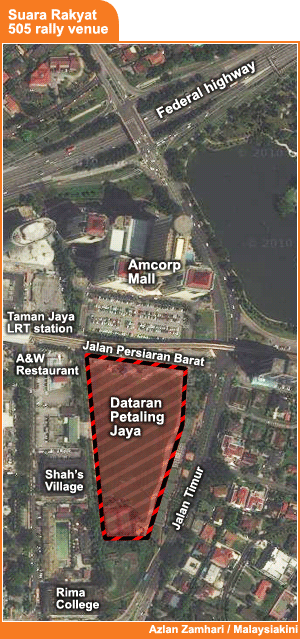 However, no police personnel could be seen near the field.
4.15pm : The number of people dress in black is growing. There are about hundreds of them but the field remain empty. Instead, the people gathered around the food stalls outside the field.
About 50 young protesters lined Persiaran Barat, chanting "Reformasi", "Long Live People" and other slogans.
They are urging the cars passing through the main road to horn their vehicles in approval.
DAP leader Hew Kuan Yau aka 'Superman' is selling T-shirts with depict his face along with the Superman logo. From time to time, the popular ceramah speaker is asked by his fans to post for photographs.
3.01pm: About 100 people are milling around the field, mostly wearing black and seeking shelter from the weather - which is currently a sweltering 33 degrees Celsius with light winds and no cloud cover.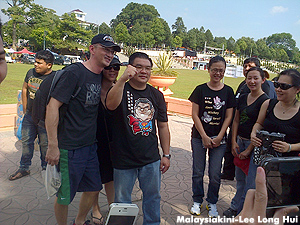 Some have even opted to do some shopping at the air-conditioned Amcorp Mall across the road, while wearing the Blackout 505 rallies' signature black coloured shirts.
Thus far, there have been no signs of any police presence and organisers are still busy setting up the stage, but the sidewalks around the field and around the nearby Taman Jaya LRT station are already lined with stalls selling food and political paraphernalia.
Despite a notice promoting the rally - which is being circulated via social media - including a warning reading "Vuvuzelas are banned", its incessant drone can be heard in the vicinity of the area.
Some supporters have also lined up along the street to chant political slogans, while passing motorists honk back.
Traffic is still smooth in the area, but the four-lane road outside the field is becoming increasingly congested as more cars park on the roadside, forcing what little traffic in the area to use only one lane in each direction.
---
Reporting by Ahmad Fadli KC, Lee Long Hui, Koh Jun Lin and Ram Anand.