A senior federal counsel personally agreed with a Kuala Lumpur High Court judge that former Selangor police chief Khalid Abu Bakar should have held another press conference after the cause of A Kugan's death was known.
Justice VT Singham asked senior federal counsel Azizan Md Arshad several times whether he thought that Khalid ( left ), now the inspector-general of police, should have held another press conference to clarify matters surrounding Kugan's death.
Khalid, at an earlier press conference, had said Kugan had died after water was given to him.
Subsequently, an independent post-mortem revealed that the 22-year-old had endured severe beatings, was starved during his incarceration, and died of kidney failure due to the assault.
Kugan's family has filed an RM100 million claim against Khalid, the police force and the government, and specifically against Khalid, for trying to cover up the cause of Kugan's death while in police custody.
Judge Singham:
Do you think that the first defendant (Khalid) should have held a second press conference as the plaintiff had alleged a cover-up? Should he clarify?
Azizan: I cannot say. Only God knows (why this was not done).
Singham: Why wasn't (this questioned in court)? When the first defendant held the press conference, was it before the first post-mortem or after?
Azizan:
Before, when Khalid said he was briefed by ASP Rodney Paslan that water was given to (Kugan) before he died.
Singham: Don't you think that he should have held another (press conference when) the real cause of death was made known after the first post-mortem? Come on, tell and assist the court.
Azizan: Personally, I feel it (the press conference) should have been held.
The parties were submitting at the end of the suit filed by Kugan's mother, N Indra (right) , over his death while in custody at the Taipan police station in Subang Jaya.
Kugan, who died on Jan 20, 2009, was a tow-truck operator who had been arrested by police on suspicion of theft of luxury cars.
Navindran acted on his own?
While Azizan tried to put the blame squarely on second defendant former constable V Navindran for hurting Kugan, his lawyer R Ramesh Sivakumar pointed out that his client had been made as a "scapegoat" by the police force for agreeing to be charged.
Azizan submitted that Navindran had acted on "a frolic on his own" when he was only tasked with arresting and looking after Kugan, but instead went further ahead in assaulting the deceased.
"He was not instructed to assault Kugan where two other police witnesses saw him doing so for five to 10 minutes on Jan 16, 2009," he said, adding that on the day Kugan died, Navindran also came to work early in his work shift and that the latter had been present when the victim died.
Navindran was convicted and sentenced to three years' jail by the Petaling Jaya Sessions Court for hurting Kugan. The matter is pending appeal at the Shah Alam High Court.
Azizan also described Navindran's scapegoat claim of being an "afterthought" and "hearsay" as the matter was never raised during his criminal trial.
However, Justice Singham noted that there was an attempt of fabricating the evidence when a defence witness admitted that he had asked Kugan directly after the alleged assault as to how his condition was, and claimed that the deceased replied that he was alright.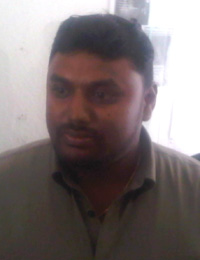 "Despite the assault, it had not been stated in the (Taipan) police station log. It was only stated that Kugan was fine. Kugan did not die on Jan 16, but four days later," he added.
This could be fabrication, and furthermore, there had been testimonies from witnesses that people could have gotten in and out of where Kugan was held at the police station, said the judge.
Ramesh submitted that Navindran ( right ) should not be solely blamed as there was no proper investigation or inquiry into Kugan's death, and hence Khalid, the police and government are also liable.
Navindran had testified in the trial that the Subang Jaya district police chief had held a meeting after Kugan's death, where they indicated he would be made a scapegoat and arranged to hire lawyer Sallehuddin Saidin for him to settle the case.
"Failure to do in-depth investigations amounted to a breach of duty by the other defendants. The death of Kugan cannot be attributed to my client," he stressed.
"Given that the death of Kugan was never investigated, therefore it cannot be said whether my client was also responsible for the death. Due to a lack of evidence, this court should refrain itself from making any findings of fact on the identity of the person who had caused Kugan's death.
"If the court found my client to be liable, then the other defendants should be made vicariously liable to the plaintiff," he added.
'Blunt force trauma caused death'
Justice Singham also pointed out that pathologist Dr Abdul Karim Tajuddin, who conducted the first post-mortem, had testified during the criminal trial in March 2010 that blunt force trauma was the cause of death.
Abdul Karim had, in his post-mortem report, stated the cause of death to be pulmonary edema (water in lungs). He has since been sanctioned by the Malaysian Medical Council.
Sivarasa Rasiah, representing Indra, submitted that she is entitled to damages in excess of RM5.2 million based on loss of support, funeral expenses, pain and suffering, assault and battery, false imprisonment and misfeasance in public office.
Sivarasa said exemplary damages should also be awarded, so that this would serve as a lesson to others.
"Exemplary damages can be awarded against the wrongdoer for breach of public duty. Such relief for depriving the fundamental rights of the person in custody is sound policy to punish the wrongdoer," he argued.
The court is vested with discretionary power to award remedies for contravention of human rights and fundamental freedom, said Sivarasa (right) , who was assisted by Bani Prakash.
"The purpose of relief is to uphold or vindicate the constitutional right that had been contravened," he said, adding that Indra is also seeking costs at RM150,000.
Justice Singham set June 19 for the delivery of the judgmnent.