VIDEOS
5pm: DBKL officer believed to cause scuffle over tents | 3.39
4pm: No police action so far, Gobind says wait and see l 1.47
3pm: Padang Merbok: Rafizi arrives at Padang Merbok | 2.57
2pm: Jalan Sultan: Crowd moves towards Padang Merbok | 2.10
1pm: Masjid Negara: Crowd to march to Padang Merbok | 1.06
1pm: All calm at Padang Merbok | 2.59
12 noon: Jalan Sultan crowd grows to 500 by noon | 2.23
11am: Small crowd gathers at Sogo, Jalan Pekeliling | 2.10
After a series of 'Black 505' rallies nationwide to protest electoral fraud, Pakatan Rakyat is bringing its 15th to Kuala Lumpur today, one and a half months after the controversial May 5 general election.
Pakatan's primary demand remains the same - the en bloc resignation of the current heads and commissioners of the Election Commission (EC) to be replaced with a new EC leadership, chosen in a bi-partisan manner.
Pakatan, as expected, faced problems obtaining permission from the KL City Council to use their desired venue Padang Merbok, and police threatened stiff action as well.
KL police chief Mohmad Salleh even alleged of a Pakatan plot to ask participants to provoke the police to demonstrate police violence "to the world".
Undeterred, the organisers are pressing on. There are seven gathering points before heading to Padang Merbok: Pekeliling, PAS headquarters at Jalan Raja Laut, Sogo Shopping Centre, Hotel Lok Ann on Jalan Sultan, the National Mosque, Brickfields and Universiti Malaya.
PKR de facto leader Anwar Ibrahim is expected to skip the gathering points and go directly to Padang Merbok to address the crowd.
Although PKR is expecting a turnout of about 300,000 people but as of 5pm, an estimated 30,000 people had reached Padang Merbok at its peak.
There are concerns over the haze, which is at a moderate air pollutant index (API) reading of 77 and 79 for Kuala Lumpur (Batu Muda and Cheras) today.
LIVE REPORTS
5.50pm: About 30 tents have been put up in the field. Solidariti Mahasiswa Malaysia (SMM) spokesperson Ehsan Bukharee says about 100 people will camp there tonight.
He adds that a student activist, Khalid Ismath, has informed him that the police have picked him up from his home in Klang.
"Khalid contacted me saying he has been detained at his house under the Sedition Act. More than that, I am not certain," he says.
5.40pm: The rally has concluded, but SAMM has pledged to proceed with its plan to camp the night at Padang Merbok.
SAMM leader Badrul Hisham
Shaharin
says that there will be a meeting after the rally to determine the camping plan.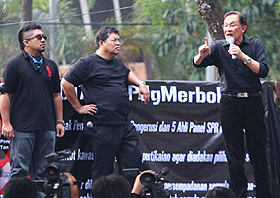 5.30pm: PKR de facto leader Anwar Ibrahim tells the crowd that he did not go to Indonesia in order to meet with Prime Minister Najib Abdul Razak.
"I spoke to the Indonesian president. He asked why are we protesting the election results? I explained that we have obtained the majority of the vote, and he understood," he said.
He also thanked the police for facilitating the rally today without disrupting it.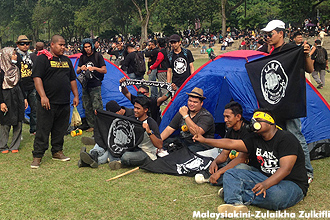 Anwar also explains that he was actually agreeable to the idea of gathering at Padang Merbok and then marching to Stadium Merdeka.
"But given the weather (haze), and people also marching later than scheduled, we decided to keep it here in Padang Merbok," he said.
He paid tribute to the attendees who understood the risks that came with the haze that has enveloped the capital city today but still chose to come.
Anwar in his speech called on the EC leaders to step down, particularly its chief Abdul Aziz Mohd Yusuf who had admitted failure in the matter of the indelible ink.
His also slammed Abdul Aziz' deputy Wan Ahmad Wan Omar whom he called arrogant and who speaks like an "Umno branch chairman".
"You all are not fit (to lead the EC). You speak arrogantly. These people should rightfully be charged in court.
"I want to tell Najib and Zahid, don't intimidate us and defend the EC. You have lost the mandate.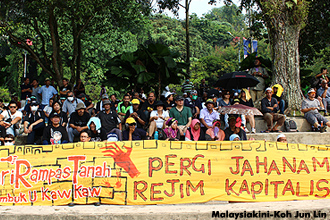 "You cannot afford to act against these people because they have served Umno.
He also called on BN not to insult the different races of Malaysia by playing racial politics.
On the matter of the speaker, Anwar said they have made their choice as they do not want the position to be a tool of Umno.
After his speech he declared the rally officially over.
5.20pm: Padang Merbok - The crowd that has spilled over onto the road are unhappy about news that DBKL officers have asked rally-goers to take down the tents that they have set up.
Meanwhile, DAP supremo Lim Kit Siang says that the EC has committed an "unforgivable mistake" and thus must resign immediately.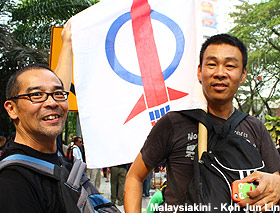 5.10pm: Padang Merbok - A crowd of about 100 rally-goers have spilled onto the streets behind the Padang Merbok field and are now blocking traffic flow.
Police personnel can be seen asking the participants to return within the field compound, but the supporters are insistent on staying put as police attempt to manage traffic.
5.10pm: Salahudin Ayub says despite losing his seat, he will still commit to the Black 505 cause.
"I won't run away and back down, as long as BN does not go down and disappear from our land.
"My Chinese friends say if I don't win the election, I can still go to Hong Kong and become an actor because I look like Jackie Chan. But that's not my desire.
"I am here to make sure they fall soon. We have to struggle today, tomorrow, next month, as long as it has not ended. We must struggle in the name of truth," he says.
Before him, student activist Adam Adli urged the people to get out of their comfort zones and called on the people to defend Padang Merbok until the EC leaders step down.
"Let all of you come down to defend Padang Merbok, don't let the arrogant powers take it back.
"Don't let our struggle go to waste. If we want to win, we must first undergo struggle.
"We are here to succeed, not to go home. We will tear down BN's power," he says.
5pm: Anything But Umno (ABU) spokesperson Haris Ibrahim adds his voice to the growing number urging those there, even Pakatan leaders, not to leave until the EC heads resign.
4.40pm: Two Kuala Lumpur City Hall (DBKL) enforcement officers approach the camp site and request the tents be taken down.
This, however, did not sit well with the crowd as they begin to surround the officers and a slight struggle ensues.
The officers are then asked to leave, but as they are doing so, one of them is pushed by a participant, causing him to lose his temper and retaliate by pushing a participant the ground.
The officer is then escorted to the City Hall van by other DBKL officers and PAS' Unit Amal.
The van is at first seen to be surrounded by unhappy rally-goers but the van is able to drive away with the help of police escort.
4.50pm: Padang Merbok - Veteran activist Hishamuddin Rais takes the stage. He reiterates that he always opined it is impossible to change the government through elections.
"I always said, impossible.
"Jalanraya (the streets), jalanraya," he chants repeatedly.
He warns that if the EC does not resign by Monday, the youths would camp here till the EC relinquishes their posts.
4.30pm: Jalan Parlimen - The 'Black 505' rally appears to be losing steam long before it's scheduled ending time of 7pm.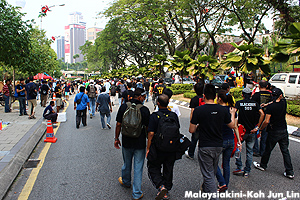 Participants are seen leaving the field towards Kuala Lumpur in droves, and occasionally stopping to patronise roadside stalls.
One of them, salesperson Chen Huat Keong, cited exhaustion as the reason for leaving early.
"We have exercised and we have participated the rally, but now it is hot and stuffy," he said, while holding a DAP flag.
Another participant, Thomas Cheah, echoed Chen's sentiments, adding that he also has other commitments.
"We have walked and walked and are tired, and my friend is also tired.
"So that's about it, what else are we supposed to do?" said the 30-year old from Kajang.
Meanwhile, Mohd Daud Ibrahim complained about the lack of 'excitement' at the rally, in the form of tear gas and water cannons.
"If there is, then it would be fun," he said.
His friend, to declined to be named, then interjected: "Next time for events like this, no need for permits, just do it. Then it would be 'syok' (exciting) - the FRU would be there!"
Mohd Daud added that he had parked his car far away, and need to slowly make his way back.
Another two persons approached by Malaysiakini cited prior commitments as the reason for their early departure.
4.30pm: Padang Merbok - There are nearly 30,000 people in Padang Merbok now attending the rally, although Emcee Badrul Hisham Shahrin estimates participants to number at more than 55,000 people.
He also tells the crowd that PAS vice-president and Salor assemblyperson Husam Musa was arrested today.
He then asks the crowd to wait in the field until Husam is released and until EC chairerson Abdul Aziz Mohd Yusof resigns from his post.
"If he (Husam) doesn't come out, can we wait?" he asks, to which the crowd responds with a resounding cry of "can".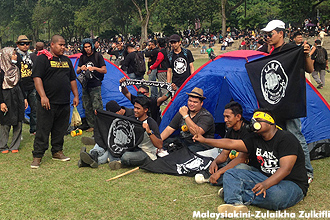 4:35pm: Padang Merbok - Meanwhile, several members of NGOs Solidariti Anak Muda Malaysia (SAMM), Solidariti Mahasiswa Malaysia (SMM) dan Suara Rakyat 505 are seen assembling five tents at the centre of Padang Merbok.
According to SMM spokesperson Ehsan Bukharee, more tents will be set up later.
"For now, just five tents. There are many more tents that we will set up after this, as any many people have brought their won tents," he says.
4.15pm: Padang Merbok - PAS Kuala Krai MP Hatta Ramli ( left ) echoes the demand for the EC top posts to resign immediately due to the failure of the indelible ink.
He says that the indelible ink was proposed five years ago, before the 12th general election, was agreed to by the EC.
"That means that there is no reason the EC can't resolve the problem of the indelible ink," he says.
Although EC chief Abdul Aziz Mohd Yusof had said that the issue of indelible ink is the saddest in his life, but Hatta stressed that Abdul Aziz cannot be forgiven and must resign.
4.00pm: Padang Merbok - Former Perak MB Nizar Jamaluddin takes the stage and tells the crowd that Pakatan Rakyat won up to 55 percent of the votes in Perak, while BN only 44.
This fact, he says, proves that the people have rejected BN and want Pakatan to form the government.
He says the state PAS lawyer has submitted eight election petitions to prove all the wrongdoing they allege were committed by BN and notes that the ruling coalition is able to control the state administration with just a two-state seat advantage.
"This means that if we manage to get two (election petition win) out of the eight, (Perak Menteri Besar) Zambry (Abdul Kadir) will fall," says the Changkat Jering assemblyperson.
Nizar also claims that Zambry is worried about the results of the election petitions, as BN has yet to nominate any candidates for the state legislative assembly speaker and deputy speaker role even though the deadline ended at 5.50pm yesterday.
"Pakatan has submited our candidates, which means that if Umno comes out with their candidates today and they are confirmed, it shows that there is cheating (going on).
"The fact is, Umno BN got its power by cheating," he adds
4.00pm: Ampang - Husam Musa has just been arrested and brought to the Ampang police station. This was confirmed by one of his aides.
Details are scant as to where he was arrested and what he is being investigated for, although he is being held under Section 4(1)(b) of the Sedition Act 1948.
However, it could be related to his recent statement that those who die during this rally will become matryrs .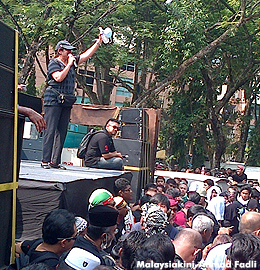 3.37pm: Padang Merbok - Bersih co-chairperson Ambiga Sreenevasan takes the stage and reiterates that Bersih supports today's rally because it calls for the resignation of the Election Commission heads.
She warns that the current EC cannot oversee the redelienation process, and that if it is allowed to go ahead with it, dire ramifications will follow.
"We won't be able to do anything for the next eight years," she said.
3.25pm: Padang Merbok - Johari Abdul, the Sungai Petani MP and rally director, estimates that there are now 30,000 people in Padang Merbok.
Solidariti Anak Muda Malaysia (SAMM) Badrul Hisham Shaharin, better known as Chegubard, has taken over as emcee for the event.
3.23pm: Padang Merbok - Selangor deputy speaker Nik Nazmi Nik Ahmad told the crowd that their presence proved that all threats issued by Umno and BN were ignored by the people.
"This is because the people had sent a clear message, that is on May 5. The people had won while Umno BN had been defeated," he says.
He says that Pakatan will continue the struggle until all the election petition are finalised.
Later, Anak chief Mazlan Aliman accused that the mandate of the BN government was the result of fraud.
"Hence, we stress that once EC is not changed, we will fight until the end for the integrity of the election result," he said as part of a short speech.
Meanwhile, the new Bukit Katil MP and PKR Youth chief Shamsul Iskandar Md Akin urged protesters to camp at Padang Merbok until Monday.
3.20pm: Padang Merbok - Federal Territories Minister Tengku Adnan Tengku Mansor makes a last-minute plea to rally organisers and participants to move the rally to Stadium Merdeka, to avoid traffic congestions.
Bernama reports that Tengku Adnan, who visited Padang Merbok at 12.50pm, stated that nearby Jalan Parlimen is the main entrance into the city centre.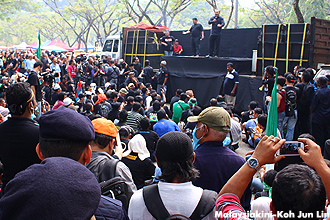 He had said that holding the rally at Padang Merbok was thus "not strategic" and warns that police reports will be lodged against the 'Black 505' organisers should they insist on carrying on.
3.00pm: Padang Merbok - Most marchers from Sogo, Masjid Negara, Jalan Sultan and Jalan Raja Laut has made it to Padang Merbok. The crowd size is estimated at 20,000.
Spokesperson for the rally organiser Rafizi Ramli said that PKR de facto leader Anwar Ibrahim is expected to arrive at 4pm.
Rafizi also assured that the rally will end at about 7pm.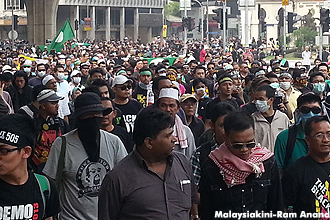 "We expect to finish before Mahgrib prayers," he said.
3.00pm, Padang Merbok - Former Perak legislative assembly speaker V Sivakumar claims that the opposition coalition had obtained 118,000 more votes than BN in the state, stressing that Pakatan "did not lose" in Perak.
He also announces his intention of nominating himself to become the state assembly speaker again.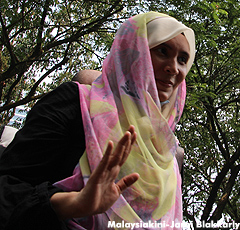 He warns that BN could also suffer a change in the state government via the same method they employed in their controversial takeover of Perak in 2009.
He is speaking to a crowd of about 20,000 now at Padang Merbok.
Meanwhile, the 2,000 participants from Brickfields arrive at their destination.
Lembah Pantai MP Nurul Izzah Anwar ( left ) is welcomed by the emcee as the crowd slowly moves onto the field.
2.45pm: Jalan Parlimen - Participants from Jalan Sultan reaches Padang Merbok. Some 500 who had been waiting along Jalan Parlimen had joined the marchers.
They all begin to fill up Padang Merbok, as police personnel can be seen watching from afar at various corners of the field.
2.45pm: Jalan Parlimen - Three groups from Sogo, PAS headquarters and Brickfields are converging at Jalan Parlimen, snowballing into a mega crowd that is now marching to Padang Merbok.
2.40pm: Padang Merbok - 'Black 505' rally director and Sungai Petani MP Johari Abdul has kicked off speeches on Padang Merbok.
He said the police and the Kuala Lumpur City Hall (DBKL) are cooperating with the organisers and that this was a good sign for democracy.
"However, there are still things that the government must deliver, and that is why we are here," he said.
He urged participants, who number about 3,000 and growing, not to damage public property or leave behind garbage, and cooperate with the authorities.
He also stressed that the rally is peaceful, and allegations that it is part of a plot to cause chaos or provoke the police are untrue.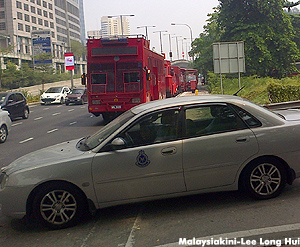 He then passed the microphone to Johor PKR chief Dr Chua Jui Meng.
2.40pm: Brickfields - Several FRU trucks were spotted along Jalan Tun Sambanthan but they do not appear to be ready for crowd control deployment, yet.
Meanwhile, at Masjid Negara, many foodstall operators are beginning to close shop now that most people have left for Padang Merbok.
2.30pm: Jln Raja Laut - The size of the crowd causes it to spill over onto the street, leading to traffic congestion along Jalan Tuanku Abdul Rahman, as participants prepare to head to the Jalan TAR-Jalan Tun Perak junction.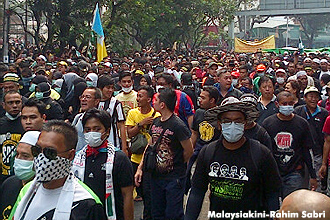 There are now 4,000 people there.
2.30pm: Brickfields - As the crowd march towards Padang Merbok, more join along the way causing numbers to swell to 2,000 people.
The 'black' crowd is chanting slogans such as "Reformasi" and "Long live the people" as they marching along Jalan Tun Sambanthan, towards Jalan Kinabalu.
Traffic police personnel directing traffic do not interrupt the march.
2.25pm: Jln Raja Laut - Participants from the PAS headquarters marches down Jalan Tuanku Abdul Rahman, yelling "Long live the people" and "Down with tyranny" all the while under the watchful eyes of the police, PAS' Unit Amal and rally marshals.
They arrive and join those already gathered in front of Sogo shopping complex.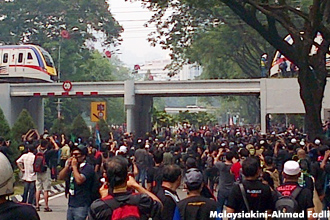 2.20pm: Jalan Parlimen - Participants on the tracks have disrupted the KTMB commuter which is supposed to cross overhead Jalan Parlimen, near the Bank Rakyat building.
Participants invade the track to record and photograph a bird's eye view as fellow rally-goers march towards Padang Merbok.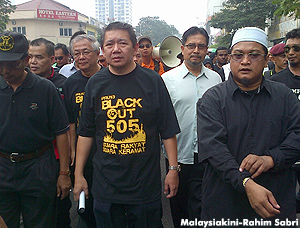 2.12pm: PAS headquarters - Some 2,000 people here have begun marching along Jalan Raja Laut, heading towards Sogo Shopping Complex where they will rendevouz with another group. They are led by PAS vice president Salahuddin Ayub, Bukit Gantang MP Idris Ahmad and PAS Youth chief Nasrudin Hasan.
2.10pm: Sogo shopping complex - The crowd has swelled to about 2,000 people and they are waiting for the crowd from the PAS headquarters to join them before marching towards Padang Merbok.
2.02 pm: Jln Raja Laut - PAS Youth exco Mohd Sany Hamzan briefs participants that they will start moving towards Sogo shopping complex before heading to Padang Merbok.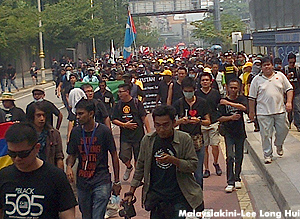 2pm: Jalan Sultan - Some 2,000 people along Jalan Sultan have begun their march. They will be moving towards Jalan Tun Perak before turning East towards Padang Merbok. The police are helping out by directing traffic.
2pm: Brickfields - PKR vice-president Nurul Izzah Anwar arrives adorining a face mask. With her arrival, the crowd begins their march to Padang Merbok, with the Lembah Pantai MP at the helm.
By now, the crowd numbers close to 1,000.
Addressing the crowd, Nurul Izzah refutes the statement by the KL police chief Mohmad Salleh, thatr the crowd will provoke the police force.
"That was baseless, we are present today with the corporation of the police," she stresses.
She also advised those present to take care of their children, especially in view of the hazy skies.
Earlier, PSM secretary-general S Arutchelvan briefs the crowd, telling them not to provoke the police as they march towards the rally venue.
"When you see a policeman, please smile and wave your hands at them," he says.
Should anyone notice any other participant attempting to provoke the security forces, he advises them to inform one of the volunteers, who will be sporting a white, yellow or red armband.
Meanwhile, in a light moment Klang MP Charles Santiago is teased by veteran activist Hishamuddin Rais for not dressing in black.
"He is not wearing black, minus two points as an MP," Hishamuddin jokes.
When Bersih 2.0 steering committee Mariah Chin points out that Charles can buy a black shirt on the spot, Hishamuddin then jokes, "his size is XXL 30, he can only wear the shirt of the size of Rosmah (Mansor)!" to laughter from the crowd.
1.55pm: Masjid Negara - After performing Zohor prayers, some 5,000 people are led by PKR deputy president Azmin Ali in a march towards Padang Merbok.
1.40pm: Sogo Shopping Complex – Protest leaders announces that they will only be marching at about 2.30pm. For now, the crowd are kept entertained by a series of speakers.
Parit Buntar MP Mujahid Yusof Rawa is spotted among the crowd, which has grown to about 1,200 people.
1.35pm: Masjid Jamek LRT station – A group of Orang Asli from Tapah, Perak are marching from the LRT station towards Padang Merbok while chanting "EC are liars".
1.30pm: Brickfields – There are about 200 people now occupying a portion of Jalan Tun Sambanthan but they are very enthusiastically shouting slogans and blowing the vuvuzela horns.
Klang MP Charles Santiago, activist Hishamuddin Rais and Suaram executive director E Nalini is spotted among the crowd.
They will march towards Padang Merbok at about 2pm.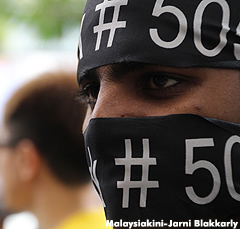 1.22pm: KL - The Department of Environment's (DOE) latest API update at 11am shows the haze situation deteriorating slightly, with the two stations in KL reading 78 and 82 respectively, a few points up from 7am.
Incidentally the situation in Muar has deteriorated into dangerous levels against, reading 373. The DOE's next reading will be announced at 5pm.
1.20 pm: Dataran Merdeka - The 150 participants, clad attired in black, are ready to march to the Dataran DBKL, nearby Dataran Merdeka.
1.12pm: Jln Raja Laut - Amidst greetings of " Allahu akbar " (God is great) by the 500-strong crowd outside the PAS headquarters, party vice-president Salahuddin Ayub says PAS regrets the statement by Mohmad Saleh that rally participants will provoke the police and cause disturbance.
"We regret the statement by the KL police chief that intentionally releases a statement that is seditious and provocative, that participants want to fight.
"We are confident, we will have a (the assembly) peacefully. We have am excellent record in Bersih and Blackout (505 rallies), which have proven to be peaceful, carried out with responsibly and without provocation... that is out commitment, we do not bring weapons," he says.
A few minutes later, Kuala Terengganu MP Raja Bahrin arrives at the location.
1:10pm: Jalan Sultan - There are now up to 1,500 people gathered here. Aside DAP leaders, NGO Solidariti Anak Muda Malaysia (SAMM) president Badrul Hisham Shahrin, or Chegubard, is also present.
Chegubard, speaking from on top a lorry, addresses the crowd that had began assembling there as early as 10am.
He leads the crowd to cries of "EC are liars", " Jahanam SPR " (Go to hell EC) and "Rise, Rakyat"
Meanwhile, a wheelchair-bound Fennix Lim, 25, says he came with friends all the way from Kluang, Johor, in a van just to participate in the 'Black 505'.
Lim says he wishes to show the government that the people have the power to reject the outcome of last month's GE.
"As a Malaysian, I want to show my will to the government and EC, that we all reject the EC. I came for democracy," he says.
1.10pm: Masjid Negara - PKR deputy president Azmin Ali arrives and is greeted by party supporters.
Also present is Selangor PAS chief Dr Abdul Rani Osman.
Supporters are seen entering the mosque to perform the Zohor prayers before the march to Padang Merbok.
1pm: Jln Raja Laut - PKR vice-president Tian Chua arrives at the Sogo shopping complex, where he will lead a group to march to Padang Merbok.
The crowd here has swelled to 1,000.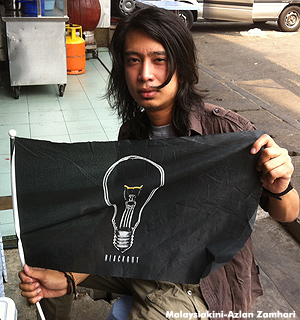 1.00pm: Universiti Malaya - One hour before the march to Padang Merbok is to begin, the number of participants at the Ar-Rahman mosque at Universiti Malaya is still only less than 100 people.
Most of them are youngsters and students activists. The crowd is supposed to march towards Brickfields, to join forces with the crowd there.
Several party leaders and student activists are delivering speeches to those gatheres, including PKR Bukit Katil MP Shamsul Iskandar Akin and student activist Adam Adli Abdul Halim.
12.30pm: Brickfields - Pressure group Justice for Beng Hock appears at the gathering point to draw the attention of participant to the death of K Murugan , the security aide to PKR Tapah's election parliamentary candidate K Vasantha Kumar.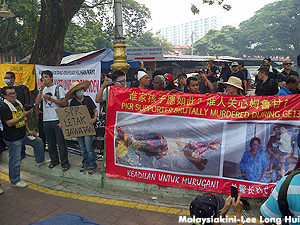 The group's spokesperson Ng Yap Hwa calls for investigation into the death, saying this is the one of the worst cases political violence in Malaysia's history.
Ng says the group, along with Vasantha Kumar, will go to parliament on June 27 at 2pm, to hand over the memorandum to MPs to call for the investigation.
Meanwhile, the now 150-strong crowd are occupying most seats as nearby stalls, having lunch and drinks while waiting for the march to Padang Merbok to start.
When approached by Malaysiakini , one food stall operator says his business is better than usual.
12.28pm: Jln Raja Laut - Bukit Gantang MP Idris Ahmad, when met by reporters outside the PAS headquarters, says the rally shows the extent of the dissatisfaction at the EC's integrity in conducting GE13.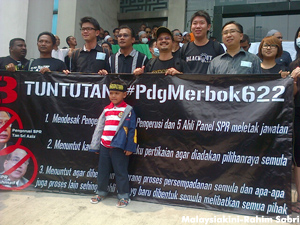 "They (EC) constantly claim if they were not transparent, how could (Pakatan) win three states?
"We say, because they were not transparent, we win three states. If transparent, 13 states we would have won," he says.
Idris says the fact so many youth of various races voluntarily came today shows they want EC to be governed well.
He dismisses the claim that participants will cause chaos during the rally, as just an assumption.
He says the multiple opposition and NGO rallies that have previously been held, such as the Bersih, People's Uprising and abolish Felda Global Ventures rallies, all went by smoothly.
"All were peaceful. There was no provocation. If in Bersih, not even a flower pit was broken," he says, adding that this rally will also be peaceful.
" Insya-Allah . We are disciplined. We have a track record (of peaceful rallies) so we speak based on that."
There are currently aroun 250 participants present outside the PAS headquarters.
12.10pm: Jln Raja Laut - PAS leaders Abdul Ghani Shamduddin and Youth Deputy chief Nik Abduh Nik Aziz arrives, while president Abdul Hadi Awang is expected to arrive at the party headquarters after Zohor prayers.
Also seen milling among the participants are Bukit Gantang MP and PAS central committee member Idris Ahmad.
12.05pm: Masjid Negara - Former Perak menteri besar Mohammad Nizar Jamaluddin ( below ) arrives and takes some time to pose for photographs with party supporters.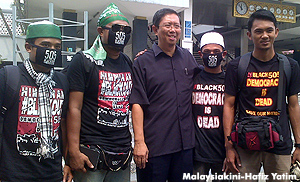 Also seen are Petaling Jaya Selatan MP Hee Loy Sian from PKR.
Bar Council observers Andrew Khoo, who is also Bersih 2.0 steering committee member, has come to observe.
He said the coalition for clean and fair elections is not involved in the rally and co-chairperson Ambiga Sreenevasan is also not here.
Malaysiakini is informed that many Federal Reserve Unit (FRU) vehicles are parked at Bukit Aman while FRU personnel are seen having lunch outside the stalls in Bukit Aman.
12pm: Brickfields - At the official gathering time, there are close to a hundred rally participants now gathered at the roadside of Jalan Tun Sambathan.
Comprised Malaysians of varying races, almost all are in black, with some holding up banners and various other signages, blowing the vuvuzela horns and chanting "reformasi".
The banners state the three demands of the rally, among them, for the EC heads to step down immediately.
Channeling his creative side, one participant draws the attention of the media and participants with his representation of a 'phantom voter' ( left )- he had made up himself up as a ghost holding a ballot box.
Nurul Izzah is yet to be seen.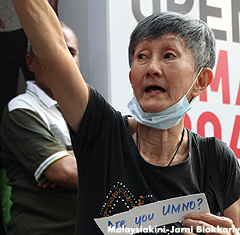 12pm: Jln Raja Laut - Anne Foo, or more popularly known as Aunty Bersih, is the first 'known' figure to arrive at the Sogo shopping complex, to the amusement of rally-goers.
Meanwhile, an aide to Batu MP Tian Chua tells the crowd that they will gather in full force at 1.30pm, and begin marching to Padang Merbok at 2pm.
12pm: Jln Sultan - More continue to arrive, with 200 now flooding the walkway. Three traffic police personnel have begun to direct road traffic, while six officers in blue are seen observing the gathering.
Meanwhile, the participants in black are lending their signatures to a petition being passed around, to object to an upcoming project to be developed on Jln Sultan.
Several DAP leaders such as Negri Sembilan DAP chief Anthony Loke, DAP chief Hew Kuan Yau and Selangor exco Ean Yong Hian Wah.
Many participants, while not dampened in enthusiasm, are taking precaution against the haze by adorning face masks. Not letting a good business opportunity slip them buy, several traders can be seen selling face masks.
11.45am Sogo - A bakery outlet at the entrance of the shopping complex mulls closing shop barely halfway into a business day as the crowd reaches 200.
Workers say they are awaiting "instructions" whether to close the shop, and are taking pictures of the crowd to help their superiors decide.
However, the bakery seems to be profiting from the steady stream of rally goers and journalists who are camping here for breakfast.
11.35am: Masjid Negara - PKR member Tan Teck Huang, 47, drove all the way from Muar, Johor with his brother and three others to attend the rally.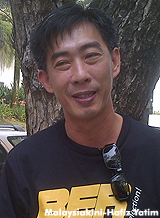 Tan (right ) who is working freelance in education, said the haze condition in Muar is terrible and driving up to Kuala Lumpur was a welcome change as they just arrived at 10.45am
"Initially, I do not expect that many people as this is after the election. However, I am surprised by the huge crowd gathered here.
"Despite the election being over, we have to continue to pressure the Election Commission to do the right thing and not continue cheating the people. The rakyat expect a clean and free election," he said.
Tan said as citizens, we have to continue to fight to ensure that there is no more rigging of elections.
He said if the seven EC leaders do not resign and the opposition are not consulted on the replacements, then they will continue to protest, saying he has also attended past rallies in Kuala Lumpur and Selangor.
11.30am: Padang Merbok - It is all calm at the rally's main venue, with stalls still being set up on the field's parking lot and along Jalan Parliamen.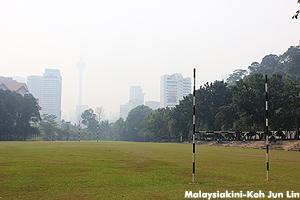 The vast, green landscape makes crowd estimation difficult, but some 200 participants are believed to be quietly sheltering from the dim sun under the trees surrounding the field, amidst bird songs and chirps of insects.
Due to the haze the normally clear view of the iconic KL Tower visible from here is but a grey silhouette
11.30am: Brickfields - Eight red FRU trucks pass by, believed to be heading towards Padang Merbok.
Among them, two are water cannon trucks and five trucks full of FRU personnel. One small empty truck is trailing behind the big trucks.
11.08am: Jln Raja Laut - The crowd in front of the PAS headquarters has now grown to 150. All are clad in the signature black attire synonymous with the 'Black 505' rallies, as a sign of protest against alleged electoral fraud during the national May 5 polls.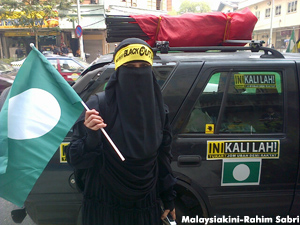 Some are seen holding a banner with the writing: "Even though blackout, Allah still sees".
A woman, who only identifies herself as Nina, from Ampang, says she enjoys the rallies and often participates.
"If can, I would ask for more (rallies) until we win. (We) want people to know the lies by the EC... We ask for the world to know the lies (in the election).
"As long as the EC is not disbanded, the rakyat will come out. The people must not be ignorant and stay at home," said the self-employed woman in the 30s.
11.05am: Masjid Negara - A total of 14 buses from Penang, Kedah, Johor, Pahang and Terengganu are parked within the vicinity of national mosque as they bring in supporters.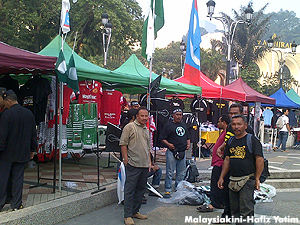 About 50 cars are also parked by the side of the road in front of the mosque, as the crowd size increases.
Stalls are also set up in front of the mosque selling t-shirts, Pakatan parties memorabilia, and food.
Mazlan Mukhtar, 47, form Nibong Tebal in Penang, said he drove all the way from midnight and arrived at about 5am.
"I have been participating in all the rallies, including the one in Kelana Jaya, Petaling Jaya and the Bersih rally," he said.
11.05am: Brickfields - Around 10 cartoonists from the Independent Cartoonist group are waving a banner, which reads "Cartoonists against election fraud" at the roadside of Jalan Tun Sambanthan.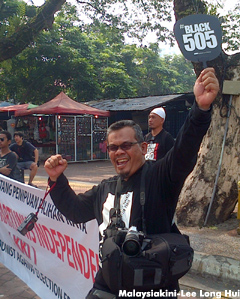 This gets the attention of passing drivers, who honks their horns.
Those gathered here are awaiting the arrival of PKR vice-president and Lembah Pantai MP Nurul Izzah Anwar and secretary-general S Arutchelvan, who will both be leading the crowd to Padang Merbok.
Speaking to Malaysiakini , cartoonist Azman Mat Noh says that they have been there at 9am.
"We want to tell society that all sorts of fraud took place in this general election, from the electoral roll to the delible, indelible ink.
"We feel that they (BN) have maintained full power through cheating," says the 43-year-old.
Even with the slowly increasing crowd, which now stands at 50, there is still minimal presence of police and DBKL enforcement officers.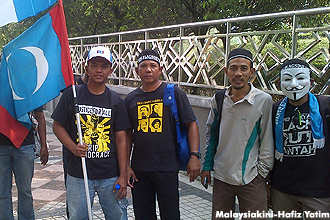 10.50am: Jln Raja Laut - A crowd of about 100 supporters are now gathered at the entrance of the Sogo shopping complex, where PKR vice-president Tian Chua is expected to join and march to Padang Merbok later.
Most of them are dressed in black, while a generous amount of PAS supporters are seen there as well.
Police presence here, is still minimal.
10.40am: Jln Raja Laut - Four lawyers from the Bar Council have turned up at the PAS head to serve as observers of the rally.
Also arriving is a police patrol car with five personnel inside, seen monitoring the situation.
10:30 am: Jln Sultan - Around 30 people have already gathered along the sidewalk of Jalan Sultan, holding PAS, DAP and PKR party flags.
The enthusiastic group can be heard blowing whistles as they invite passing motorists to sound their horns in support.
Long-time trader Abdul Kader Mydin, 50, who says he has been operating his sidewalk stall there for the past 40 years, says the group are not disrupting his business.
"It's ok. What disturbance? Why would I want to close (shop)? There is no danger," he says to Malaysiakini .
The owner of a nearby budget hotel, in operation since 1973, also states that the people gathered there are not hindering business.
In fact, Steven Yong ( right ), 70, felt the rally-goers are smart and will not cause his business any losses.
"They are learned people. They will not disturb (businesses) and cause a ruckus. When the police comes, then only will there be disturbance. Then we will close up," he said.
10.30am: Brickfields - Things are relatively quiet here. So far, only around ten can be seen waiting in front of a shop. They are all dressed in black and claim to come from Kedah for the rally.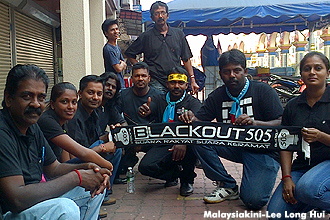 Speaking to Malaysiakini , a women, who only want to be known as Deepah, 38, says that Kedah Pakatan Rakyat ferried ten buses of supporters to participate the 'Black 505' rally.
"We have been here since 7am. The buses dropped the people off at several places, not all in only one place," says the mother-of-seven.
The PKR member, who also claims herself to be as a loyal PAS supporter, says that she came to the capital with her friend, as her husband is working today.
Deepah hopes that the rally will eventually force the EC to "correct" the results of the 13th general election for the benefit of the people.
"We are not satisfied with the 13th general election result. We want a fair result, but it didn't (turn out that way). Corruption and fraud were everywhere."
10.30am: Dataran Merdeka - Dataran Merdeka appears to be off limits as Kuala Lumpur City Hall (DBKL) officers are seen putting up steel barricades, sealing of the entrance from Jalan Tuanku Abdul Rahman.
Police personnel, meanwhile are seen putting cones along Jalan Parliament to prevent cars parking along the roadside.
Authorities are also seen monitoring Jalan Parliament area closely as several police patrol cars and traffic police officers are criss-crossing the area.
All this does not deter stalls from being set up behind Padang Merbok.
10.20am: Jln Raja Laut - Despite the lack of activity at Jalan Raja Laut at the moment, there is decent police presence there. Howeve, no roadblocks have been set up.
Meanwhile, rally-goers are slowly making their way to the gathering point in front of the Sogo shopping complex and into the mall, past the watchful eyes of policemen.
10am: Jln Raja Laut - Around 80 'Black 505' participants have already gathered at the PAS headquarters, waiting for the time to begin marching to Padang Merbok alongside several PAS leaders.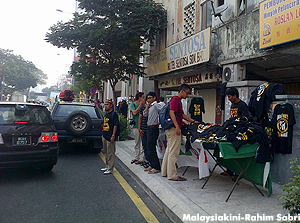 The supporters from Alor Setar arrived at the location this morning, on two busses.
"We will push till the end for the resignation Election Commission (EC) leadership. If not, it will be like this until doomsday ( sampai kiamat )," said one enthusiastic participant, Abdullah Abdul Rahman, 42, from Alor Setar.
In preparation for the crowd expected to gather there, boxes full of mineral water bottles have been placed in front of the headquarters.
Some enterprising individuals have even begun selling 'Black 505' T-shirts nearby.
Traffic along Jalan Raja Laut, meanwhile, is smooth.