New Internet TV provider KiniTV continues to break new ground, hitting a record high of 7.2 million video views in May alone.
Launched four months ago, KiniTV has registered 1.3 million unique visitors and more than 4.5 million page views as of May 31.
The fledging Internet TV is a re-brand of Malaysiakini's TV site, Malaysiakini.tv. The viewership of KiniTV has seen phenomenal growth since the re-branding exercise in January.
Viewer numbers spiked from 1.6 million video views in January to more than 2.4 million video views in February. It went on to hit 3.3 million views in March and spiralled to 4.8 million views in April.
Overall, it registered 19.3 million video views in the first five months of 2013, making KiniTV one of the most popular Internet TV stations in the country.
KiniTV director Premesh Chandran said as a new kid in the block, the initial target was to achieve an average of two million video views a month within the first year of operation.
"We are clearly overwhelmed by the exponential growth of KiniTV viewership. This tremendous growth really caught us by surprise," he said.
Leading in live coverage
As a direct partner of YouTube, the KiniTV channel on YouTube has 131,443 subscribers, 7,817 videos and more than 75 million views.
These remarkable achievements of KiniTV and its predecessor Malaysiakini.tv were highlighted at the Google conference in Singapore recently. KiniTV executives will be speaking at the coming YouTube Pop-Up workshop in Kuala Lumpur on July 8.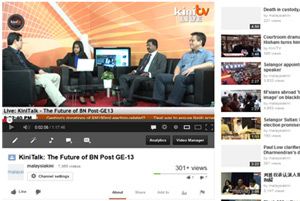 The surge in popularity of KiniTV is largely attributed to its live coverage during the May 5 general election and rallies that took place after the election, with each video averaging between 300,000 and 500,000 views.
The network's special reports on the Lahad Datu incursion in Sabah, which were covered live through telephone links with Malaysiakini journalists in Sabah, also received tremendous response, topping around 200,000 views.
These popular live reports have established KiniTV as the prime source for the coverage of events as they take place.
BM channel on religious programmes
Besides news, KiniTV will soon cover sports, travel and business programmes as it aims to become an information hub providing independent news and views in three major languages..
It is also setting up a Bahasa Malaysia channel that will provide religious programmes as well as discourses in current affairs.
The religious and current affairs shows in Bahasa Malaysia will be broadcast during the month of Ramadan.
"We are looking to recruit a number of TV producers and broadcast journalists to produce news in English and Bahasa Malaysia," said KiniTV chief executive officer Yong Kai Ping.
Those keen in these positions can send their resume to [email protected] or click here for more details.