Two Malaysiakini and a KiniTV journalists were among the 227 media personnel conferred the Pingat Kedaulatan Negara (National Sovereignty Medal) for their coverage of the Lahad Datu incursion in Sabah.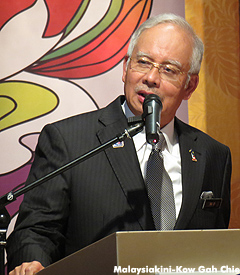 The three who received the medals from Prime Minister Najib Abdul Razak were Malaysiakini reporters Nigel Aw, Lee Long Hui and KiniTV videographer Mohamad Azfar Afandi Zulkfley.
The special medal is also given to selected members of the security forces, government agencies and those involved in the fight against the armed Sulu terrorists invasion, which began in February.
The ceremony was held at the prime minister's official residence Sri Perdana in Putrajaya this evening.
Aw, 24, said he was glad that the government recognised the efforts of the journalists who covered the incident.
"It was a challenging assignment and we worked hard to provide our readers with the news of what was happening there.
"It was an unforgettable experience," he said.
Lee, 27, who also expressed gratitude for the recognition, said that although Ops Daulat had ended, there were still numerous questions left unanswered.
"So the government must reveal the findings of its investigation into the matter," he added.
Mohamad Azfar, 23, said he was proud and delighted to have been given the opportunity to cover the Lahad Datu incursion.
"I am also proud to receive this medal from the prime minister... I never thought the government would appreciate our efforts," he added.
Those who attended the function were also shown a short clip of the events that unraveled during the Lahad Datu episode, which claimed the lives of 10 Malaysian security forces personnel.
In his speech, Najib said prior to this, the medals were awarded to security personnel who served on the frontline.
"I still remember... I cannot erase that memory from my mind. The memory of seeing the widows and children of our security personnel who lost their lives.
"It was a huge sacrifice," he added.
Importance of media
Najib said the government also decided that there was basis to confer these medals to media practitioners as well.
"This is because when they (journalists) went to Lahad Datu, they too were exposed to danger.
"Secondly, if we want to defeat external threats, one of the most important facets for this is the support of the people," he said, citing how the US failed in the Vietnam war due to the lack of support from its citizens.
"That is why when the incursion in Lahad Datu happened, the government realised the importance of the media in shaping the views of the people.
"We needed to ensure that the reports on the conflict were accurate in showing that we were right albeit legally and morally," he added.
Also present were Communications and Multimedia Minister Ahmad Shabery Cheek and Deputy Home Minister Wan Junaidi Tuanku Jaafar.
Selected Lahad Datu stories
Local Suluks: Don't bring your war to us
Kunak folk recount intrusion scare
Lahad Datu water facilities safe despite poisoning fears
Fears linger in Semporna although fighting is over
Nazri: Kg Tanduo incident an intrusion, not a war