[To hear the full recording of Ahmad Zahid Hamidi's speech, click here]
EXCLUSIVE Civil society groups have over the years complained that the police use a shoot-to-kill policy for some criminal suspects.
Such fears appeared to be confirmed after Home Minister Ahmad Zahid Hamidi indicated in a speech that it was best to shoot first and ask questions later.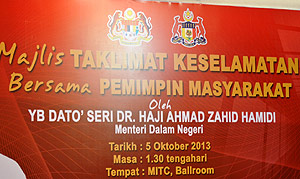 Ahmad Zahid was speaking at a 'security briefing ceremony with community leaders' last Saturday in what appeared to be a government function that turned into an Umno affair.
Reporters were unceremoniously kicked out towards the end of his speech and threatened by the home minister against reporting the contents or he would shut down their newspapers.
The threat succeeded in silencing most of the media although Oriental Daily News reported Ahmad Zahid's warning after he made "sensitive remarks". It did not give details of his comments.
Malaysiakini has obtained a 20-minute audio recording of the speech delivered at the Malacca International Trade Centre in Ayer Keroh, Malacca.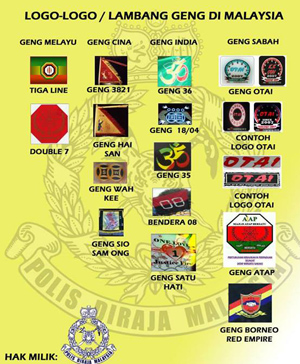 Based on the recording, Ahmad Zahid said about 28,000 of more than 40,000 gang members identified are Indian Malaysians and there is nothing wrong in arresting them.
"What is the situation of robbery victims, murder victims during shootings? Most of them are our Malays. Most of them are our race," he said.
"I think the best way is that we no longer compromise with them. There is no need to give them any more warning. If (we) get the evidence, (we) shoot first."
Ahmad Zahid then immediately highlighted the fatal shooting of five suspected Indian gangsters in Penang in August and chastised Deputy Minister in the Prime Minister's Department P Waythamoorthy - albeit without naming him - for raising questions about the incident.
"There is a deputy minister ... he disputed me and the police. He (asked) why there were no warning shots first before shooting.
"I said that if you want to be (in) a NGO, resign as a deputy minister. He is not qualified to be a deputy minister," he said to cheers in the room.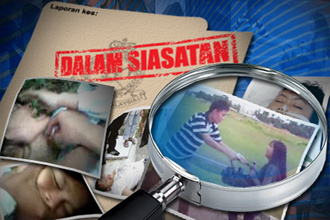 Ahmad Zahid also proudly declared that the amendment to the Prevention of Crime Act 1959 (PCA) that reintroduces detention without trial was his own law.
"We investigate (criminal cases), we take it to the courts. If there is no evidence, if there is not enough evidence, at least there are still two years' (detention). That is my new law, there is no compromise."
The revised PCA allows for indefinite detention without trial for durations of two years at a time.
'Push for cabinet approval'
Ahmad Zahid further boasted about his role in getting the PCA amendments passed in the Dewan Rakyat, including getting speaker Pandikar Amin Mulia on his side.
"The Internal Security Act has been repealed, the Emergency Ordinance has been repealed, the Restricted Residence Act has been repealed, but they (opposition) did not notice the PCA 1959, they did not notice it.
"I discussed (pakat) with the inspector-general of police. I discussed (it) with the ministry's legal adviser, I said this can be used," he said.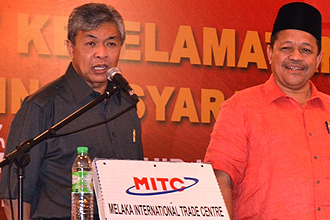 After being informed of the limitations of the Act by the police, Ahmad Zahid (left in photo) said he pushed for cabinet approval for amendments to the PCA before tabling it in the Dewan Rakyat.
"I (discussed) with (minister in charge of parliamentary affairs) Shahidan Kassim so that when the time comes (for a vote), the ... speaker would be on our side, the Dewan Rakyat secretary will be on our side," he said.
He then related how the opposition bench, where there are many lawyers, had made their case in the Dewan Rakyat against the amendments during the debate which extended to almost nine hours.
"I am not a lawyer. I was a banker, so I just listened. I did not understand what they said and even if I did I would not want to understand what they said because they were defending gangsters.
"Whoever who defends gangsters, I will surely oppose them," he said.
The home minister rubbished opposition demands to respect the human rights of suspected criminals, saying that the police, too, are entitled to have their human rights respected.
Ahmad Zahid said the Bill was passed without any changes, with a convincing majority of 115 votes to Pakatan Rakyat's 66 votes.
Related stories
Carry on, Zahid tells 'Tiga Line' dons
So, just how did Zahid threaten the media?
Gobind: What's your take on Zahid, Mr PM?
Zahid spins out of control in land of endless possibilities
PKR opens fire on Zahid over 'instigation to murder'
'That sick fellow is worse than Mahathir'
PCA will come under fire at UN review, warns Suhakam
Discuss serious laws like PCA with BN leaders, Najib told
'33pct drop in violent crimes due to Ops Cantas Khas'
May as well shut down all papers except Utusan