Even the newly-added Lego policeman could not 'protect' Ernest Zacharevic's 'crime' mural, with Johor Bahru City Council workers whitewashing away the artwork today.
An initial picture uploaded on popular Internet forum 'JB Talks' showed that the Lego 'robber' had been whitewashed, with paint-rollers closing in to send the Lego 'cop' into oblivion as well.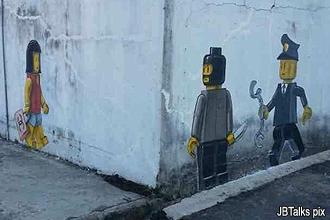 Another photograph revealed that all three Lego figures - the woman carrying a Chanel handbag, the robber and policeman - had been painted over.
In an immediate response, Zacharevic urged his supporters not to "get upset".
"Johor Bahru has proved to be a strong and opinionated state (sic), please continue to make Malaysia as awesome as it is. I will see you again," he said in Facebook.
Zacharevic also included another version of the mural, this time converting the Lego woman into Viking god Thor, with the caption "Thorism".
Akin to currently popular Thor Internet memes, this is believed to be a play on the word 'tourism', which the Johor Bahru government told Zacharevic to concentrate on, instead of high crime rates.
Motion bid in Johor assembly rejected
Earlier, the Johor state assembly rejected an emergency motion to debate the brouhaha around the mural.
According to the DAP's Johor Jaya assemblyperson Liow Cai Tung, the speaker said this was because she had "already raised the matter during the debate".
"The speaker said the executive councillor will respond to the state assembly (on matters raised during the debate) tomorrow," she said when contacted.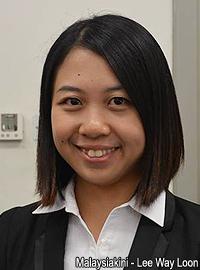 Liow (right) had spoken about the mural, which the Johor Bahru City Council had said it intended to remove, when debating the state's 2014 Budget on Monday.
In a statement, she said that instead of removing the mural, the government should "get rid of (advertisements promoting) illegal money-lending or (services of) Ah Long".
Liow said there are so many of these advertisements that they even cover road signs.
Tee scolded for flip-flop
Liow slammed Tee Siew Keong, the state executive councillor in charge of tourism, who had frowned on the mural at first but later invited Zacharevic to paint more of such murals.
"If the government wants to promote tourism, it should provide an open platform for free speech and free art expression, so as to show that Malaysia is a liberal country," she said.
She added that the mural had served as a reminder to pedestrians to be extra careful.
The mural, located at a corner of two streets in the middle-class township of Taman Molek, had depicted a Lego knife-wielding mugger about to pounce on a Lego woman carrying a Chanel bag.
Zacharevic (left) had earlier told Malaysiakini this was his take on what locals had described as the two things Johor Bahru is known for - Legoland and the high crime rate.
Last night, local artists painted a Lego policeman behind the mugger in what seemed to be an attempt to soften the message and save the mural.
Zacharevic, who was born in Lithuania, is an internationally-acclaimed street artist who is known for murals of childhood scenes in Penang, among others.
The Huffington Post last week listed Zacharevic in the same league as top British street artist Banksy.
Banksy's earlier works, which were removed from outdoor locations, will go on auction in Los Angeles in December and some are estimated to fetch up to US$300,000 (RM962,804).
Additional reporting by Aidila Razak.