Rosmah Mansor's controversial trip to Qatar last week using the government-funded jet has caused an uproar, but news reports and photographs on her website show it had been four busy days for the prime minister's wife's entourage.
Accompanied by ministers' wives, Pengerang MP Azalina Othman and the prime minister's special adviser Shahrizat Abdul Jalil, Rosmah's "working visit" to Doha, Qatar as well as Dubai, United Arab Emirates (UAE) from Nov 10 to 14 was filled with daily meetings.
They include one with Qatari Prime Minister Sheikh Abdullah Bin Nasser Khalifa Al Thani on Nov 13 to extend PM Najib Abdul Razak's invitation to Sheikh Abdullah to visit Malaysia next year.
Among the ministers' wives in Rosmah's entourage were the wife of Foreign Minister Anifah Aman, wife of International Trade and Industry Minister Mustapa Mohamad and wife of Education Minister II Idris Jusoh.
Mixing business with pleasure, Rosmah attended a charity fashion gala to promote Islamic fashion and had tea with Sheikh Abdullah's wife on the next day.
However, the core reason for the Middle East trip was to deliver a 25-minute keynote address at the Qatar International Business Women's conference at the St Regis Hotel in Doha.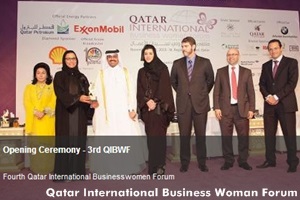 "Women-owned businesses now constitute 19 percent of the total business establishments in Malaysia. Some of these have graduated from small-medium enterprises to large enterprises," Rosmah was reported by Bernama as saying at the conference on Nov 11.
"This only shows that given equal opportunity, as well as the necessary support and assistance, women can prove their worth in the business world."
Below is what Rosmah achieved during her trip, which Minister in the Prime Minister Shahidan Kassim said has been "fruitful" for Malaysia:
Nov 10: Arrives in Doha.
Nov 11, Doha: Gives keynote address at the Qatar International Business Women's conference.
Meets Qatari PM Sheikh Abdullah at ISF Complex to extend Najib's invitation for the Qatari PM to visit Malaysia next year for Visit Malaysia 2014.
Nov 12: Visits the Qatar Foundation to discuss cooperation with Permata (Rosmah is patron of the early childhood education project) on issues of education and health of refugee children.
Attends a charity fashion gala to promote Islamic fashion as well as tea with Qatar PM's wife Sheikha Alanoud Bint Abdalrahman Althani.
Nov 13, Dubai: Granted an audience by the UAE prime minister's wife Princess Haya Bint Al Hussein at Burj Khalifa in Dubai.
Nov 14: Witnesses the signing of a memorandum of understanding between Alliance International Investment (AII) on a Permata Pintar programme in Dubai. Universiti Kebangsaan Malaysia will work with AII to expand the programme to other parts of the Gulf region.
Nov 14 : Visits the International Humanitarian City in Dubai which houses all UN workers working on humanitarian aid to learn more about aid work, especially to help women and children.
Jet okayed by Muhyiddin
On Monday, Shahidan was grilled by MPs as to why the government paid for Rosmah's trip, which included flying on the executive jet.
The minister said the trip was approved by the cabinet and that Rosmah was representing Malaysia.
It is not clear whether those accompanying Rosmah had also travelled on the government-fund jet and whether their trip was paid by taxpayers.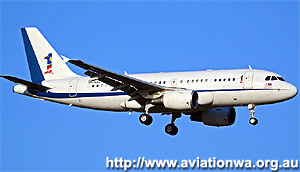 Parliament was told earlier this month that the use of executive jets by the government cost RM15 million for fuel and RM160 million for maintenance, with a single flight costing around RM470,000.
This is not the first time Rosmah "represented" Malaysia at international conferences, though it is not known whether she had previously used the government-funded jet on these occasions as well.
Among others, she has given keynote addresses at various conferences in Dubai, Doha and Kazakhstan.
Yesterday, Azalina told the Dewan Rakyat that the Rosmah was invited to Doha in her personal capacity , and that the use of the jet was approved by Deputy Prime Minister Muhyiddin Yassin and members of the cabinet.