What was meant to be a humorous Chinese New Year video greeting by Seputeh MP Teresa Kok has landed the MP in yet another race controversy.
This time, the DAP vice-chairperson, who was previously wrongly accused of criticising the azan (Muslim call of prayer), is accused of "insolence" and "inciting racial hatred".
In the 11-minute video uploaded on her website last Monday, Kok plays a talk show host who is interviewing a panel of experts on what to expect in the Year of the Horse.
The experts are actors playing the following characters — Brother Wai, an emotional man who is fast reduced to tears, Mrs Jit, a big-haired rotund woman who loves jewellery and handbags, and Miss Yan Yan, an expert in tourism and feng shui.
The experts' advice on several issues including security, wealth, education and the economy is peppered with anecdotes familiar to many Malaysians.
Among others, references were made to diamond rings, branded handbags and real estate in New York as well as several other news items pertaining to tourism and vernacular education.
Although not directly, viewers of Kok's 'Onederful Malaysia CNY 2014' video may associate this to Rosmah's ( left ) penchant for luxury goods and her son, Riza Shahriz Abdul Aziz's 2012 purchase of RM100 million apartment in New York.
Ostensibly, the rotund woman also advised viewers to place a "lo-si-ma" (a horse made of of nails and screws) to attract good luck this Year of the Horse.
Video undermines 'national harmony'
In a press conference yesterday, Federal Territories Umno Youth reportedly called on Kok to apologies for the video because it allegedly contained "racial elements".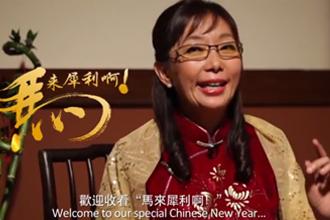 "We condemn the video which is racial in manner. This video can affect national harmony," its chief Mohd Razlan Muhammad Rafii was reported as saying by Sinar Harian .
"(Kok) should not get upset if the people act rudely towards her now as she provoked such behaviour."
A coalition of Malay NGOs in Putrajaya have also called for a press conference at 2pm today, to condemn Kok for "inciting the Chinese to make fun of Malays without any respect".
Meanwhile, the police will scrutinise the contents of Kok's video clip to determine whether it was seditious or defamatory.
Internal Security and Public Order director Salleh Mat Rasid said the relevant action would be taken against Kok if she had committed an offence on the video.
He was speaking to reporters after a dialogue session with Kampung Seri Jaya Gading residents during 'Ops Selamat IV' in Kuantan today.
When contacted, Kok said she would not apologise for the video.
"It is up to you to interpret who the three characters are. We never mentioned names. All we mentioned were issues faced by the rakyat like inflation, security and education. So why should I apologise?"
'Political satire'
She also thanked Umno Youth for attracting attention to the video, recorded in a mix of Mandarin and Cantonese with English subtitles, as it was initially intended to target only the Chinese-speaking audience.
"As the news (of Umno Youth's claims) are in all major Bahasa Malaysia newspapers, then it will reach the non-Chinese speaking audience. So I thank Umno for that," she said.
Supporting her, Selangor DAP Youth chief Chua Yew Choong ( left ) added that the video is a "political satire" and Umno Youth's response shows it is trying to bar Malaysians from seeing what is really going on in the country.
"In fact, Mohd Razlan's statement shows how narrow his thinking is and how his party wants to abuse its powers and incite action against Kok," he said in a statement.
VIDEO l Onederful Malaysia CNY 2014 l 11.39 min
Related stories
Minister wants action against MP over video