With taps running dry for the past 10 days, tempers are flaring in Balakong, where some 20,000 residents have been left in a quandary.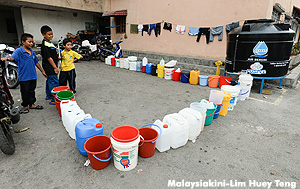 The areas affected by the water shortage are Taman Impian Ehsan, Taman Impian Indah and Kampung Kenangan Indah.
Residents around Balakong staged a protest yesterday after facing dry taps for 10 days, which is affecting about 20,000 people.
They vowed to protest every evening until running water is restored to the area.
A trader, who declined to be named, claimed that Syabas did not provide notice about the problem.
Furthermore, he claimed that the lorries which have been transporting water do not come at a specific time and when the vehicles arrive, the supply is insufficient.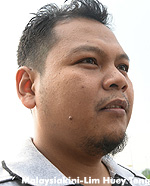 "Do they (Syabas) want us to die? They don't send enough water... There are thousands of people living here.
"We have to travel all the way to Kajang to get water. It has been like this for days. If this goes on, we will die," the trader told Malaysiakini , which visited the area yesterday.
Civil servant Mohd Nor Asnan Awang ( left ), 33, who lives in a walk-up apartment, lamented that he has been forced to carry drums of water up to the third floor on a daily basis.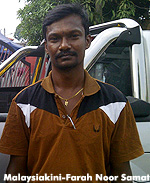 "I fee like leaving this area and moving to my sister's place. We Muslims also need a lot of water to cleanse ourselves for prayers," he added.
Since water is not supplied at a specific time, Mohd Nor said he has been forced to take leave from work.
Also complaining about the Syabas lorries, Shashitharan Chelliah, 50 ( right ), said the residents cannot depend on this alone, with the problem compounded due to insufficient supply.
The vexed technician also revealed that many quarrels and fights have broken out with the residents clamouring for water when the lorries arrive.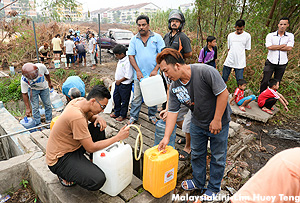 "We cannot just depend on the lorries. Each family brings up to 10-15 drums....
Look at how many residential areas there are, how many blocks of apartments... How can it be enough?" Shashitharan asked.
It was reported in The Star daily that foreigners on Friday seized a Syabas water tanker to divert it to another block.
Syabas corporate communications and public affairs assistant general manager Priscilla Alfred confirmed that incident, and that one was seen brandishing a folding knife. However the residents' committee intervened to ease the tension.
'Not satisfied'
Chow Yuet Ngan, 42, who works at a restaurant, said he collects water from his brother's house and factory, up to six times a day.
"We are not satisfied with the policy that water cannot be supplied to business premises (within commercial areas)... Does this mean we don't have to do business and close shop?" Chow asked.
He is also upset with Syabas for not informing the people about the disruption in water supply earlier.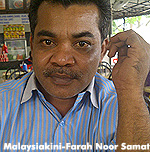 "If informed earlier, we business people could have made the necessary preparations. The water issue also raises concerns about hygiene among customers," Chow added.
Restaurant owner Nasir Khan Abdulmanapu, 40 ( right ), said he has been suffering losses of between RM300 and RM400 on a daily basis.
"I feel like installing a generator to pump water from the main pipe, but I don't want to be selfish and inconvenience others," Nasir Khan saud.
In a statement published on its website, Syabas stated that a total of 27,003 households have been affected.
The company explained that the water disruption was the result of high ammonia contamination in Sungai Langat.
Syabas said that although the company has activated its emergency action plan to supply water to the people, there is a shortage of water to cater for all affected residents.