Prime Minister's wife Rosmah Mansor today lamented that she devotes all her time to the rakyat that she even has to forgo her hobby - playing badminton.
"I like fashion, it's not that I don't like fashion, otherwise it would be very boring. (But) the rakyat have taken everything from me...
"Everything has been taken away from me, including my time, including my hobbies. I don't get to play badminton now because I am very busy doing things for the rakyat.
"If that is still not right then I don't know what to say," she said in her speech when officiating the National Crafts Day 2014 at the Kuala Lumpur Craft Complex.
Rosmah, who was speaking on batik design, said that she even complained to her husband Najib Abdul Razak that she cannot even wear "pretty clothes" now.
"He said, 'you can wear pretty clothes, it's not true that you can't'."
'Choose bright colours'
Sharing her passion for fashion with batik manufacturers in the audience, she had many tips on how to match colours, designs and to keep abreast with the latest trends.
Rosmah said that batik pieces should follow themes, and not be mixed with everything under the sun, so much so that it looks like someone is wearing a "tsunami".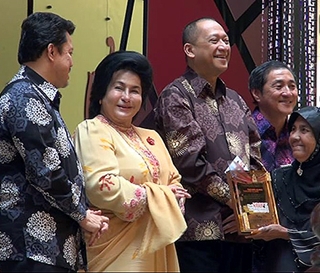 "It must please the eyes. You can follow a theme but it shouldn't be a tsunami theme or a volcano theme.
"For people to look at you when you wear something on your body, it has to be very attractive, soothing (so that) they want to look at you over and over again," she said.
She added that a friend who had just returned from Paris had informed her that the colours of the season are bright colours such as yellow and purple, so batik manufacturers should not produce pale designs if they are eyeing overseas markets.
"This is my advice, whatever it's worth, to my batik suppliers. Some like it bright, some like it very pale. I'm one person who likes it bright so those who want to supply batik to me must look for bright colours and uncluttered designs," she said.
VIDEO
Rosmah's fashion tips: It's all about the theme | 4.18
Rosmah: The people have taken everything from me, even badminton | 0.40