Malaysiakini has decided to adopt the duck that was left behind by vandals who attacked the independent news portal's office with red paint and suspected black magic earlier this week.
Given the lack of space in the existing Malaysiakini office in Bangsar Utama, the duck is currently under the care of a good Samaritan who volunteered to nurse the bird back to health.
"It is walking now and makes a lot of noise," said the volunteer, who is an experienced pet owner.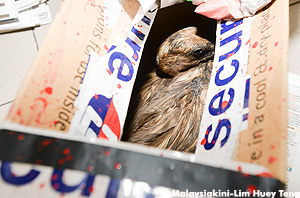 The duck, which was badly traumatised following hours of being tied and kept inside a sealed box, had problems walking after it was released.
The bird, which was initially thought dead, was found in a cardboard box placed next to the office entrance in the early morning hours on Tuesday.
After it was taken out of the box by the police, the duck appeared weak and irate, pecking at the forensic team as well as Malaysiakini staff members who tried to tend to it.
As part of the investigation into the attack, police officers took the duck for forensic examination and it was later returned to Malaysiakini .
Cops want duck back
However, on Wednesday - the day after the Feb 25 attack - the police asked for the duck again, apparently for further investigation.
According to Malaysiakini editor-in-chief Steven Gan, the police did not explain why they wanted the duck back.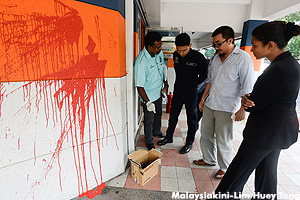 "We do not want to get into an ugly custody battle with the police, but we're not going to hand the duck over until they tell us why they want it for the second time," he said.
Gan added that the duck will eventually have a permanent home at Malaysiakini's new office in Petaling Jaya once renovations are completed in the middle of this year.
Malaysiakini staff members have yet to agree on a name for the duck and readers are welcome to make suggestions.