The tallying of votes for the Kajang by-election is currently underway and Malaysiakini is reporting the total number of votes received by BN and PKR according to their unofficial count.
The voter turnout today stands at 72 percent, which is significantly lower than the 88 percent recorded during the general election in May 5, 2013.
LIVE reports
9.10pm: Returning officer Hassan Nawawi announces Wan Azizah Wan Ismail as the new Kajang assemblyperson.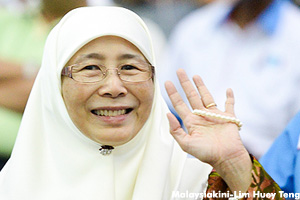 9.01pm - OFFICIAL RESULTS
PKR - 16,741
BN - 11,362
Majority - 5,379
9.05pm: Kampung Bukit Angkat - While MCA hails its increase in Chinese votes, party's Wanita chief Heng Seai Kie concedes BN lost Malay votes and speculated that some voters could have voted along racial lines.
Meanwhile, MCA president Liow Tiong Lai also conceded that the party has also lost ground among young voters and pledged to work harder to win them over.
"MCA promises transformation so as to strengthen the party. The support we received (from Chinese voters) has given us the spirit to continue our work," he says.
PM Najib Razak, who was scheduled to meet BN supporters in Kajang, has cancelled his plan at the last minute.
9pm: MCA operation centre - MCA candidate Chew Mei Fun, who has somehow accepted her defeat in by-election, congratulates PKR party president Wan Azizah Wan Ismail.
Despite the defeat, Chew reveals that MCA has actually achieved two targets - reduce PKR majority votes and increase Chinese votes up to 25 percent.
She says the unofficial results show that the total Chinese vote for MCA has gone up from the previous 18 percent in last year's general election to 24.8 percent.
"We didn't manage to win this by-election, but in terms of unity of MCA, we have proven that...
"As the new leadership took over the party only two to three months ago, we have increased Chinese votes near to 25 percent - this is considered quite a good result," she enthuses.
One possible explanation to the increase of Chinese votes for MCA and a similar increase of Malay votes for PKR could be perhaps some of the Chinese and Malays voted along racial lines.
8.56pm: PKR operations headquarters - PKR communications director Fahmi Fadzil provides a quick analysis on the results:
PKR won in two of Umno strongholds and reduced its rival's majority in two more.
According to him, PKR won Sungai Sekamat by 45 votes and Taman Delima by three votes compared to the last general election where it lost both areas by 239 votes and 123 votes respectively.
"At Sungai Kantan, we lost by 420 votes last time but it has reduced to 225 votes while at Batu 10 Cheras, it has similarly been reduced to 151 votes.
8.55pm:
Anwar accompanies Wan Azizah arrive to the tallying centre. Also present are Selangor Menteri Besar Abdul Khalid Ibrahim, PKR deputy president Azmin Ali, PKR Wanita chief Zuraida Kamaruddin and a host of other PKR, PAS and DAP leaders.
There are no BN leaders around so Pakatan leaders occupy seats allocated for both parties.
8.53pm: A victorious Wan Azizah Wan Ismail arrives at the MPKJ stadium.
The returning officer will announce the official results soon. Tenaga Nasional has send some workers to ensure that there are no blackouts at the tallying centre.
8.38pm: Some 150 people including BN supporters and journalists have converged at Kampung Bukit Angkat to await Prime Minister Najib Abdul Razak's arrival while also enjoying the local satay and nasi lemak.
Najib is expected to turn up and greet supporters but it is unclear if there will be any changes to the plan.
8.42pm: Unofficial final results:
PKR - 16,770
BN - 11,401
Majority - 5,369
Its winning majority is reduced by 1,455 votes on lower voter turnout of 72 percent.
At the 13th general election last year, PKR's Lim Chin Cheh won with a 6,824-vote majority. The voter turnout was 88 percent.
Both PKR and BN have increased the percentage of the votes.
2013 - 19,571/33,749 = 57.99%*
2014 - 16,770/28,171 = 59.53%
Increased by 1.54%
2013 - 12,747/33,749 = 37.77%*
2014 - 11,401/28,171 = 40.47%
Increased by 2.7%
*six-cornered fight. Note: Spoilt votes not factored in
8.30pm: Unofficial results:
PKR: 16,581
BN: 11,242
Majority: 5,339
8.15pm: The atmosphere at the PKR operations headquarters in Sungai Sekamat is filled with party members as they await the unofficial results for the Kajang by-election.
Most of the top party leaders, including PKR president and by-election candidate Wan Azizah Wan Ismail, Selangor Menteri Besar Abdul Khalid Ibrahim, have already departed to the Kajang Municipal Council, the main vote-tallying centre.
PKR strategic director Rafizi Ramli says he is satisfied with the results as the party managed to capture two Malay-majority areas which it lost in the last general election, namely Taman Delima and Sungai Sekamat.
"In terms of percentage, it is a bigger win for us even though our majority has gone down. This is because of the lower turnout," he says.
8.14pm: Police have set up a roadblock about 2km from the entrance of Universiti Kebangsaan Malaysia (UKM) and are checking vehicles carrying PKR flags.
There is also a major jam at the entrance of UKM extending to about 1km after police closed an exit from a roundabout heading towards the counting centre at Kompleks Sukan Bandar Baru Bangi.
Police also urged the public to park their cars by the roadside if they want to walk to Surau Ibnu Sina Section 15, Bandar Baru Bangi where PKR candidate Wan Azizah Wan Ismail will move from there to the counting centre.
8pm : Unofficial results:
PKR: 16,086
BN: 10,407
Majority: 5,679
About 93 percent of the votes have now been counted.
7.42pm: On-the-spot analysis:
Based on preliminary results, even though PKR's majority was reduced, its percentage of total votes increased.
In 2013, PKR bagged 19,571 of the 33,749 votes cast (or 57.99 percent). The results today, up to 7.30pm, showed it garnered 15,055 of 24,683 of votes (or 60.99 percent).
However, BN can also boast the same as its percentage of votes similarly increased compared to 2013 as it is a straight fight in this by-election.
Four other candidates had collectively bagged 4.19 percent of votes in the last general election.
BN's share of votes increased from 37.77 percent to 39.01 percent in this election, based on vote count that is still coming in.
7.40pm: Some 100 MCA members are seen gathering at the party operations centre and listen to updates provided by deputy president Wee Ka Siong.
The atmosphere was quiet, while some are spotted jotting down notes.
MCA president Liow Tiong Lai urges party members not to be disheartened by the outcome as the results show that the party has garnered more Chinese votes in this round.
7:35pm: PKR communications director Fahmi Fadzil says PKR won in Sungai Sekamat and Taman Delima, both Malay-majority areas. In GE13, PKR lost in these two areas.
7.30pm: Unofficial results:
PKR - 15,055
BN - 9,628
Majority - 5,427
About 88 percent of the votes have now been counted. It appears that PKR will retain the seat with a reduced majority of about 1,000 votes.
It won Kajang with a majority of 6,824 votes last year at the 13th general election.
7.14pm: Unofficial results:
PKR - 13,414
BN: 8,226
Majority - 5,188
About 80 percent of the votes have now been counted.
7.10pm: Umno supporters and party workers are waiting eagerly for results of the by-election as party officials tally their vote count at the Hulu Langat Umno headquarters.
Among the party leaders present are Umno secretary-general Tengku Adnan Tengku Mansor, Umno executive secretary Abdul Rauf Yusoh and Hulu Langat Umno division chief Johan Abdul Aziz.
7.07pm: Unofficial results:
PKR - 10,070
BN - 6,145
Majority - 3,925
Based on 53 out of 88 voting streams.
The UCSI Poll Research Centre has yesterday predicted that PKR's winning majority would dip by about 2,000 votes based on 85 percent turnout.
6:57pm: Unofficial results:
PKR - 9,892
BN - 6,075
Majority - 3,817
Based on 52 out of 88 voting streams. About 60 percent of the votes have now been counted.
6.42pm: Unofficial results:
PKR - 8,847
BN - 5,260
Majority - 3,587
Based on 46 of the 88 voting streams counted.
Slightly more than half of the votes have now been counted.
6.30pm: Unofficial results:
PKR - 5,242
BN - 3,429
Majority - 1,813
This is from 33 voting streams out of 88 counted.
6.22pm: Unofficial results:
PKR - 4,817
BN - 2,958
Majority - 1,859
This is from 26 out of 88 voting streams, or about 30 percent of the votes cast.
It is estimated about 28,000 voters cast their ballot today based on 72 percent turnout of 39,278 registered voters in the Kajang state seat.
With the lower turnout, PKR candidate Dr Wan Azizah Wan Ismail is expected to win with a lower majority than the last contest at the May general election last year.