MH370 Acting Transport Minister Hishammuddin Hussein has rubbished an opinion poll showing only a quarter of Malaysians believe that Malaysia is being truthful about the missing MH370.
"That is purely speculative. It is irresponsible and it does not represent the majority of the views out there.
"People want us to continue and we have done so with friends from all over the world.
"There is a small group of people who may be cynical about how we are going to move forward, but the truth will always prevail. We have nothing to hide," he said at a press conference today.
He was asked to comment on a survey by the pollster Merdeka Centre, which among others found that 26 percent of respondents believe that the government is being truthful, compared to 54 percent who believe that the government is hiding the truth.
Hishammuddin said on the contrary, support is "pouring in" from all over the world, including from leaders he met at the Defence Services Asia exhibition in Kuala Lumpur over the past week.
"They are saying that this is an unprecedented situation and they believe that what we have done is something that no country out there has actually experienced.
"So how are you going to benchmark that as far as our performance is concerned?" he said.
'Committees will address distrust'
Over the past weeks, a number of questions surrounding the MH370 crisis remain unanswered, for example whether the air force spotted the plane as it flew over Malaysia and whether it had sent jets after it.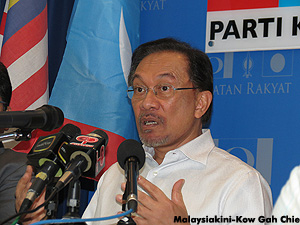 Opposition leader Anwar Ibrahim ( right ) has also questioned the government's hurry in attempting to secure jurisdication of the black box when it is eventually found, asking if they have something to conceal .
Since the crisis broke out, motions to discuss MH370 in the parliament sitting that was in progress were also repeatedly stymied.
To a question on how to address the distrust and rampant speculation surrounding the MH370 incident, Hishammuddin reiterated that the various committees established to investigate the incident are the proper bodies to curb it.
Earlier, Hishammuddin told reporters that the technical committee led by Deputy Transport Minister Aziz Kaprawi has drafted the structure and terms of reference of the Aircraft Accident Investigation Team for MH370.
He said this is done in accordance with the Malaysian Civil Aviation Regulations 1996, and Annex 13 of the Chicago Convention, which is an international treaty dealing with aircraft accident investigation and reporting.
This is done in consultation with air accident investigation authorities from United Kingdom, United States, Australia and China and will include experts from Malaysia and abroad.
Competent, transparent and highly credible
Asean member states have been invited to join the invesitagion team as well, in accordance to the 2008 Asean Memorandum of Understanding (MOU) on Cooperation Relating to Aircraft Accident and Incident Investigation.
The paper will be tabled to the cabinet during its weekly meeting on Wednesday.
Aziz adds, "We are sure to form the team. It is an independent team of investigators, which is not only competent and transparent, but also highly credible."
Meanwhile, Department of Civil Aviation director-general Azharuddin Abdul Rahman explained that the contents of the MOU to be signed between Australia and Malaysia on MH370 could not be disclosed earlier because its terms have yet to be agreed upon.
"Since we have agreed with the Australians and we have sorted out the details, we should be able to give the details to the media," he said.
The MOU lays out the responsibilities of Malaysia and Australia with regard to handling MH370's wreckage, black boxes and human remains once it is found.