A UK-based private investigation agency has raised a number of fresh allegations regarding the New Zealand holiday of Chief Justice Eusoff Chin and prominent lawyer V.K. Lingam six years ago.

According to reports prepared by private eye Bowman Investigations, Eusoff ( left ) and Lingam flew together with their families for their Christmas holiday in New Zealand in 1994.
Copies of Eusoff's itinerary and Lingam's counterfoil air tickets, which Bowman's team of investigators said they obtained, show that both took the same flights to and from Singapore, and within New Zealand. [See copies of Eusoff's itinerary and Lingam's ticket ]
The investigation agency said that Lingam's party flew to Singapore on Singapore Airlines on Dec 22, 1994 and took a connecting flight to Auckland.
Also on the same day, Eusoff and his family took a Malaysian Airlines flight to Singapore and joined Lingam's flight in business class to Auckland.
Both families then proceeded together to Christchurch four days later and returned to Kuala Lumpur via Singapore on Dec 30.
During the eight-day tour, Eusoff was accompanied by his wife Rosaini Mustaffa, daughter Zubaidah, 7, and son Johan, 6, while Lingam was with his wife K. Gnanajothy, and daughters, Sivashahki, 11, and Sivajothy, 10.
Also travelling with the two families was Tan Chong Paw, an ex-police sergeant which the agency believes to be business tycoon Vincent Tan's bodyguard.
Eusoff's Family
Eusoff Chin
Rosaini Mustaffa
Zubaidah Eusoff, 7, Johan Eusoff, 6
Lingam's Party
V.K
Lingam, K. Gnanajoythy,
K. Sivashahkti, 11, K. Sivajothy, 10,
Tan Chong Paw
Dec 22
Kuala Lumpur - Singapore
MH 611
First Class
1500-1555
Kuala Lumpur - Singapore
SQ11?
First Class
1425-
Dec 22
Singapore - Auckland
NZ 28
Business Class
1755-1120
Singapore - Auckland
NZ 28
Business Class
1755-1120
Four days in Auckland
Dec 26
Auckland - Christchurch
NZ 1514
Business Class
1515-1630
Auckland - Christchurch
NZ 1514
Business Class
1515-1630
Four days in Christchurch with at least one day in Queenstown
Dec 29
Queenstown - Christchurch
NM 2412
Economy Class
1625-
Queenstown - Christchurch
NM 2412
Economy Class
1625-
Dec 30
Christchurch - Auckland
NZ 504
Business Class
0700-0815
Christchurch - Auckland
NZ 504
Economy Class
0700-0815
Dec 30
Auckland - Singapore
NZ 73
Business Class
0955-1550
Auckland - Singapore
NZ 73
Business Class
0955-1550
Dec 30
Singapore - Kuala Lumpur
MH 616
First Class
1730-1825
Singapore - Kuala Lumpur
MH 616
First Class
1730-1825
Bowman Investigations was apparently commissioned by some insurance companies and a law firm in early 1998.
Its mission: To obtain evidence in relation to corruption, improper associations and other matters in relation to the judiciary in Malaysia to assist litigation involving the law firm.
A copy of the two reports written by Bowman's managing director D. McCarthy - one dated March 2, 1998 and another dated April 21, 1998 - was anonymously given to malaysiakini . [See The Bowman papers ]
Evidence from the Bowman reports appear to contradict Eusoff's assertion last week that he coincidentally "bumped" into Lingam while holidaying in New Zealand.
"I bumped into him there. As a Malaysian in a foreign country, I was happy to see a fellow countryman. I told him I was going to the zoo and he asked if he could tag along," he told the press last Tuesday.
"I told him I was taking the bus there and he said he did not mind, so he came along. He also wanted to take pictures with me and I obliged," he added. ( The Sun , June 7).
Lingam represents tycoon Vincent Tan in a law suit against veteran journalist M.G.G Pillai, whose appeal in the Federal Court, the country's highest court, was heard by a panel headed by Eusoff.
Pillai is still waiting for a decision one and a half years after his appeal against a RM2 million award to Tan for defamation was heard.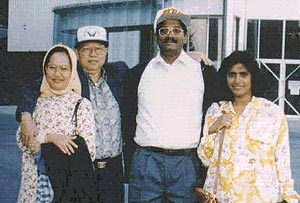 The Bowman papers indicate that after spending four days in Auckland, both families took an internal flight to Christchurch, the gateway to New Zealand's South Island.
The families also stayed there for four days, which included at least a one-day excursion to the mountain resort of Queenstown.
Three photos of both men and their families, which have been posted on the Internet since early 1988, suggest that both parties appeared to explore Queenstown together.
One photo ( top ) depicts the two men and their wives posing in front of Bob Peak's Skyline Gondola & Restaurant, a cable-car linked hill-top tourist spot.
Another snapshot ( bottom ) shows both families posing outside another Queenstown's tourist attraction, the Kiwi & Birdlife Park.
In both photos, all were wearing the same clothes, indicating that the two photos were taken on the same day.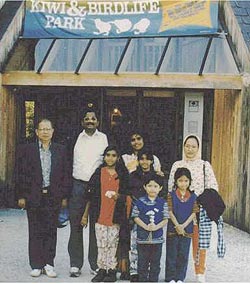 Copies of counterfoil tickets , said to be obtained by Bowman in New Zealand, show that the two families flew back from Queenstown to Christchurch on Dec 29.
The next morning, both families flew to Auckland for their business-class connecting flight to Singapore, and from there back to Kuala Lumpur.
According to the Bowman papers, the immigration cards of Lingam's family declared that they would be staying at the Best Western hotels in both Auckland and Christchurch.
"We have made enquiries and caused records to be searched at both these hotels. Lingam and party did not stay in them," wrote the agency's managing director McCarthy.
"We have additionally made enquiries at and searched records of the Sheraton Hotel, Quality Hotel, Anzac Avenue, Travel Lodge, Harbour City, Quality Hotel, Queenstown, but without success," added the investigator.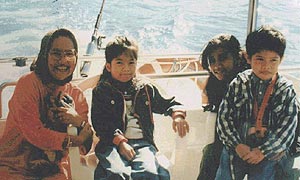 McCarthy also reported that the agency was informed that Lingam's client, Vincent Tan, "has accommodation in New Zealand which he allows to be used by friends".
According to McCarthy, the flight tickets were paid for with two cheques and one by cash.
"We understand that one cheque was Lingam's Nova Scotia Bank cheque. The other cheque was Eusoff's and the cash payment was for (bodyguard) Tan's ticket," wrote McCarthy.
Bowman's team of investigators also said they obtained a copy of Lingam's cheque of RM24,912 paid to Holiday Tours & Travels in Kuala Lumpur.
McCarthy added that during their investigation, they found the Anti-Corruption Agency had made similar enquiries to the travel agency where the tickets were booked.
At a press conference last week, Eusoff showed journalists a stack of receipts for expenses on air tickets and hotel accommodation.
He said he paid for the New Zealand holiday himself and vowed to sue anyone alleging his trip was paid for by a third party.
Eusoff also admitted that he had been investigated by the Anti-Corruption Agency, but said he was cleared of any wrongdoing.
While the allegations against Eusoff and Lingam emerged when photos of the two men in New Zealand were posted in the Internet in early 1988, they were given a new lease of life by Minister in the Prime Minister's Department Rais Yatim, who in a radio interview in Australia last month said that it is "improper" for a judge to be holidaying with a lawyer who appears in court cases before him.
Lawyers are due to consider moving a resolution calling for Eusoff's suspension pending an independent investigation on the scandal at an emergency general meeting of the Bar next Friday. However, it is unclear whether the EGM would go ahead.
On Monday, the Bar Council received a letter from a lawyer warning it not to proceed with its meeting, claiming that it would be contemptuous and seditious. K. Raja Segaran gave the council 48 hours to call off the EGM, otherwise he would apply for a court injunction, a demand swiftly rejected by council president Sulaiman Abdullah.
Yesterday, Prime Minister Mahathir Mohamad said that an investigation into the matter is not necessary and described the Bar Council's move as "politically motivated".
Meanwhile, former opposition leader and DAP chairman Lim Kit Siang has urged Parliament to convene an emergency meeting to form a commission of inquiry on the issue.