COMMENT Every time Prime Minister Najib Abdul Razak's wife Rosmah Mansor comes into controversy, my mind goes back to the time I had an exclusive interview with her when I was given the opportunity to sit down for nearly two hours and ask her the very questions everyone in this country wants to ask her.
Yesterday, she again courted controversy for using an official jet to fly to Padang in Indonesia to receive a Minangkabau award for herself.
At the time of the interview I had with her, in late 2010, I was working with The Sun newspaper.
She had not been accused of having misused any of the official jets then (not that we knew of) or I would have asked her about those.
Yet, she already had her controversies about her enlarging some of her handbag and shoe collections and many other issues, of which I will shy away from mentioning at a time when the Sedition Act hovers over us.
Many were also attacking her virtually with regard to her personal life.
Surprisingly, she answered all my questions and I, a born sceptic of anything paint-brushed, came away impressed with her answers and her command of English.
Unfortunately, those around her did not think her answers were so and thus the canning of the interview despite a game of ping-pong between her chief press secretary (she had three then) and my chief editor as the transcript of the interview became shorter and shorter.
I had to even make a late night trip back to Rosmah's house to pass a recording of the interview, all because her press secretary had not recorded the interview, despite being seated behind me all along, like a mouse, right throughout the interview.
At last, the editors at The Sun decided to end the game and canned it. My editor told me to keep it for my memoirs, if I ever get to do one.
I only made a phone call and wrote an email to land the interview. I was surprised I got it so easily. Probably, as I was with a mainstream newspaper, they must have thought me pretty 'safe'.
Woman who prided herself as 'First Lady'
It was a time when she was being hit left and right, virtually the most. The time when all kinds of allegations were making their rounds that even my late editor Zainon Ahmad was a bit worried that I was going to meet her alone.
I hardly slept the night before the interview, for after all. this was a woman who prided herself as the "First Lady" of the country.
I have interviewed her predecessor but she never alluded herself as the "First Lady", so technically then, I would be interviewing the first "First Lady".
I reached her house in Taman Duta, very much before the time.
The guards were casual, waved me in and as I approached the landing before the main door, big Ming Dynasty-like vases of seven feet or so loomed in front of me.
Her house helpers - young men - had prepared some breakfast for me and the photographer, who was too afraid to click away, much to my irritation.
The photographer later confided to me that he was afraid Rosmah might reprimand him for taking his liberty - such was her influence on people who have never met her.
We ate on our own in the dining hall, as her press secretaries informed us that "Datin Seri was getting ready".
As we sat there and drank tea and ate the curry puffs, I had much time to look at the things adorning her house.
Rosmah likes glittery and expensive things - there is no doubt about that. Her house was filled with adornments of all kinds - vases, handcrafted glass ornaments, crystals of all shapes and again, vases. There were many portraits of her and of her family with Najib on the walls. Most were of hers - in her various ages, all immaculately paint brushed.
I would personally say she was indeed a pretty woman in her younger days, looking more au naturale.
The house is Najib's personal house and it is not a very big one, by the standards of one who is a son of a PM and a PM known for having a wife who has been accused of spending excessively.
After about 30 minutes, Datin Seri came down, smiling, in her heels, dressed to the nines and her hair nicely coiffured and blown. I wondered if she had a salon upstairs.
I shot away at the questions and not at one time, did she say, "No, I will not answer that."
I asked her many things - about the 'puaka' videos defaming her, about her interfering in her husband's job as the PM, about the things people say about her, on her ambitions, etc.
I remember her saying this, word for word when I asked her if she had watched all those videos about her in YouTube and what she thinks of all the negative publicity she gets thrown at her.
'I just don't entertain them'
Rosmah replied: "I don't think I have lost my cool, I just don't entertain them. You have to know how to close up. If you keep on entertaining; they have a lot of fun asking all kinds of things. I don't think I have time to entertain.
"I have bigger things to do – I have better things to think of than to use to use my energy and stamina and my head to be put to better use. I don't want to dwell on these little little things. To me, these people have small minds.
"Negative publicity for reasons best known to this world. Of course I know what the issues they talk about me, but it does not bother me. These are just malicious allegations. Why are they doing this to me? They want to distract me. It does not matter to me.
"At first, I was frustrated and asked, 'Is that me they are talking about?' I could not imagine that people can go to that extent to make life unpleasant for others. I am happy now that when I meet people outside, people have taken me and my husband for what we are and that these are just political tactics. When I meet First Ladies from other countries, they also tell me they have the same problems, not just peculiar to us. A universal problem."
She just brushed off everything with the answer.
And when I asked her if she ever "advises" her husband on how to be a PM, Rosmah said: "I don't argue with him but I do 'inform' him. But I have to know my limits. At the end of the day, in the Muslim world, the men are to take good care of the women. We should ask for what is rightfully ours, we are not asking for more, we are not asking for less. And women should also not ask for more than what should be. "
A true politician answer, I said in my heart.
I also asked her if she would ever want to go into politics and she laughed her little laugh and said, "These things one never knows," but that she will always support from behind.
That question, I was made to understand later, was a no-no.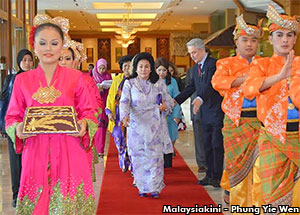 Then again, no one vetted or frisked me.
She answered all well and after two hours of her not moving a muscle other than her head and sitting upright in her usual flowery baju kurung, I decided to take my leave.
We had said our goodbyes and no sooner had I got up, suddenly she kicked off her heels and ran up the stairs with an agility which I would not give a woman her age.
I was astounded as I watched her from below as she jumped from one stair to another saying she needs to change while her press secretary kept saying, "We are late,we are late."
She was indeed late for another function then, by half-an-hour.
It was then that I was 'truly impressed' with Rosmah Mansor, for having the ability to do exactly as she wants and not caring about what others think.
---
ZAKIAH KOYA is a member of the Malaysiakini Team.