FLOODS LIVE BLOG Malaysiakini brings the latest updates on the flood situation as they happen.
---
Latest developments
Weather forecasts of tropical storm and heavy rains well into weekend bad news for flood situation
Death toll stands at 21 people
Railway bridge in Kemubu, Kota Baru, collapses
Kelantan flood victims crossing Thai border
Sg Belat in Kuantan crosses critical levels
11pm:
A flood alert has sounded warning for residents in the vicinity of Sg Belat in Sri Damai, Kuantan, that the river level has exceeded the critical level and is now at 4.07 metres.
Thunderstorms to continue till next week
10.20pm: The flood situation may not let up any time soon, as Natural Resources and Environment Minister G Palanivel tonight warns of heavy showers and thunderstorms expected in Pahang, Kelantan, Terengganu, Perak in the next few days.
Palanivel in a statement says heavy showers are expected in coastal Pahang between Thursday Jan 1 and Monday Jan 5, while Terengganu can expect heavy showers in the next seven days, while Kelantan and Perak will see medium to heavy showers in the next few days and heavy showers in Johor in the next two days.
"Malaysians are advised to prepare themselves and look after their safety, and comply with the authorities' directives," he says.
Meanwhile the Meteorological Department says a tropical storm currently in Cebu, Philippines is heading west towards Malaysia at 15 kmh according to an observation at 8pm.
"This condition may cause strong winds of 50 - 60 kmph and waves up to 4.5 metres over the waters off the waters of Sabah (Sandakan, Kudat, Pantai Barat dan Pedalaman), Labuan and Sarawak (Miri and Bintulu)," it says.
"This condition is dangerous to all shipping and coastal activities including fishing and ferry services."
10pm: Bernama reports that flood victims in Pahang and Johor increase tonight with 51,484 in Pahang at 264 flood relief centres compared 51,434 earlier, while Johor sees an increase from 153 people compared to 148 this afternoon.
Flood ravaged Kelantan sees a reduction of about 15,546 flood victims to 142,930 tonight and similarly in Terengganu the present number stands at 24,894 compared to 24,962 previously.
Perak also sees 4,717 flood victims to date.
9pm: The Malaysian Meteorological Department this evening warns of strong northeasterly winds over 60 km/ph, resulting in rough seas off Kelantan, Terengganu, Pahang, East Johor, Sabah (interior West Coast and Kudat and Labuan until Dec 31.
It further warns coastal areas of Kelantan, Terengganu Pahang and east Johor could see the sea level rising until Wednesday, and thunderstorms over the waters of Pahang and east Johor.
8.30pm: The National Security Council (MKN) reports that the total number of displaced flood victims around the country has increased from 233,147 at 4.00pm to 237,037 people currently.
A check by Malaysiakini at 8.30pm found that Kelantan and Terengganu showed no change.
However, there is an increase in the number of people displaced in Pahang, Perak and Johor.
The number of victims in Pahang increased by more than 4,000 people, from 41,867 to 45,960.
Kelantan – 158,476 (unchanged)
Pahang – 45,960 (+4,093)
Terengganu – 24,894 (unchanged)
Perak – 7,554 (+210)
Johor – 153 (+5)
Total: 237,037
Five types of assistance
8pm: Deputy Finance Minister Ahmad Maslan says the government will allocate five types of assistance to flood victims to ease their burden, Bernama reports.
Among the assistance include:
Parents with school going children will receive RM100 by early January.
Bantuan Rakyat 1Malaysia (BR1M) payment has been brought forward to mid-January.
Goodwill payment for those whose houses were damaged by the floods.
Aid to help in restoration of damaged properties like clinics, schools, roads, hospitals and other basic infrastructure.
PM: Kelantan 'major disaster'
7.45pm: Prime Minister Najib Abdul Razak calls the country's worst flood crisis in decades "depressing and sad", reports Bernama.
The premier who surveyed Gua Musang and Kuala Krai, the worst hit areas, called the situation in Kelantan a "major disaster".
"I see so much destruction and it is very depressing and so sad," he says, adding that the government would take several actions to assist the flood victims in both districts.
7.30pm: Over 200 bus passengers were left stranded after express bus companies at Terminal Sentral Kuantan (TSK) cancelled their rides.
Sinar Harian today reported that many bus companies had to cancel their trips and refund ticket money after the Lebuhraya Pantai Timur (LPT) highway was closed at the Temerloh exit due to flood waters rising over 1.5 metres.
IGP: Action will be taken against looters
5.05pm: Commenting on the looting and theft that was reported in several places in Kelantan, IGP Khalid Abu Bakar said that action will still be taken against those involved.
He said that looting is still a crime regardless of the reasons behind it, adding however that the severity of the punishment depends on the court.
"We have to look at the factors first. But a crime is still a crime just like stealing and breaking and entering (shops and houses). The punishment, however, I leave it to the courts.
"We have to take action because those individuals broke the law. They broke into houses and shops," Khalid said, pointing out that the police are merely doing their jobs.
At a donation giving event at the police headquarters today, the Royal Malaysian Police donated RM25,000 to the flood victims. The Cooperatives Department also chipped in with a donation of food and essential items.
4.50pm: The National Security Council reports that the number of flood evacuees around Malaysia has now decreased from 240,873 at noon to 233,147 people.
Kelantan 158,476 (unchanged)
Pahang 41,867 (-7,502)
Terengganu 24,894 (-70)
Perak 7,762 (+51)
Johor 148 (-6)
There is a huge improvement in the number of displaced victims in Pahang, which dropped by over 7,000 people. The number of evacuees in Terengganu and Johor also show some improvement with the numbers reducing.
However, the number of flood victims evacuated in Perak has been increasing since morning and now adds another 51 victims.
Meanwhile, the death toll as reported on the council's website still stands at 14 people, with nine people from Kelantan, three people from Pahang and two more victims from Terengganu.
However, Inspector-general of police Khalid Abu Bakar in a press conference earlier today said the death toll of flood victims has increased to 21 people currently.
The figure includes 14 from Kelantan, four from Terengganu and three from Pahang. He also said that 10 people have been reported missing.
4.40pm: Inspector-general of police Khalid Abu Bakar, during a press conference for an event in giving out donations to flood victims, today advices the public to donate only through the National Security Council.
He says that many individuals are taking advantage of this tragedy by posting their account numbers online, pleading for help. However, Khalid stressed that the public should not simply believe whatever that is posted online.
"My advice to everyone who wants to donate money, please do not channel your money to any other organisation. Don't simply believe these calls for donations (in money or food stuff). The National Security Council (NSC) has already set up a fund (for the victims).
"The NSC will give out the account number so that fund collection in the form of cash can be conducted only through one channel. They will then be responsible to distribute the funds collected to the flood victims," Khalid tells reporters today.
Military may help rebuild damaged roads
4.18pm: Defence Minister Hishammuddin Hussein, who is in Kuantan, says the military may be roped in to help rebuild roads damaged by extensive flooding throughout the east coast.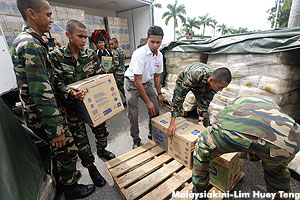 "What is my concern now are roads that have been cut off, making it difficult to deliver food. We are forced to use helicopters, usage of which are dependent on the weather.
"I will conduct a survey to identify the roads affected for action," he says, according to Bernama.
Meanwhile, Perak Menteri Besar Zambry Abdul Kadir warns the public against destroying barriers meant to avoid flooding in their area.
He says this may result in more serious flooding as a whole.
4.15pm: Inspector-general of police Khalid Abu Bakar today confirms that the floods have claimed a total number of 21 lives as of today - 14 from Kelantan, four from Terengganu and three from Pahang.
During a press conference at the police headquarters at Bukit Aman, he added that on top of the death toll, 10 people have also been reported missing - four in Kelantan, five in Terengganu and one in Pahang.
1.57pm: Deputy Prime Minister Muhyiddin Yassin ( left ) says the government willould conduct an in-depth 'post-mortem' to find out the cause of the unusual floods in the East Coast.
According to a Bernama report, Muhyiddin said the post-mortem would be done once the flood subsides and would take into account various factors like climate change, forest exploitation and lack of infrastructure, which could have caused the floods.
Pahang worst hit, with 54 road sections closed
1.36pm: Some 90 sections of federal roads across four states have been closed due to the ongoing flood crisis.
Pahang is the worst hit, with 54 sections closed, according to the Public Works Department.
This is followed by Terengganu at 18, Kelantan at 13 and Perak at five.
Most of the road sections were closed because they were inundated with water.
However, half of Terengganu's 18 road sections were as a result of landslides or collapsed roads.
For a full list of federal road closures, please refer here .
1.20pm: The National Security Council reports the total number of evacuees now stands at 240,674, which is 6,430 people lesser than the earlier reported figure of 247,104 at 8am.
Kelantan - 158,476 (unchanged)
Pahang- 49,369 (unchanged)
Terengganu - 24,964 (-6,513)
Perak - 7,711 (+100)
Johor - 154 (-17)
While evacuees in most of the states remain unchanged, there is improvement in Terengganu with the number of displaced people dropping by some 6,000 as of noon. The number of evacuees in Johor also took a slight drop, by 17 people.
The only state to have an increase in evacuees is Perak, with 100 more people being evacuated because of the floods.
The death toll for those victimised by the floods stands at 14 people now, with nine people from Kelantan, three people from Pahang and two more victims from Terengganu.
Rail bridge in Kemubu collapses
12.45pm: A survey by humanitarian group Mercy Malaysia finds the railway bridge in Kemubu, Kota Baru, to have collapsed.
"The iron railway bridge in Kemubu completely collapsed under pressure of the flood waters," it says in a Facebook posting.
Images coming out of Kampung Kemubu from Mercy Malaysia also showcases the extensive damage.
"The Mercy Malaysia team was the first to arrive at this remote area, together with a few local four-wheeler teams for needs assessment.
"A helicopter was flown in twice to help the affected communities. However, much more assistance is required," it adds.
12.15pm: Flood victims from Rantau Panjang in Kelantan have begun crossing the Thailand border into the Narathiwat province to purchase food and water and other essential items, even as parts of Sungai Kolok have been overflowing with water, as reported by Bangkok Post today.
Thai authorities said that Malaysians have been crossing the Sungai Kolok river border over the past few days as flooding on the Thai side is subsiding.
12 noon: According to the Malaysian Highway Authority (MHA), the Lebuhraya Pantai Timur (LPT) highway at Lanchang and Chenor (Km124 and Km126) is still closed due to floods around Temerloh, Pahang.
Yesterday, MHA had reported that only Km126 was closed but today with the worsening floods, Km124 also has been closed, according to a tweet from LPT's official Twitter page.
Meanwhile in Kelantan, the road from Kuala Krai to Gua Musang has partially collapsed from the floods. A single lane still remains open for those travelling.
Moves to revive railway network
11.35am: Following disastrous infrastructural damage along the east coast due to the floods, the Land Public Transport Commission (Spad) seeks to revive the railway network system.
"Spad and Keretapi Tanah Melayu Berhad (KTMB) is identifying the damage and will take action to repair them to ensure that the railway network is revived," Spad said in The New Straits Times today.
The floods have suspended all train services in the east coast area, and in a statement yesterday, Spad said it was too soon to tell when services would resume.
10.43am: According to the National Security Council (MKN), the total number of evacuees have reached almost 250,000.
Kelantan - 158,476
Pahang - 49,369
Terengganu - 31,477
Perak - 7,611
Johor -171
Total - 247,104
Meanwhile, The Star reports today that the National Security Council (MKN) disaster management underwent a "complete collapse" when its staff are victims of the flood disaster at district levels.
MKN secretary Mohamed Thanudeen Abdul Wahab says that was what had caused the delays in the rescue and relief efforts in the east coast area.
He adds that MKN has been unable to execute their disaster management plan, as they are able to contact their staffs at district levels due to the electricity being cut off.
9.30am: Prime Minister Najib Abdul Raak leaves for Kelantan to visit flood victims, Bernama reports.
Numbers in Pahang increase
8.30am: The number of flood evacuees in Kelantan and Terengganu dropped last night while Pahang showed a marked increase in the number of evacuees, Bernama reports.
In Pahang, the number of evacuees continued to increase to 37,389 people when compared with 35,501 in the afternoon while the flood victims were placed in 244 flood relief centres.
A spokesperson from the Pahang police contingent headquarters' flood operations room said Temerloh district had the largest number of victims, totalling 15,366 people housed at 62 evacuation centres.
In Kelantan, the number of evacuees declined to 142,564 people last night compared with 147,072 yesterday afternoon.
In Terengganu, Bernama reports that the number of evacuees dropped from 32,210 in the evening to 31,805 last night in 70 centres.
In Perak, the number of flood victims dropped to 7,408 people from 1,948 families while Johor recorded 171 people from 49 families .
Kelantan - 142,582
Pahang - 49,369
Terengganu - 30,652
Perak - 7,735
Johor -171
Total - 230,509
7am: To date, 10 have died from the floods:
Kelantan - 5
Pahang - 3
Terengganu - 2
Related stories
'VVIPs draw copters away from dying patients'
'This year's flood worse than in 1967'
Najib: Floods in Kelantan a 'major disaster'
'Rice bags with PM's picture not an issue'
Boat swept astray, hungry firemen slept by roadside
DPM: Post-mortem to be done on floods
Evacuee housewife still cooks at home
Flood evacuees eager to return home
DAP: Seriously consider declaring emergency
Divine wrath an artful claim or self-healing solace?
Flood victim helpless as livestock gets swept away
We need a PM, not an Obama groupie