Reporting by Hafiz Yatim, Ram Anand, Kow Gah Chie, Zulaikha Zulkifli, Lim Huey Teng and Yap Jia Hee.
---
3PM: Anwar was brought out of the Palace of Justice to Sungai Buloh prison in an unmarked vehicle which was part of a convoy of seven vehicles with heavily tinted windows.
Nevertheless supporters wave at the cars and trying to get a glimpse of him.
The crowd later leave the area, followed by the FRU personnel.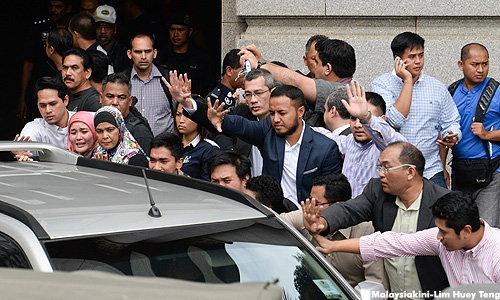 2.50PM: DAP secretary-general Lim Guan Eng says his party is "devastated" by the decision.
"Let us turn this sorrow to a strength for us to continue our fight for freedom, justice, democracy and truth. We must make Anwar's incarceration worthwhile.
"It is worth reflecting how the PMO manage to prepare a statement minutes after the verdict before sentencing. This is something that the people should question," he tells Malaysiakini .
2.45PM: Mohd Saiful Bukhari Azlan pens a reaction on his blog . He writes of his vindication and that the court has deemed his testimony to be "credible".
2.43PM: The FRU has issued a second warning, but the crowd refuses to disperse.
2.40PM: Anwar's request that he serve his sentence in the Sungai Buloh prison and not the Kajang prison has been granted, according to his laywer Gobind Singh.
2.10PM: The atmosphere outside the Palace of Justice in Putarajaya is tense as thousands of Anwar's supporters denouncing the decision.
The riot police bell has been rung, prompting the armoured police personnel to take their places.
Meanwhile, Anwar is still in court with his lawyer Gopal. Anwar is seen holding on to his grandchildren.
2PM: Shouts of 'Reformasi' and 'Allahuakbar' ring out as the judges exit the courtroom. Anwar hugs his supporters.
1.57PM: Justice Arifin says the five-year jail sentence imposed by the Court of Appeal will not be enhanced.
1.55PM: Court resumes.
1.45PM: Several FRU vehicles are at the scene.
1.38PM: The judges chose to leave the bench when Anwar raised the issue of political conspiracy, and criticised them for "bowing to their political masters".
"You could have carved your names. But in bowing to the dictates of your political masters, you have become partners in the murder of the judiciary. You chose to remain on the dark side," he adds, prompting Justice Arifin to tell him to stop.
When Anwar refused, the judges left.
However, the opposition leader continues speaking in a loud tone, vowing that he will continue to fight for justice and freedom. "I will not surrender."
1.35PM: Following his request, Anwar is allowed to address the court. He says that he will accept the decision and remain patient.
"I maintain my innocence and that it is a political conspiracy to stop me," he adds.
Anwar also refers to the PMO statement, which was issued before sentencing.
1.34PM: Shafee says a five-year sentence will be a serious error with regard to his previous conviction. He wants a sentence above six years.
1.33PM: Questioning what is a "manifestly adequate" sentence, Shafee argues that five years is "manifestly inadequate".
1.28PM: Shafee says Anwar has committed a serious offence. Though agreeing with Gopal that Anwar has contributed to the nation, he, however, says, "The higher the man, the higher the crime is". He adds that Anwar has not shown repentance.
1.22PM: Shafee says the maximum sentence is 20 years but whipping is not relevant.
1.18PM: Some 1,000 Anwar supporters have now gathered at the back entrance, chanting 'Reformasi' and 'Hidup Anwar'.
1.17PM: Gopal says there are no good reasons in enhancing the sentence based on the facts of the case.
1.14PM: Anwar, Gopal points out, was with the government of this country and made significant contributions to democratic principles with his role in the opposition. He says the court must consider these special facts.
1.12PM: Gopal Sri Ram addresses the court on sentencing, arguing that one cannot escape the personality of Anwar as he is no ordinary individual.
1.08PM: Court in session with Justice Arifin presiding.
1.04PM: Anwar hugs his daughter Nurul Izzah and Wan Azizah as the two struggle to fight back tears. Emotions are running high as Anwar embraces other family members.
12.58PM Human Rights Watch condemns the court ruling, calling it a travesty of justice.
"Najib's government has persisted in its politically motivated prosecution of opposition leader Anwar Ibrahim at the expense of democratic freedoms and the rights to non-discrimination and privacy for all Malaysians.
"Allowing this travesty of justice to stand will further undermine respect for rights and democracy in Malaysia," says its deputy Asia director Phil Robertson.
12.57PM: Court registrar says they are about to begin.
12.52PM: Court reporters told to take their seats while Anwar's supporters make a beeline to hug him.
12.45PM: Anwar tells his grandchildren to concentrate on their studies, while an ashen-faced Wan Azizah says the family must remain strong.
12.40PM: Supporters are being asked to gather at the rear entrance of the Palace of Justice in anticipation of Anwar being taken to jail.
PKR supreme council member Fariz Musa says this is to allow supporters to see Anwar for the last time.
12.35PM: Minutes after the verdict is announced, the Prime Minister's Department issues a press statement, which reads:
"The judges will have reached their verdict only after considering all the evidence in a balanced and objective manner. Malaysia has an independent judiciary, and there have been many rulings against senior government figures.
"The police report against Anwar Ibrahim was brought by a private individual - Anwar's employee and personal assistant - not by the government. As the victim of a serious sexual assault, he had every right to have his case heard in court.
"In this case, exhaustive and comprehensive due process has been followed over many years. That process is now complete, and we call on all parties involved to respect the legal process and the judgment".
12.32PM: A distraught looking PAS deputy president Mohamad Sabu refuses to entertain questions from journalists.
12.30PM: Tears flow in the Palace of Justice as Anwar's supporters' come to terms with the verdict. The chatter in the lobby has stopped and many opposition MPs in attendance are silent.
"I am very disappointed," said a teary-eyed Maria Chin Abdullah, the head of Bersih.
PAS central committee member Dr Hatta Ramli was spotted tearing up at one corner of the lobby.
But a stoic Anwar is seen hugging Pakatan Rakyat leaders such as Mohamad Sabu, Mahfuz Omar and Dr Xavier Jeyakumar before talking to his lawyers.
12.10PM: Defence seeks an hour-long adjourment before sentencing.
12.05PM: After reading for two hours, Justice Arifin arrives at the guilty verdict.
The judge says there is overwhelming evidence that Saiful was sodomised by the accused because there is substantial scientific and corroborative evidence.
12.00PM: Based on the facts of the case, Justice Arifin holds that Dr Mohd Osman Abdul Hamid from Pusrawi Hospital was not telling the truth when claiming in his medical report that plastic objects were inserted into Saiful's anus.
The judge says the HKL doctors did not draw similar conclusions.
11.55AM: Justice Arifin says Anwar did not dispute that he was in the condominium and that Saiful was also there.
"We hold there is no merit in the complaint of political conspiracy. A mere denial (from Anwar) does not mean it could be accepted. A political conspiracy allegation remains unsubstantiated," he adds.
11.52AM: Justice Arifin touches on the allegation that Saiful met Najib, who was then deputy prime minister, and the latter's special officer Khairul Anas.
11.50AM: Justice Arifin focuses on other defence witnesses, including Anwar's former aide Najwan Halimi's testimony that he was surprised to see Saiful, known to be a BN sympathiser, working for the opposition leader.
11.45AM: As the judgments unfolds, Twitter is abuzz that the opposition leader may be found guilty.
"Moving towards conviction," wrote PKR legal bureau chief Latheefa Koya.
"Looks like may be guilty verdict based on what's reported so far. Malaysia to be in spotlight for all the wrong reasons again," adds Jakarta-based journalist Beh Lih Yih in a Twitter posting.
"Looks very grim," tweeted Bayan Baru MP Sim Tze Tzin.
11.43AM: Justice Arifin now shifts to Anwar's alibi. "Anwar alleged that the samples had been tampered with and blamed the media for making prejudicial statements. He also criticised the High Court ruling that Saiful was a truthful witness," he says. He then repeats Anwar's conspiracy claim.
11.40AM: Justice Arifin continues. He says there is nothing "inferiorly fallible" in the chemists' evidence.
11.35AM: There is an interruption due to problems with the microphone.
11.31AM: As Justice Arifin continues to read the judgment, one of Anwar's children breaks into tears. All his six children are present in court.
11.30AM: Justice Arifin also notes how the chemist testified that it is consistent with the complainant's allegation that he was sodomised.
11.28AM: Justice Arifin also states that the chemists found semen samples and sperm heads.
"The finding of sperm heads after two days is not unusual," he adds.
11.27AM: At ths juncture, Anwar turns to look at Wan Azizah.
11.26AM: The top judge rules that the samples are not contaminated.
11.25AM: Justice Arifin rules that there is no break in custody of the samples and that DSP Jude Pereira, the investigating officer, was careful in leaving the cut plastic bag hanging.
11.08AM: Justice Arifin also rules that the items from the lock-up were legally obtained, and terms it as "independent evidence".
"We (the panel) are of the view that conducting a trial-within-trial (on the admissibility of evidence from the detention cell) was unnecessary," he says.
11.05AM: As for the lock-up evidence, the top judge concludes that Anwar had used the items as the cell was vacant before him.
11.03AM: Justice Arifin moves to the evidence from chemists Dr Seah Lay Hong and Nor Aidora Saedon as well as how the trial judge found there was ample corroboration evidence. He says a prima facie case was established and the Court of Appeal agreed.
"Saiful is not an accomplice and there is enough corroborative evidence to support his testimony," he adds.
11AM: The top judge states that the Evidence Act does not require corroboration. (The High Court had ruled that the chemists' evidence did not corroborate with Saiful's testimony). He says the evidence of the complainant can be relied upon without corroboration.
10.50AM: Justice Arifin also raised the infamous Brioni suit and as for the carpet seized, he states that it is not critical evidence.
10.46AM: On Saiful, Justice Arifin says his minute details must be borne in mind and that the complainant had stuck to his testimony despite a thorough cross examination. Due to this, Justice ArIfin says the Court of Appeal ruled that Saiful's evidence was acceptable.
10.45AM: Justice Arifin reads Anwar's defence questioning Saiful's conduct of bringing the KY jelly and the Pusrawi doctor claiming that a plastic object had been inserted into his anus. The chief justice notes that Saiful had alleged there were previous sexual encounters, and the defence had countered by asking why he did not flee.
10.43AM: The judge is now focusing on the issue of Saiful's credibility.
10.42AM: Justice Arifin says the experts who testified for the defence cast aspersion on the condition of the samples, hence the KL High Court was of the opinion that there was reasonable doubt concerning the samples.
10.39AM: The judge is now reading the testimonies of defence witnesses Prof David Wells and Prof Brian Mcdonalds. He says spinal surgeon Dr Thomas Hoogland was of the opinion that Anwar cannot perform such sexual acts because of his back problem.
10.37AM : Justice Arifin points out that Anwar gave his statement from the dock where he alleged a conspiracy by Prime Minister Najib Abdul Razak and questioned Saiful's conduct.
10.33AM: Justice Arifin notes how Anwar was detained and brought with him a towel, toothbrush and mineral water bottle. These items were retrieved by the police the following day and the samples were handed over to the Kuala Lumpur police headquarters.
10.27AM: After disclosing how Saiful was referred to Hospital Kuala Lumpur, where samples were taken, Justice Arifin says the chemist found sperm cells from the higher and lower rectal swabs. He also notes that the doctor's initial findings showed there were no signs of penetration.
10.20AM: Justice Arifin recounts the incident, from Saiful arriving at the condominium and how a lubricant was used as well as his anus being penetrated. He notes how Saiful resigned after the incident and was accompanied by his uncle to Hospital Pusrawi.
10.17AM: Chief Justice Arifin says consent is not an ingredient of the offence, recalls how Saiful worked as a volunteer and served as Anwar's assistant.
10.12AM: Chief Justice Arifin is reading the judgment, starting with the background of the case and the charge against Anwar.
10.08AM: Court is now in session with Chief Justice Arifin leading the five-member bench. Anwar enters and bows. He also bows to those seated in the public gallery.
10AM: There are about 200 supporters of Saiful armed with banners and are chanting slogans demanding for Anwar's incarceration.
Their leader identified himself as Saiful Suhaimi Adnan, or Suhaimi Taliban, said that his group arrived late because they were volunteers and were not paid.
"They (Anwar supporters) appeared as early as 7am because they were paid and came on busses.
"We are volunteers. Not paid!" he told reporters.
9.47AM: Court orderlies are seen preparing the documents for the judges. The court is expected to be in session soon.
Wan Azizah's father Wan Ismail Wan Mahmood walks in and sits next to his daughter.
9.45AM: One of Saiful's so-called supporters claims that he was paid " duit minyak " (petrol money) to come to court.
Identifying himself only as Syafiq, he tells Malaysiakini that he and his friends rode to the Palace of Justice from Puchong on motorcycles.
"I just followed the rest," he adds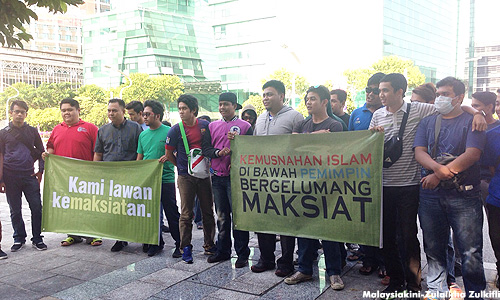 9.40AM: Some 50 supporters of Mohd Saiful Bukhari Azlan are also present, armed with placards and banners.
One of the banners reads, " Liwat tetap liwat ", mocking PKR and Anwar's often used slogan of " Lawan tetap lawan ".
Suhaimi Adnan, who is heading the group, says they were not paid to come to court.
"We came to prove that Saiful is not alone," he adds as the group chants ' Tangkap Anwar ' (Arrest Anwar) and ' Hukum Peliwat ' (Punish the sodomite).
9.35AM: Wan Azizah tells reporters inside the courtroom that the judges not only have to answer to the people but to their conscience and God.
"Judgement has to be based on facts. I'm confident that Anwar is innocent and should be released"
"Let me not have a reason to question the judiciary," she adds.
9.18AM: Anwar tells reporters that he is anxious like them. "I will continuously pray," he adds with a smile.
He then has a word with former Bersih co-chairperson Ambiga Sreenavasan.
9.15AM: About 1,000 supporters are now gathering within the vicinity of the court complex.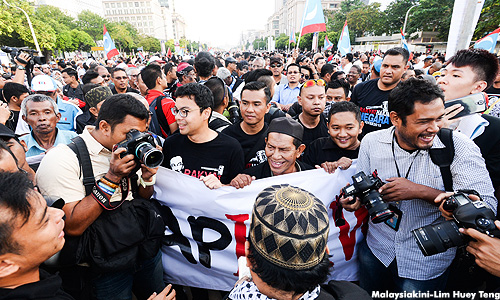 9.11AM: National laureate A Samad Said is also in the public gallery.
Anwar is having a word with his lawyers Sivarasa, Latheefa and Eric. Whereas, Shafee's aides are spotted carrying boxes of documents.
9.08AM: Court staff remind those inside the courtroom to wear their respective passes, failing which, they will be asked to leave.
Also in court are Anwar's daughters, including Nurul Izzah, who brought her son along.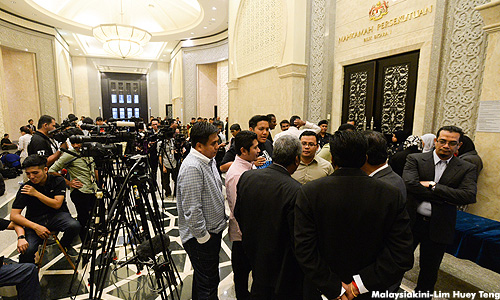 9.02AM: Anwar arrives at court accompanied by his wife PKR president Dr Wan Azizah Wan Ismail and family. They are mobbed by media photographers.
Accompanying him are DAP supremo Lim Kit Siang and Penang Chief Minister Lim Guan Eng.
According to a Channel News Asia tweet, Anwar says he had a good night's sleep and is optimistic that the court will rule in his favour.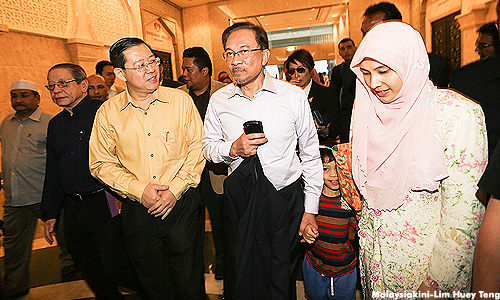 8.55AM: Court security are once again checking the passes of those in court. Those with passes restricting them only to the lobby are ushered out.
8.57AM: Chief prosecutor Shafee enters the court with his legal team.
8.49AM: A 74-year-old environmental activist has come all the way from Kuantan, and demands to see Mohd Saiful Bukhari Azlan.
"Where is Saiful?" asks Tow Ah Mei.
"I want to examine him. Since he complained of being sodomised, might as well let the people check him," she thunders.
8.40AM: Former Federal Court judge and Anwar's lead defence counsel Gopal Sri Ram is now in the court room.
He is accompanied by defence counsels Sangeet Kaur and Eric Paulsen.
The prosecution team includes DPP Mohd Hanafiah Zakaria, who is deputy head of the prosecution division of the Attorney-General Chambers and Saiful's lawyer Zamri Idrus.
Human Rights Watch asia division deputy director Phil Robertson is also in court.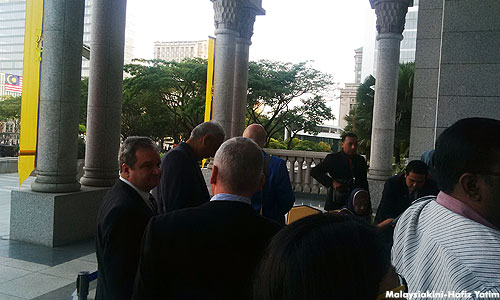 8.35am: An Anwar supporter faints following an epileptic bout. His friends rush to his aid and the man appears to return to normal some 15 minutes later.
8.20AM: Reporters, international observers, MPs and the public are allowed to enter the courtroom.
Among those in the public gallery are Shah Alam MP Khalid Samad and PAS central committee member Dr Dzulkefly Ahmad.
Reporters are seated on the left side of the courtroom, while the public and MPs are seated in the middle and on the right.
Anwar's family is yet to be seen.
8.15AM: A Muslim preacher delivers a speech near Anwar's supporters, denouncing the Pakatan Rakyat symbol as a representation of Satanism and says that democracy has no place in Islam.
"If you don't believe in God, please leave the country. Which religion condones homosexuality?" he says.
8.10AM: Security is tight. International observers are lining up and lawyers have to show their case files in order to be granted entry into the premises.
Other than police in riot gear, mounted police units are also patrolling the vicinity.
Meanwhile, some 200 people held a short march, led by PKR Youth chief Nik Nazmi Nik Ahmad.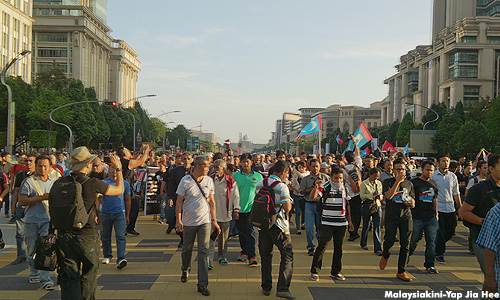 8.05AM: Anwar's supporters have started streaming into the Sultan Zainal Abidin mosque since 6am. Thirty buses, believed to be used to ferry supporters, were spotted nearby.
Security at the Palace of Justice is extremely tight with plenty of police cordons. The entire stretch of road outside the building is closed to traffic and police in riot gear are nearby.
The only case that will be heard in Federal Court 1 is Anwar's appeal. The court is normally used when Chief Justice Arifin is presiding.
8AM: All eyes will be on the five-member Federal Court bench that will decide on whether Anwar Ibrahim's appeal against the conviction and sentence for sodomy will be upheld.
Led by Chief Justice Arifin Zakaria, the panel is expected to take an hour to deliver its verdict beginning at 9am.
It is unknown as to who among the five-member panel will write and read the judgment.
It also remains uncertain whether the decision will be unanimous or if there will be any dissenting judgment similar to the Federal Court decision in 2004 which acquitted Anwar.
Should the Federal Court maintain the conviction, then the panel will listen to submissions from Shafee Abdullah, the private lawyer who has been appointed by the government to lead the prosecution.
The submissions are necessary because the prosecution made a cross-appeal to increase the five-year jail sentence handed to Anwar, 67, by the Court of Appeal.
Anwar is staring at a maximum jail sentence of 20 years.
After Shafee's submission, Anwar's defence team, led by former Federal Court judge Gopal Sri Ram, will submit their replies. Shafee will then make one final replay.
The defence and prosecution team have already been asked to prepare written submissions, in case the conviction is upheld. Some observers believe this is a bad omen .
Should Anwar be found guilty, the apex court, after hearing the submissions, will decide on sentencing and bring an end to a case that has dragged on for seven years, involving 27 prosecution and eight defence witnesses.
---
Follow Malaysiakini full coverage of Federal Court verdict here .