Former Kota Melaka member of parliament Lim Guan Eng, who has recently returned to active politics after a five-year ban, has been elected DAP secretary-general at the party's 14th national congress in Ipoh today.
However, in a surprise move, Lim's father Kit Siang - who has helmed the opposition party for almost four decades - did not assume the role as DAP advisor as had been widely speculated by some party insiders.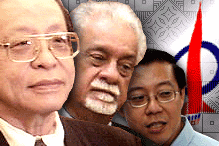 Instead, DAP stalwart Chen Man Hing will remain as party advisor - which is a ceremonial post - while Karpal Singh has been elected as chairperson, taking over from old-time colleague Kit Siang.
Kit Siang, who for the first time does not hold a key party post, will nevertheless continue to play a significant role in DAP as head of a newly created think-tank called the policy and strategic planning commission.
Parliamentary opposition leader
According to Guan Eng, the commission will advise the party on policy matters. He also said Kit Siang will continue to be the parliamentary opposition leader.
The commission was an unprecedented move in the party's 38-year history. However, information on the new body - regarding its members and organisational structure - has been sketchy.
Guan Eng said the details of the commission will be determined by Kit Siang.
"We need saudara Lim Kit Siang's vast experience and intellect," the new secretary-general explained at a press conference to announce the party's central executive committee (CEC) new line-up.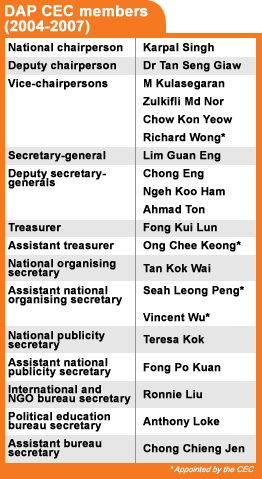 The press conference was called 15 minutes after the 20 CEC members, who were elected by 400-odd delegates earlier today, met to select the party's officer bearers from among themselves.
Dr Tan Seng Giaw has been elected as the deputy chairperson while Zulkifli Md Nor, M Kulasegaran, Chow Kon Yeow are party vice-chairpersons. The fourth vice-chairperson, which is an appointed post, went to Richard Wong.
Fong Kui Lun and Tan Kok Wai remained as the party's treasurer and organising secretary respectively, while Teresa Kok moved up the party ranks as the new publicity chief.
Former publicity chief Ronnie Liu, who was surprisingly not elected into the 20-member CEC, was tapped as the international and non-governmental organisation bureau chief, a post previously held by Kok.
First non-Chinese DAP chief
Meanwhile, Guan Eng brushed off questions from journalists about charges of nepotism in the party.
He said he did not expect he had to answer such a question on his first day as DAP secretary-general.
"I was elected by 19 members, not one... It's not as if I was compelled by one person," he said.
The new leader has identified the push for the restoration of local government elections as one of the party's immediate tasks.
Party stalwart Karpal said his was proud for being the first non-Chinese DAP chief.
"Many people have branded DAP as a chauvinistic party, but with my position now, it clearly shows that DAP is a multiracial party," he told reporters.
Kit Siang, however, appeared guarded when pressed about how he felt in relinquishing key party posts after having led DAP for 35 years - first as secretary-general, and more recently as chairperson.
He said: "Let me think about it." He also refused to comment on whether he was under pressure to step down given that his son is stepping into his shoes.
Nonetheless, he thanked the CEC for appointing him the new think-tank chief, and reiterated that he is not quitting politics completely.
Maverick leader excluded
On the other hand, maverick party leader Teng Chang Kim - who had previously called for Kit Siang's resignation - was excluded from the new CEC line-up despite having garnered a significant number of votes.
Karpal said the decisions on office bearers were reached through consensus and accepted by all CEC members. Teng was, however, conspicuously absent from the press conference.
Among the 20 elected CEC members, Teng was ranked 11th with 277 votes, one vote more than Guan Eng, who obtained 276 votes.
Kok Wai bagged the highest number of votes (337), followed by Fong Po Kuan (334), Chow (333), Kui Lun (331) and Kulasegaran (329). Kit Siang's came 14th, with 264 votes.
The two-day DAP national congress continues tomorrow, where the party will discuss a number of key resolutions.