With malaysiakini in the midst of moving to a new home this week, the online news website will be operating from a makeshift office at a hotspot in Mid-Valley Megamall's Burger King.
Key website editors - editor-in-chief Steven Gan, chief news editor K Kabilan and news editor Nash Rahman - will be based just outside the restaurant in this busy shopping mall from today to Friday.
This temporary newsroom will be the nerve centre for a team of six journalists and two sub-editors - all of whom will be filing news reports from either cybercafes or homes.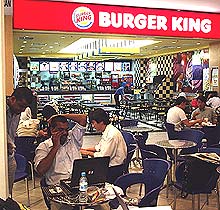 "We've been planning for an extra-mobile team which can be even more responsive whenever there is a news break. It is now possible for us to upload reports from anywhere outside the office," said Gan.
He added that the office relocation gives malaysiakini the opportunity to put its 'virtual remote publishing' to the test.
Editors will keep in touch with journalists and sub-editors via mobile phones and SMS text messaging.
After the various news reports, opinion/feature pieces and letters to the editors have been processed, they are uploaded to malaysiakini servers in Cyberjaya from the makeshift office.
Additional space
Malaysiakini is moving to a brand new building about a stone throw away from its current office in Kuala Lumpur's Bangsar Utama.
Apart from additional space, the new office is more visible and accessible. It will also have a dedicated room for public events.
"Our phone lines and Streamyx broadband facilities are currently being transferred to the new office. The lines will be down until this weekend, thus we don't have Internet connection in the next few days," said chief executive officer Premesh Chandran.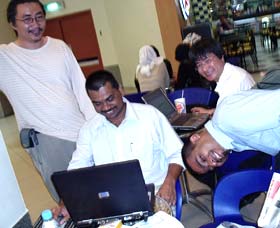 Malaysiakini will begin functioning from the new office from this weekend.
However, the office, as well as the website, will be closed on Saturday so that team members can help in shifting computers and other equipment.
On Sunday, malaysiakini will be back with live reports on ex-deputy premier Anwar Ibrahim's arrival at the Kuala Lumpur International Airport after his successful back surgery in Germany.
While malaysiakini 's phone lines are down in the next few days, it will be reconnected in the new office by this weekend.
There will be no change in our phone (03 2283 5567) and fax numbers (03 2289 2579).