Although Kedah has been declared as a rabies-infected area, animal lover Halijah Idris, 68, better known as Mak Intan, has made early preparations to face the outbreak.
Mak Intan, who is continuing the struggle of her late husband Muhammad Azmi Isma (Pak Mie), in taking care of more than 600 stray dogs on the government reserve land, 500 metres from behind Taman Sultan Abdul Halim, Jalan Tanjung Bendahara in Alor Setar, is convinced that the disease can be avoided by adopting intensive care and prevention practices.
When met by reporters at her stray dogs shelter, Mak Intan ( right in photo ) was seen busy giving antibiotics to the dogs and cleaning the dogs' food and drink containers.
She said two weeks before the announcement, several of her late husband's friends from Thailand had informed her about the epidemic which was expected to spread to the northern states of the peninsula.
However, she said, all the dogs were being closely monitored by her, including by checking the body temperature of each dog and giving early vaccines to prevent various diseases including rabies.
Dogs that had a body temperature of 40 degrees upward would be placed in a special cage, be monitored closely and would only be released after three days, she added.
"Early vaccination, monitoring of their daily food intake, cleanliness, giving of antibiotics are being undertaken while waiting for the rabies vaccine from the Veterinary Department.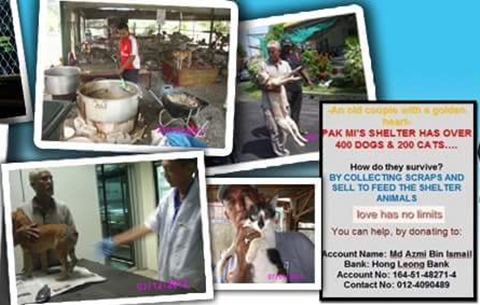 "These dogs are being placed in the cage. I don't let them out of their cage at all. I am monitoring them round the clock and don't let them come into contact with outside dogs. At the moment, the dogs are not showing any symptoms of the disease."
According to Mak Intan, she received medical supplies such as antibiotics and vaccines from several veterinarians at the Society for the Prevention of Cruelty to Animals (SPCA).
She said she would be meeting with officials from the Veterinary Department on Sunday to seek advice and guidance.
However, she said, if a dog was destined to become infected with the disease, she had no choice but to kill the dog to prevent the infection from spreading to the other dogs.
On Thursday, Agriculture and Agro-based Industries Minister Ahmad Shabery Cheek declared Perlis, Kedah and Penang as rabies-infected areas after several cases of rabies in humans were reported in these states.
- Bernama