A corruption watchdog said the recent arrest of former Penang Umno leader Khairuddin Abu Hassan is as an obstruction to investigations in the alleged 1MDB financial scandal.
Centre to Combat Corruption and Cronyism (C4) executive director Cynthia Gabriel ( photo ) said this is an affront to whistleblowers who may have information to reveal regarding the debt-ridden sovereign fund.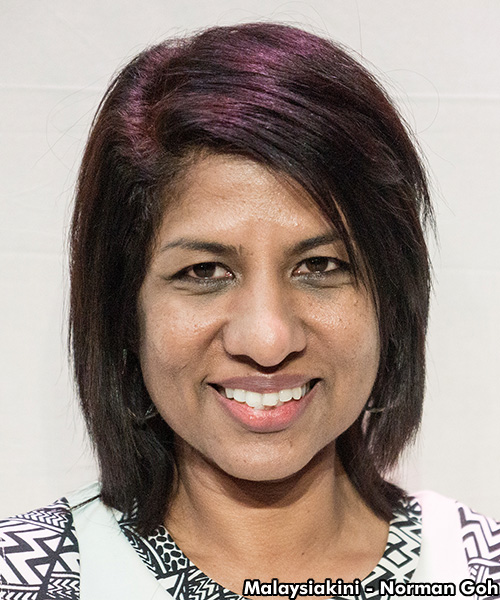 "Did Khairuddin have something new to expose? Was he about to blow the whistle with fresh information?" Gabriel asked in a statement today.
Gabriel urged that law agencies like the police in Malaysia refocus their attention and energies on the real culprit and wrongdoers.
She demanded that they pursue investigations into the 1MDB and Prime Minister Najib Abdul Razak's private accounts for unaccounted donations which she said, amounts to corruption and money laundering.
"It is a terrible shame that a sitting prime minister of Malaysia is facing a mounting number of investigations across the globe over the troubled investment company, and is facing allegations of bribe paying and money laundering but yet stubbornly refuses to step aside," Gabriel said.
She said Najib has been acting with "absolute impunity and acting without haste" in removing his critics, including former attorney-general Abdul Gani Patail ( photo ) and former deputy prime minister Muhyiddin Yassin, from office.
"He stops at nothing to punish those who have stood up to seek answers, and pursue the truth."
Khairuddin, who is former Batu Kawan Umno deputy chief, was earlier banned from travelling abroad.
He has been accused of attempting to topple the government by lodging reports with various law enforcement authorities in different countries.
He was arrested and remanded for six days ahead of an alleged meeting with the US Federal Bureau of Investigtion (FBI) to assist with their probe, although the agency said it was not aware of the matter.
Gabriel cited the words of Bank Negara governor Zeti Akhtar Aziz who said, "In this day and age, there is no place anywhere that people can hide."
'Let the truth be unraveled'
"So let the truth be unraveled. Najib must be ready to face the consequence if he has wronged Malaysians," she quipped.
Gabriel was referring to reports that the FBI has begun a probe on the 1MDB.
Describing the reports as "unprecedented and shocking", Gabriel said this news comes after Singapore, Switzerland and Hong Kong have all separately began probes on 1MDB's financial irregularities.
She said the investigations of money-laundering are slowly closing in on the 1MDB.
"Restore investigations by the public accounts committee in Parliament, without delay, whose probe had been halted after Najib promoted its key personnel, elevating some into minister and deputy minister posts in his cabinet," Gabriel said.
"Make public the auditor generals preliminary report on the 1MDB," she added.