Putrajaya overreacted by summoning the China ambassador to Malaysia Huang Huikang over his controversial visit to Petaling Street, said ex-Prime Minister Dr Mahathir Mohamad.
"I think the government overreacted to this thing," he told a press conference today at an education forum held at Kuala Lumpur.
"He went there and of course some people might have asked him, so he had to reply."
In his visit to Petaling Street on the the eve of a planned anti-Chinese rally, Huang said China opposed to terrorism, racism and extremism.
Huang read from a prepared statement, several minutes after his aide collected questions from reporters present.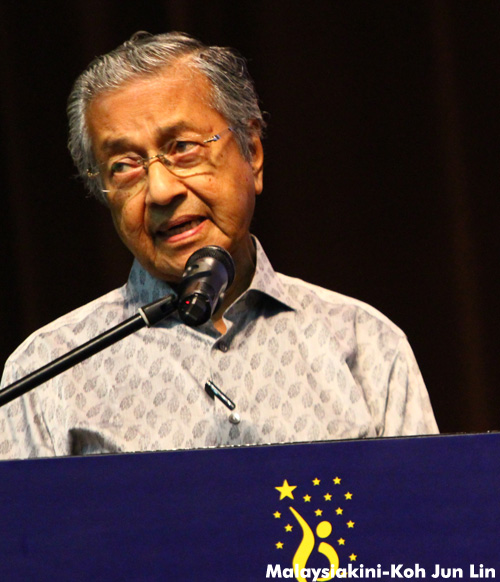 His remarks immediately turned into a diplomatic row after Wisma Putra issued a statement saying it has called in Huang to explain over his statement, as reported by the media.
"The relationship between China and Malaysia is greater than just the words said by the ambassador who was concerned by race issues that were actually promoted by the government," Mahathir ( photo ) said.
Mahathir's remarks comes as experts on China said Wisma Putra's move to call in Huang was unnecessary and that it should have been dealt with privately.
'Bersih mistranslated as racial issue'
The whole row can be traced back to the Himpunan Rakyat Bersatu rally on Sept 16, during which red clad protesters clashed with police barring them from entering Petaling Street.
This itself was reaction to allegedly anti-Malay insults made during the supposedly Chinese-dominated Bersih 4 rally.
Mahathir blamed the government for this perception.
"It was the government that mistranslated (Bersih) as a racial issue. It seems that Bersih was a Chinese movement to overthrow a Malay government which is not true at all.
"The Bersih demonstration was not Chinese (dominated). Lots of Malays were involved... and what they asked was for the prime minister to step down and to have a better election mechanism. nothing about race at all," he said.
Mahathir has staunchly defended the Bersih 4 rally from criticism, though he said he does not care for the organisers.
The former premier had electrified the two day protest on Aug 29 and 30, when he made appearances on both days of the rally.
Related reports
Not only the luckiest, Chinese are hardworking, too
Khairy, what price is Malay pride?
Chinatown folk don't moan the world owes them a living
Huang: Don't make my visit an anti-Malaysian gov't issue
Unite to protect every inch of our homeland, Jamal tells Malays
Diplomatic bungle: China experts say envoy call-in unneccessary
I'm too old, not ready to be held under Sosma, says Mahathir
Dr M: Najib's safe overseas, int'l laws won't touch him