Blogger Shahbudin Husin ( photo ) was called to the Malaysian Communications and Multimedia Commission in Cyberjaya yesterday, to have his statement recorded over a blog posting on Deputy Prime Minister Ahmad Zahid Hamidi.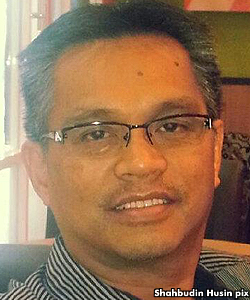 The Umno member was hauled up for Sept 20 posting titled 'Kenapa lawatan rasmi Zahid ke Indonesia sama tarikh dengan majlis sanding anaknya di Jakarta?' (Why did Zahid's official visit to Indonesia coincide with his son's wedding in Jakarta?).
"A day before a MCMC staff came to my home to send a letter that stipulates the need for me to abide by the order to attend.
"Before taking my statement, I was informed by the MCMC investigating officer that I was being investigated under Section 233 of the MCMC Act," he said in a blog posting .
"I explained to the officer that the article is to quiz and is not an allegation against Zahid, as there has been a lot of talk over this," he said.
He was questioned for two hours, he said.
Section 233 is classified as an offence on improper use of network facilities or network service, which is punishable with a fine not exceeding RM50,000 or a one-year jail term or both.
Shahbudin said he only raised what is said by many with hopes that Zahid or his aide would reply.
He said this is similar to when Prime Minister Najib Abdul Razak's visit to Kazakhstan for his daughter's wedding last April.
He said he had added one paragraph to his posting explaining that he is seeking clarification to prevent slander or misunderstanding over the matter.
"This represents the purpose for the article to be written. As a writer, I only raised what is raised in the public sphere.
"As a former journalist, I also had faced a lot of adversities in my report over North Korea and also faced suit.
"All these are challenges that we have to face in the pursuit of truth in this world," he said.
He claimed that the complaint to MCMC was made by Zahid's aide.
Malaysiakini has contacted Zahid's office for a response.
at a beautiful Indonesia traditional (Padang theme) wedding ❤️ last night.
A photo posted by Nurul Zahid (@sayanurulzahid) on
Zahid and family attended his son's wedding reception in Jakarta earlier this month.
The wedding reception, hosted by the bride's family, coincided with Zahid's first official visit to Indonesia as deputy prime minister.
The groom's reception was held at Putrajaya over the weekend, and was also attended by PKR vice president Nurul Izzah Anwar.
Friendship. Professional. Spread the LOVE not HATE. ❤️ Nurul Izzah & Nurulhidayah
A photo posted by Nurul Zahid (@sayanurulzahid) on