Unlike during the Asian financial crisis of 1997, the present drastic depreciation of the ringgit has not thus far boosted exports or improved the country's trade balance, said an analyst.
Merrill Lynch economist Chua Hak Bin said that in 1997 when the ringgit collapsed, exports underwent a sharp and almost instantaneous increase.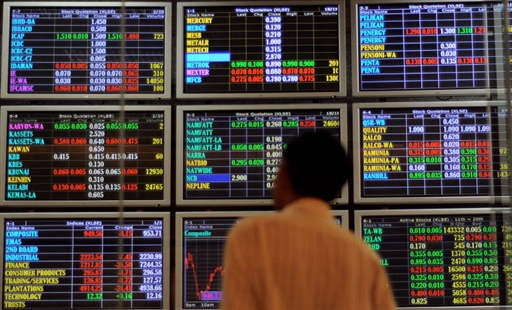 From zero in mid-1997, exports rose to more than 40 percent by early 1998, Chua pointed out in an analysis on The Financial Times .
This growth greatly contributed to Malaysia's current account balance and took it from a deficit of 12.4 percent of gross domestic product (GDP) in the second quarter of 1997 to a surplus of 18.7 percent of GDP by the end of 1998.
"The J-curve effect, the temporary worsening (of trade balance) following the depreciation, was short or even negligible in 1998," said Chua.
"(But) the depreciation (of the ringgit now) has not strengthened exports or improved trade balance at all. There is no 'J' so far, only a flat 'U'," he added.
This is even though the ringgit has fallen to its lowest level against the US dollar since 1997.
Dampened by falling export prices
As the slide in the ringgit has not been as severe as it was in 1997, the resulting growth in exports would be less drastic as well, but it should not be non-existent either, said Chua.
He offered three reasons for the lack of export growth this time.
The first reason is the price of several of Malaysia's key exports, such as palm oil and liquefied natural gas, has fallen significantly.
However, the International Monetary Fund (IMF) also predicted that instead of value, the volume of Malaysian goods exports would rise 6.5 percent this year, the highest figure since 2010.
Combined with services, they have forecasted export volume growth to be 15.1 percent, the highest since 2004.
Chua said this suggests that exports may indeed be boosted by the weaker ringgit currently, but its effects are being negated by the worsening of Malaysia's terms of trade.
Yet, IMF's forecast also suggests that the predicted rise in export volumes might not be the effect of the falling ringgit either, but simply an effect of Malaysia being a more open economy in the global supply chain.
China moving down chain
Chua's second reason is that the ringgit's depreciation against the greenback has exaggerated its weakness, once we take into account the broad-based strength of the dollar.
He pointed out that his calculations show while the ringgit may have fallen 26 percent against the dollar since last year, it only declined 13 percent in nominal effective exchange rate terms.
Lastly, Chua argued that China's economic slowdown and its current trend towards onshoring could be another reason, as 12 percent of Malaysia's exports are headed for China.
"A recent IMF study shows that China is onshoring and capturing a greater part of the Asian tech supply chain," Chua said.
This could mean problems for not only Malaysia, but for manufacturers across South-East Asia.
Meanwhile Asia economist at Capital Economics Gareth Leather added that Malaysia and its neighbouring countries are "suffering because the Chinese are moving down the supply chain".
He also said that export data in Malaysia are "showing signs of improvement", with rises in both volume and ringgit terms in July, after its decrease in April through June.
Chua concluded the ringgit's weakness is "only helping to cushion the negative shock (of headwinds to Malaysian exports), rather than reviving exports and growth".