Schools closed due to the haze need not have their classes replaced, said Education Minister Mahdzir Khalid.
He said the measure was being taken so as not to burden the school management.
"Nevertheless, I request all teachers involved to expedite and use the school's discretion to ensure the teaching and learning at school can be solved within the existing schooling period for 2015," he said in a statement today.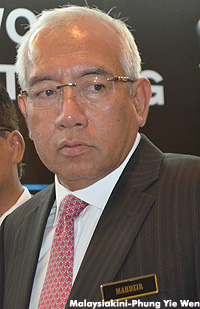 He also said if the haze persisted until the public examination, namely Ujian Pentaksiran Tingkatan Tiga (PT3) (Oct 12-15), Sijil Pelajaran Malaysia (Nov 2 until Dec 8), Sijil Tinggi Agama Malaysia (Oct 19-27) and Sijil Tinggi Persekolahan Malaysia, these examination would still be held as scheduled.
"Examinations is an indoor activity and not outdoors. Hence it will proceed even if the schools are closed due to the air pollutants index (API) exceeding 200," he said.
Mahdzir (photo) said postponement of the public examination would be the last option if the API breached 500 at the dangerous level to health and an emergency is declared by the government.
He said the Education Ministry had closed 4,561 schools from nine states, involving 2,617,432 students as the API reading breached the unhealthy and very unhealthy levels since Sept 15 until Sept 30.
According to him, the nine states involved were Selangor, Kuala Lumpur, Federal Territory, Putrjaya Federal Territory, Negeri Sembilan, Melaka, Pahang, Johor, Sarawak and Perak.
"Based on the ministry's on-going monitoring on the haze that is currently affecting the country, I would like to say this issue must to be addressed tactfully and quickly as it can bring harm to our children who are still schooling," he said.
Kemas kindergartens also closed
Separately, kindergartens under the Social Welfare Department (Kemas) will also close when schools in the surrounding areas are declared closed by the Education Ministry due to the haze.
Rural and Regional Development Minister Ismail Sabri Yaakob said in a statement today that the closure of the Kemas Kindergartens was in line with the decision of the Education Ministry.
"The matter had already been decided previously but the people had yet to know about it in general," he said.
Ismail Sabri also called on the operators of the Kemas Kindergartens to always be sensitive about announcements by the Education Ministry as the lessons were taught in classes that were not air-conditioned.
- Bernama
Related reports
Najib tells Jakarta to act on those who cause haze
API reading in Palangkaraya climbs to over 2,000