Dr Mahathir Mohamad has accused the government of deliberately turning the Bersih 4 protest into a racial issue to divert attention from the 1MDB imbroglio.
He also claimed the Najib administration organised the counter red-shirts rally, which was marred by provocative banners and racial slurs.
In an interview with The Diplomat , Mahathir, when quizzed on the controversial Sept 16 rally, replied: "That was organised by the government. They turned the Bersih demonstration into a racial thing, Chinese against Malays, which it is not."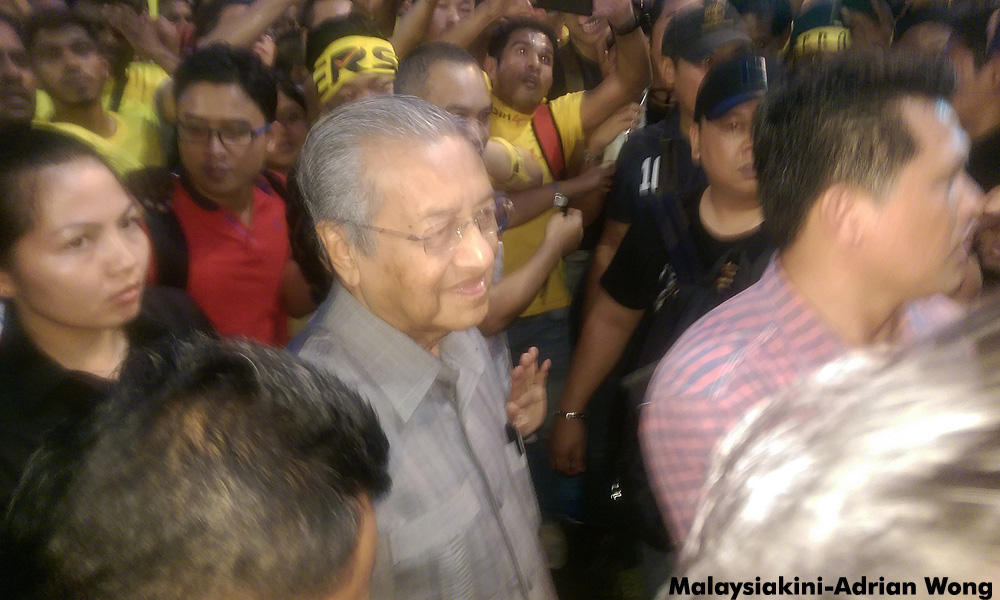 "But they have to divert the attention of the demands of Bersih on 1MDB to something else, and they made race an issue. This is very dangerous, but the government wants to get people to show support for them," he added.
The government and Umno had distanced themselves from the red-shirts rally, which was organised to defend Malay dignity despite several party leaders attending the event and delivering scathing speeches.
However, Umno secretary-general Tengku Adnan Tengku Mansor said these leaders were representing NGOs.
The incident also strained ties between Umno and MCA when Prime Minister Najib Abdul Razak expressed support for the rally, which in turn prompted an MCA division's Youth wing to sever ties with him.
Meanwhile, Mahathir defended Bersih 4 against allegations that it was racial given the large presence of Chinese Malaysians and participants photographed stomping on images of Najib and PAS president Abdul Hadi Awang.
No protests during my time
Quizzed on his double appearance at the 34-hour rally, the former premier said: "Well, that is a kind of last resort. I feel the need to express my opinion, and since I hold the same view as Bersih, with regard to the removal of the prime minister, I went."
"It's not a racial thing. The people at Bersih come from all communities. It's not a Chinese demonstration against a Malay government. It's not racist at all. So I went to express my support for what they are demanding," he added.
On whether he also supported Bersih's other demands such as electoral reforms, the right to protest and greater transparency, Mahathir said he was not opposed to those things.
"But during my time, there were no protests. There was no Bersih. People were happy to participate in elections. They didn't dispute the results of elections.
"It was only after I stepped down that there was Bersih, that (its supporters) demonstrated and made all these demands. These are things that happened after I stepped down.
"During my time people didn't complain about elections. There may be extraneous people who will always complain, but to have a general demonstration like that, there was none," he added.