For Johor crown prince Tunku Ismail Sultan Ibrahim, his state comes before Malaysia and therefore is unperturbed about the impact of his messages on social media.
"I am going to be the future Sultan of this state and my main responsibility goes towards the people of Johor. Malaysia is important to me, but Johor and JDT (state football team) will always come first.
"People deserve to know that the mess we have in the country right now, should in no way be associated to the Johor royal family.
"Over the years, we've always been strong and independent as well as resourceful," he said in an interview with sports publication Fourth Official , which was reproduced on the Southern Tigers Facebook page.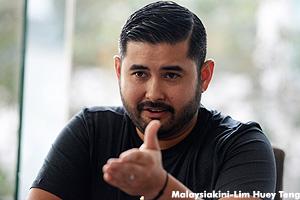 Tunku Ismail also pointed out that Johor joined the Federation of Malaya after both parties agreed to several basic terms.
"And if any one of those terms are breached, we have every right to secede from this country.
"You can accuse me of instigating state-based sentiments, but to me, I'm merely doing my duty to the people of Johor, and reminding them of the history and heritage behind this great land," said the crown prince, who apart from his father, cited Fidel Castro as his biggest idol.
Castro, he added, might have been a Communist, but the former Cuban leader earned the prince's respect because he stood for the principles he believed in.
Tunku Ismail, who is the driving force behind the state football team, is also not concerned with critics who claim that he is using sports for political mileage.
"Johor isn't just about football. It's beyond that. It's a tool for uniting people and bridging the gap of racism and segregation within society.
"So, I'm perfectly fine if people think I'm using JDT as a political tool, as that's precisely what I'm doing. I've got nothing to hide," he told the Fourth Official .
The prince also said that over the decades and centuries, the people of Johor have been encouraged to be united and committed to a cause.
"So politicians may instigate racist sentiments, but the people of Johor will always be racially united and that very unity will go on to become the backbone of this football club," he added.