The government is reportedly mulling the setting up of a mechanism to reduce the remittances by foreign workers in Malaysia to their home countries in a bid to stem the outflow of the ringgit.
Sinchew Daily in a report today quoted sources as saying that under this scheme, foreign workers would be required to pay a part of their monthly salaries into a fund to be set up by the government.
Alternatively, their salaries would be deducted directly as a remittance to the fund, in a manner similar to the Employees' Provident Fund (EPF) contributions.
"The government is aware that a large portion of the wages of foreign workers wage are sent back to their home countries, causing severe currency outflows that may affect Malaysia's economy, hence the scheme was devised.
"The government is still determining the sum or percentage of salary that foreign workers need to pay, and when (including special circumstances) the workers can make withdrawals from the fund," the source is quoted as saying.
The Chinese-language daily claimed that the National Economic Council has already discussed the scheme, and the cabinet has agreed to the scheme in principle.
Details still being studied
The rest is up to the Ministry of Home Affairs to determine the details of the scheme and how to implement it.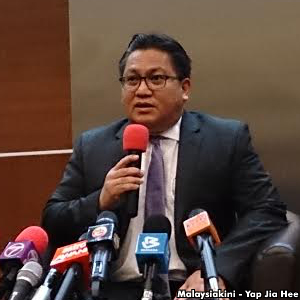 The daily also quoted Deputy Home Minister Nur Jazlan Mohamed ( photo ) as saying that he is unable to reveal the details of the scheme, as the framework and details are still being studied.
However, Nur Jazlan said, the ministry may make an announcement on it soon.
The daily also quoted then Deputy Finance Minister Ahmad Maslan as saying that between January and September last year, foreign workers remitted about RM23.07 billion out of Malaysia through some 113 million transactions.
It said a government study has found that foreign workers remit about 80 percent of their salaries back to their home country for their family's expenses.