While Penang Umno and MIC Women's wing have heaped praises on Prime Minister Najib Razak's newly unveiled Budget 2016, Parti Amanah Negara criticised it as being "lame" (tempang).
State Umno liaison chief Zainal Abidin Osman waxed about the budget being the springboard to Vision 2020.
"The rakyat should continue to place their trust on the country's leadership to implement the proposed programmes in its efforts to spur the economy and increase the well-being of the people so that we can achieve a developed nation by 2020.
"Such a budget would surely place the country's economy on the right path to achieving a high-income developed nation status," said Zainal ( left ), who is also Penang federal-state liaison chairperson.
"The government was truly concerned about the people's living cost, especially of the middle class, and have put in place several measures to help this group," he said in a statement.
This includes upgrading the minimum wage to RM1,000 from RM900 for workers in the Peninsula and RM920 from RM800 in Sabah and Sarawak.
Others measures are adding more goods under the zero-GST list like instant milk, medicines, and capping the minimum pay for civil servants at RM1,200 monthly, he added.
The middle class, dubbed the M40 group, would benefit from the tax exemptions available to ease their financial burdens, said Zainal.
Zainal Abidin lauded moves for home buyers, where 315,200 units of houses are to be built by government-linked agencies such as PR1MA, PKKT, SPNB, Felda, Felcra and Sime Darby.
MIC: Fair to Indians
His comrade in Wanita MIC cheered Najib for his budget which she said is inclusive to all communities, while focussing on each community's needs.
Mohana Muniandy, the wing's chief, said the budget is fair for the Indian community as they can now benefit from the allocations of RM100 million via Tekun, RM50 million through SME Banks and RM100 million under the programme to develop the socio-economic status of the Indian community.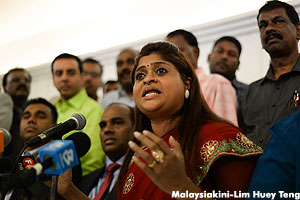 "These allocations will ease the burden of the entrepreneurs and small businesses run by the Indian community," said Mohana ( right ), in a statement.
"However, Indian women should be given a more specific allocation - about RM30 million - as Indian women make up 50 percent of the community, for example a soft grant can be set up to help and train Indian women and home makers," she urged.
"About 50 percent of the voters in the Indian community are women too, and if this request can be realised, the PM and BN government can and will give us new hope," Mohana said.
Non-affordable budget homes?
Penang Amanah communications director Zainulfaqar Yaacob was however unimpressed, and asked what the point of building so many units of houses costing RM400,000 and below was, when the target group cannot afford to buy them.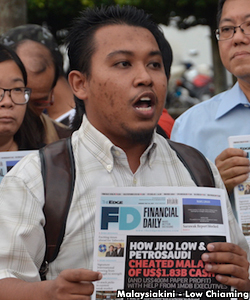 He reminded that 70 percent of loan applications to buy homes by first time buyers are rejected by the banks.
"Najib's budget is lame, as the group he targets cannot even afford to purchase houses with prices below RM400,000, even though there is a scheme for first time home buyers," said Zainulfaqar ( left ).
"In the past, the Malays were able to buy the RM400,000 affordable homes as they were supported by the banks, through Developer Interest Bearing Scheme (DIBS) and SJKP," he added.
"I don't want to ask Najib about other related issues like how many units is PR1MA planning to build in Penang since the housing programme was introduced in 2012, as none has been built here since then," Zainulfaqar said.
Instead, he urged Najib to restore the DIBS and the Housing Guarantee Scheme which were cancelled in 2014, so that more can qualify to apply for housing loans.
Related Stories:
Budget 2016 handouts patronising for natives, says Joas
Najib's plan is working - for him, not Malaysia