Prime Minister Najib Abdul Razak may have followed wrong advice that persuaded him to swing towards the right after the13th general election, says former Umno supreme council member Saifuddin Abdullah.
Saifuddin, who recently jointed PKR, said Najib is now no longer the moderate, neutral and progressive leader that he once knew him to be.
In an interview with Oriental Daily News , Saifuddin said Najib was known as a moderate leader before 13th general election, but his image changed after the GE13.
"I would not want to describe (Najib) as extreme, but he did shift to the right after the general election. He was very moderate, but now he has changed."
He said the swing may have been because Najib was hurt by the general election result that led him to describe it as a 'Chinese tsunami'.
"The hurt hasn't healed. This has been Najib's major turning point."
The newly-minted Pakatan Harapan chief secretary also listed three reasons why he decided to dump Umno - racism, an outdated political model and the party's scandals.
Saifuddin noted that although it was impossible to find a 100 percent clean party, at least a party shouldn't be burdened by any sort of serious scandal.
"1MDB and the RM2.6 billion issues are scandals are too big… that's also the fatal wound for Umno.
"Umno leaders seem to think that the 1MDB and RM2.6 billion scandals are not a problem. When whole world thinks it is a major problem but you didn't think so, then that is a really big problem."
Saifuddin said the last straw that made him start to think of quitting Umno was when Najib sacked former deputy prime minister Muhyiddin Yassin and transferred MACC officers who were investigating the scandals.
Felt very lonely in Umno
"Previously, I still gave 1MDB a chance. We must settle this problem but to settle the problem, you can't sack the investigators. This is only shows that you are interfering in the investigation process. How then to make others trust in investigations in the future?"
Saifuddin also admitted he felt very lonely when he was in Umno because his reform efforts were not welcomed by other party supreme council members and the government.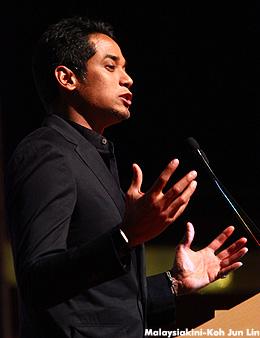 Although he was labelled as a progressive when he was in Umno, he revealed that there was no "progressive faction" in the party.
"When I was in Umno, others always labelled party leaders such as Khairy Jamaluddin ( photo ), Nur Jazlan Mohamed, Abdul Rahman Dahlan and me as the four progressive leaders."
Since he has left Umno, it is up to the public to judge whether the remaining three are progressive or not, he said.
Saifuddin added that although Khairy has a good performance record and is aware of the needs of the youth, the Umno Youth chief was not representative of BN's young leaders.
"If you look at the opposition, they have a lot of young leaders, such as Rafizi Ramli, Nurul Izzah, Tony Pua, Liew Chin Tong, Zairil Khir Johari, Mujahid Yusof Rawa, etcetera.
"We can easily see them in Parliament. Although Khairy has attracted a number of young Malay voters to Umno in GE13, he will also face problems if he is alone because the opposition has many young leaders," Saifuddin said.