Coming into power with a promise of reform, Prime Minister Najib Abdul Razak has instead unleashed a 'wave of repression' against dissenters, which has resulted in a climate of fear, said international group Human Rights Watch (HRW).
The space for public debate and free speech in Malaysia is shrinking, it said, because the government continues to resort to criminal laws to silence critics.
It said this in its 145-page report, 'Creating Culture of Fear: The Criminalisation of Peaceful Expression in Malaysia', which was released today and documents a long list of incidents of crackdown under Najib.
The report is released ahead of United States President Barack Obama's visit to Malaysia next month, with the view that the US can press for reforms on laws used to curtail freedom of expression.
"Prime Minister Najib and the Malaysian government have repeatedly broken promises to revise laws that criminalise peaceful expression.
"Instead, Malaysia has gone on a binge of prosecutions of critics," said Brad Adams, Asia director at HRW.
"The government is making a mockery of its claims to democracy and fundamental rights by treating criticism as a crime."
Vaguely-worded laws
Through in-depth interviews over a span of one year, HRW details how the Najib administration and its apparatus has used a broad range of "vaguely-worded laws" to criminalise peaceful expression and public interest discussions.
It said there was a discernable pattern of late night arrests and unjustifiable remand on civil society actors including journalists, members of academia, politicians, lawyers and activists.
The laws 'abused' for the purpose of curtailing freedom of expression, it said, include the Sedition Act, the Printing Presses and Publications Act, the Communications and Multimedia Act, the Peaceful Assembly Act and the Penal Code.
HRW said while Najib started as a reformist, by abolishing the Sedition Act and Internal Security Act, things made a marked turn after BN suffered a reduction in its share of the popular vote in the 13th general election.
Malaysian authorities contacted for comment did not respond, HRW said.
Among the most worrying examples of repression, it said, was the charging of law lecturer Azmi Sharom with sedition for expressing an academic view.
Azmi, who was charged for his remarks on the Perak constitutional crisis in 2009, also failed in his bid to challenge the constitutionality of the Sedition Act in the Federal Court.
Stop shutting down on the media
HRW also raised concern over the arrests of journalists following expose on state investment firm 1MDB.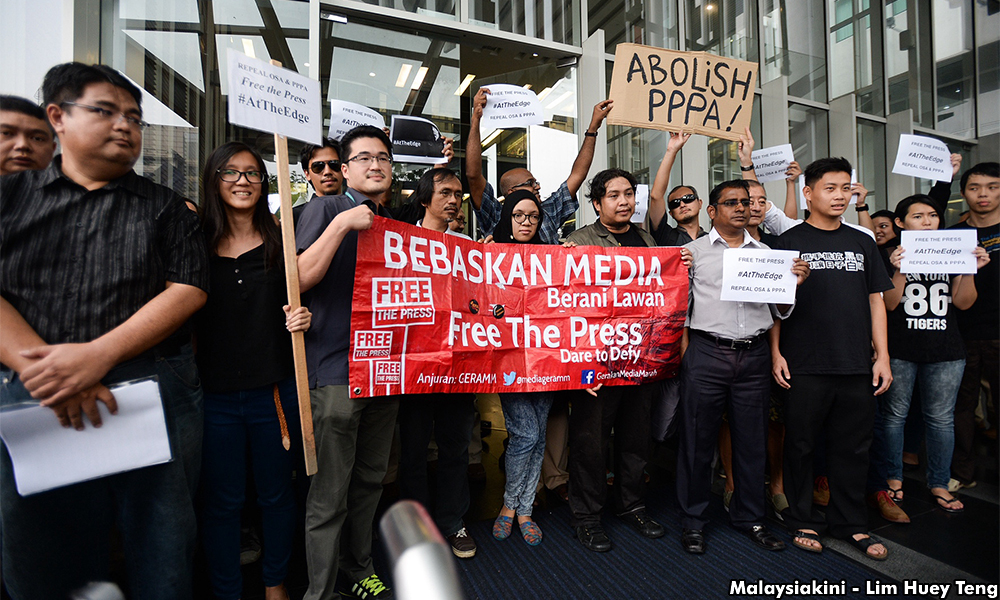 "Malaysia should stop shutting down on the media and shutting up critics," Adams said.
"These actions are increasingly noticed by the international community, and send the signal that the rule of law is undermined," he said.
HRW's recommendations for reform include:
Dropping all charges and pending investigations based on peaceful expressions or assembly, especially those involving criticism against judicial and government decisions;
A transparent plan and timeline for the repeal of amendments to laws now used to repress, in consultation with the Human Rights Commission of Malaysia (Suhakam) and civil society groups;
Establish clear policy for peaceful assembly, so participants cannot be criminalised under the Penal Code;
Instruct police to always facilitate and ensure the safety of participants of peaceful assemblies, and allow assemblies within sight and sound of the intended audience;
Stop the practice of late-night arrests, unless there is a flight risk or risk that evidence will be destroyed, and to cease arrests just to assist investigations, unless there is fear of non-compliance; and
Lift bans on website Sarawak Report and books by political cartoonist Zunar, and to grant unconditional publishing licence to Malaysiakini .