The Malaysian Anti-Corruption Commission today said it was not out to get Prime Minister Najib Abdul Razak but the issues of RM2.6 billion in his personal bank accounts and SRC International merit investigation.
MACC strategic communications director Rohaizad Yaakob said this in reference to a blog posting by Raja Petra Kamaruddin who accused the MACC of "literally getting away with murder".
"The question here would be, do they (MACC) really have a case against Prime Minister Najib Abdul Razak or is this just a game to create the perception that they are serious about combating corruption and even a man as powerful as the prime minister would not be spared the long arm of the MACC?" said Raja Petra.
Responding to this, Rohaizad said public confidence and support towards the MACC had already been on the rise due to various initiatives since 2009, long before it started probing Najib.
"MACC also stresses that MACC is "not out to get the Prime Minister" as claimed by Raja Petra Kamarudin to boost the credibility and increase the public confidence. MACC is not depending on this case to increase its public confidence.
"The issue of SRC International and RM2.6 billion are among several cases that has merit for investigation under the MACC Act 2009.
"Thus, MACC has the duty and the moral responsibility to carry a comprehensive investigation," he said in a statement.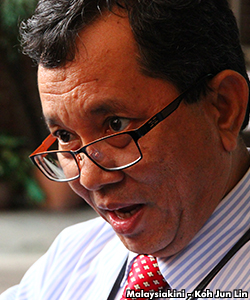 Rohaizad reiterated that the MACC, as an independent commission, carries out its investigation transparently and professionally.
He added that since the implementation of MACC's transformation programme in 2009, various strategies and approaches were instituted including engagement with stakeholders to enhance the commission's performance.
"This further increases the transparency and professionalism of the MACC's investigative process, which ultimately will increases public confidence in the Commission's ability to effectively combat corruption.
"Public confidence level increased from 31 per cent in 2009 to 68 per cent in 2014, more than one-fold increase since 2009.
"MACC's numerous achievements and successes in the last few years is a formidable proof that the Commission is heading in the right direction," he said.
Rohaizad added that the MACC is also guided by five independent oversight bodies, as set out in the MACC Act 2009.