Former Apco Malaysia boss Paul Stadlen, who allegedly managed Prime Minister Najib Abdul Razak massive press operations, is a Malaysian permanent resident, Deputy Prime Minister Ahmad Zahid Hamidi said.
"A check with the Immigration Department shows that Paul Stadlen is a permanent resident in Malaysia," Zahid said in a written parliamentary reply released yesterday.
"Thus, he is free to travel in and out as well as work in the country without a working permit, which was issued by Immigration Department," he said in his capacity as home minister.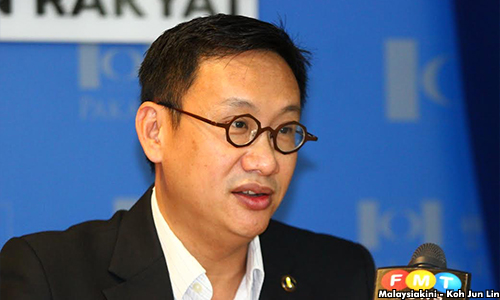 Zahid said this in reply to Wong Chen (PKR-Kelana Jaya, photo ) who asked if Stadlen had obtained a legitimate working permit.
Wong also urged the minister to name Stadlen's employer. However, Zahid did not reply on this matter.
It was reported that the British national worked as Najib's public relations expert, but this has not been confirmed by Putrajaya.
The government paid a whopping RM77 million to controversial communications consultancy giant Apco Worldwide in 2009 to manage Malaysia's image internationally.
After his role in Apco, Stadlen also worked with FBC Media, a lobby group that is linked to a vicious online campaign against Anwar by the now discredited US blogger Josh Trevino and his company, Rogue Communications.
Whistle-blower Sarawak Report has alleged that Stadlen was paid millions of ringgit to mastermind a communications policy that resulted in the PMO's speedy statement on PKR de facto leader Anwar Ibrahim's sodomy conviction on Feb 10.
DAP parliamentary leader Lim Kit Siang criticised the PMO's communications team under Stadlen for moving so fast to defend the judgment, even before the completion of the Federal Court judicial process.
Lim claimed that the PMO was privy to the outcome of the court's judgment.
The PMO in its response said it prepared two versions of the statement, taking into account both 'guilty' and 'not guilty' verdicts.