COMMENT There's something not right about Prime Minister Najib Abdul Razak's revelation on national television on Dec 8 that he did receive RM2.6 billion from donors.
In fact, it was even laughable to hear him say that the donors wanted the money to be deposited in his personal account.
"Yes, that was the donor's wish," he said. "The donation was made to me personally, that is why the account is under my name." Is Najib that naïve? He allowed the donors to dictate that despite the risk of the money being easily traced to him?
If you recall, when The Wall Street Journal (WSJ) came out with its report about the RM2.6 billion last July, even Deputy Finance Minister Ahmad Maslan responded that no prime minister would be that stupid to have such a huge amount deposited into his personal account.
And that's Ahmad Maslan, mind you.
In the interview of Dec 8 aired on TV3, Najib also said, "But don't misunderstand; the account bore my name but it was not as if it was a personal account. It just bore my name."
Now, that's confounding. So what kind of an account was it?
Najib didn't give a clear answer. All he said was that the money was not to be used as he liked. "But I have done what I felt was right with full responsibility," he added.
Very cryptic. And it didn't occur to the three wise men interviewing him – senior journalists holding high positions in Umno-owned media organisations (TV3, New Straits Times and Utusan Malaysia ) – to prod him further on that. They let him off the hook too easily.
In fact, all the answers Najib gave about the dubiously obtained money only begged more questions. But, again, the three wise men didn't ask the crucial questions.
Was Bank Negara told of RM2.6b deposit?
Najib said that at the time his personal account was created, Bank Negara was informed about it. But he didn't say if Bank Negara was informed about the RM2.6 billion deposit.
Well, the three wise men didn't ask.
Meanwhile, could Bank Negara please come out to confirm if it was indeed informed about the account? And whether it knew about the RM2.6 billion deposit?
Let us be reminded of what Barisan Nasional Backbenchers' Club chairperson Shahrir Samad said last August. He said the RM2.6 billion deposited into Najib's personal account was known to Bank Negara and the Inland Revenue Board (IRB).
"The IRB would be aware of the deposit as donations were not tax-exempt but political donations are tax-exempt, although the donors still need to pay tax," Shahrir said.
Okay. So if it was a political donation, the donors would have to pay tax. Have they done so? Let's hear from the IRB.
Will the three wise men act like proper journalists and get their media organisations to follow up on this? And also with Bank Negara?
If Bank Negara was indeed in the know about the RM2.6 billion deposit, why did it last month slap AmBank, which hosted the account, with a penalty of RM53.7 million for not complying with regulations? And why did AmBank agree to pay this hefty penalty so readily?
The three wise men did not think there might be a connection?
Coming back to the issue of the RM2.6 billion being a political donation, the question to be asked is: If it were so, why was Umno not aware of it from the start?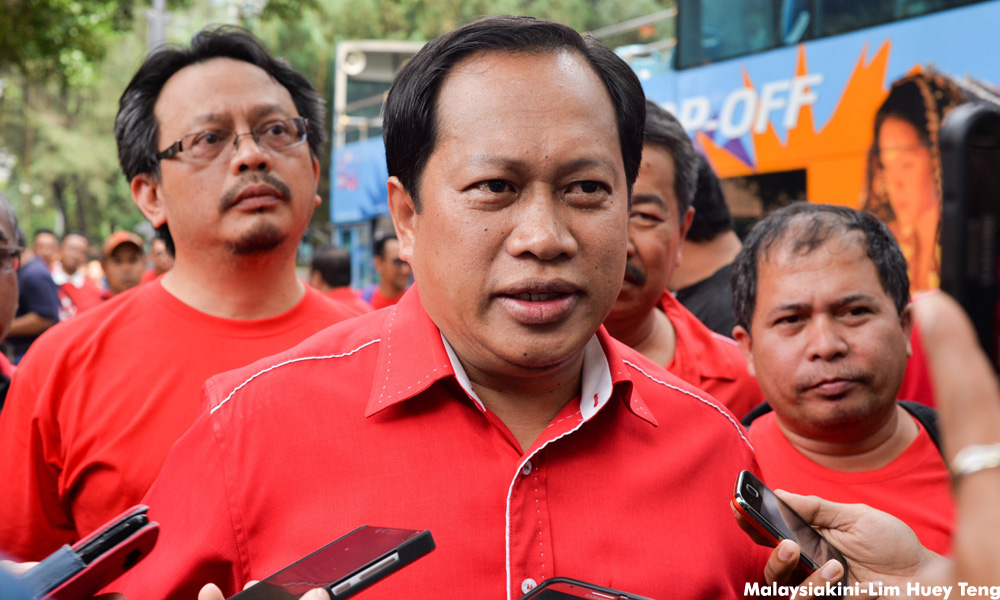 In fact, Ahmad Maslan ( photo ) said last July that Najib "told us the information (about the RM2.6 billion) was 100 percent not true".
Ah, doesn't that sound like Najib was hiding the fact about the RM2.6 billion from his own Umno people at the time?
This was, of course, subsequently corroborated by the then Umno deputy president Muhyiddin Yassin's revelation that he knew nothing about the donation.
Party leaders in the dark
So, was it a political donation after all if the party didn't know about it? I am stumped.
It was a personal donation, said Najib. It was a political donation, said Shahrir (and others who said so afterwards, including the new Deputy Prime Minister Ahmad Zahid Hamidi, who even claimed he had met the donors). What is it really?
Najib said at the interview, "I have not committed any offence, both in law and in manner."
Yeah, right. If it was all so above-board, why did he not reveal it from the start? Why did he hide it, especially from his own party? Why did it have to take an exposé from WSJ to reveal what appears to be a shady deal? And one that implies corruption, to boot?
As Najib said, the RM2.6 billion is "a donation, a gift". And even if neither he nor the donors see it as being illegal or a bribe, even if the donors "do not expect anything in return" (which, logically speaking, might be considered unbelievably stupid of them, but never mind!), nonetheless, according to Malaysian laws, if it was made personally to him, a public official, and he accepts it, he can be prosecuted for committing corruption.
Just consult our Penal Code and the Malaysian Anti-Corruption Commission Act 2009.
It doesn't matter that the giver expected nothing out of making the gift; what matters is that if the public servant accepts it, he is liable for corruption.
This is what Dr Mohd Khir Toyo was convicted of for obtaining two pieces of land and a bungalow at RM3.5 million when the original price was RM5 million. Did the party that allowed him this want something in return? That was never the issue for the judges.
Khir took, he was corrupt, he was convicted. QED.
If the RM2.6 billion donation was halal, why did Najib not admit to it immediately after WSJ broke the story?
Sure, he was insisting that the money did not come from 1Malaysia Development Bhd (1MBD) and thereby implying that the story was not completely true, but he could still have admitted that the RM2.6 billion did go into his personal account – but from another, non-governmental, source.
The fact that Najib still kept it secret until weeks later, when the cat couldn't stay in the bag any longer, speaks volumes. Why did he wait so long? That is the one important thing Najib has yet to clarify.
And so we need to keep on asking questions. Because it seems he has yet to tell us the whole truth.
In the TV3 interview, one of the three wise men asked him if his conscience was clear regarding the RM2.6 billion. He replied, "Absolutely." I wonder what he means by that.
---
KEE THUAN CHYE is the author of the new bestsellers Unbelievably Stupid! and Unbelievably Stupid Too!