Malaysia has once again attained the unenviable "honour" of being in the top five countries which registered the highest average illicit financial flows over the decade.
According to the latest annual report by Washington-based Global Financial Integrity (GFI), Malaysia had lost an accumulated amount of US$418.542 billion (RM1.8 trillion) since 2004.
In 2013 alone, Malaysia lost a total of US$48.25 billion, according to the global financial watchdog.
The illegal capital outflows, said the report, stem from tax evasion, crime, corruption, and other illicit activities.
Malaysia has also remained stagnant in its position as among the top five countries for illegal capital flight.
After being ranked second worst in 2010, it "improved" to fourth place in 2011 and remains in fifth place since 2012.
For 2013, Malaysia is once again ranked behind China, Russia, Mexico and India.
Statistics from 2013 alone found that US$1.1 trillion had flowed illicitly out of developing and emerging economies.
Asia remains the region of the developing world with the most significant volume of illicit outflows, comprising some 38.8 per cent of the developing world total over the ten years of the study.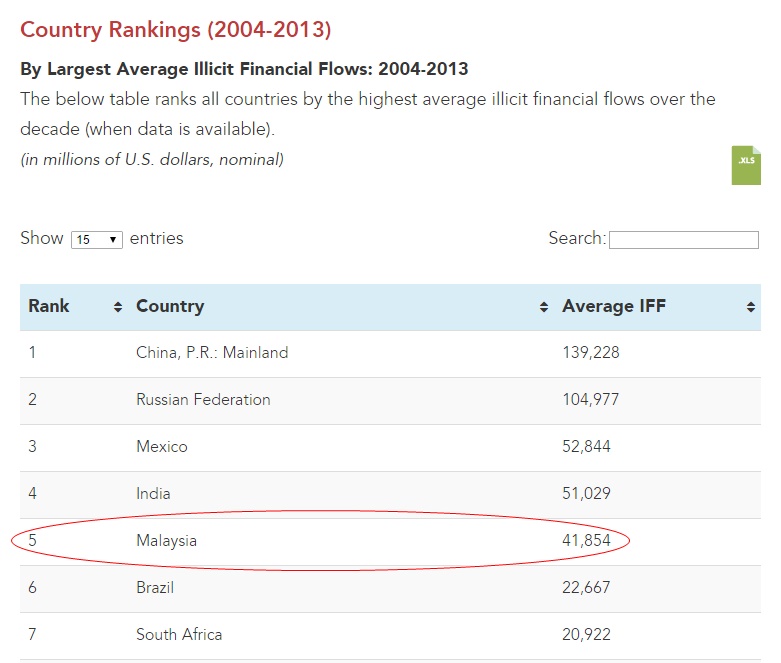 China leads the world over the 10-year period with US$1.39 trillion in illicit outflows. China also had the largest illicit outflows of any country in 2013, amounting to a staggering US$258.64 billion in just that one year.
The December 2015 report, titled 'Illicit Financial Flows from Developing Countries: 2004-2013', found that developing and emerging economies had lost US$7.8 trillion in illicit financial flows from the ten-year period, with illicit outflows increasing at an average rate of 6.5 per cent per year.
Over the 10-year time period of this study, an average of 83.4 percent of illicit financial outflows were due to the fraudulent misinvoicing of trade.
Trade misinvoicing is the intentional misstating by multinational companies of the value, quantity, or composition of goods on customs declaration forms and invoices, usually for tax evasion.
Enforce anti-money laundering laws
GFI measures illicit financial outflows using two sources, namely, the misinvoicing of trade [using the Gross Excluding Reversals (GER)] method and leakages from the balance of payments (HMN).
Among the recommendations, GFI said all countries should comply with the Financial Action Task Force Recommendations to combat money laundering and terrorist financing.
"Despite good intentions and good policy, actually stopping money laundering often comes down to enforcement.
"Regulators and law enforcement officials must strongly enforce all anti-money laundering laws and regulations already on the books," it said.
Countries and international institutions, said the watchdog, should require or support meaningful confirmation of beneficial ownership in all banking and securities accounts.
Since trade misinvoicing accounts for a substantial majority of illicit flows, curbing the problem must therefore be a major focus for policymakers around the world, it added.
"Governments should significantly boost customs enforcement by providing appropriate training and equipment to better detect the intentional misinvoicing of trade transactions.
"One particularly important tool for stopping trade misinvoicing as it happens is access to realtime, commodity-level world market pricing information."
This, said GFI, would allow customs officials to tell whether a good is significantly under or overpriced in comparison to its prevailing world market norm price.