With cooperation between Umno and PAS remaining a hot topic, Umno-owned Utusan Malaysia has afforded PAS chief Abdul Hadi Awang star treatment in the daily - which is traditionally hostile to the opposition.
The Malay daily gave the Marang MP a choice spot on the front page sidebar to highlight the PAS president's statement 'Understand the concept of PAS' advice', which was carried in full on page 12.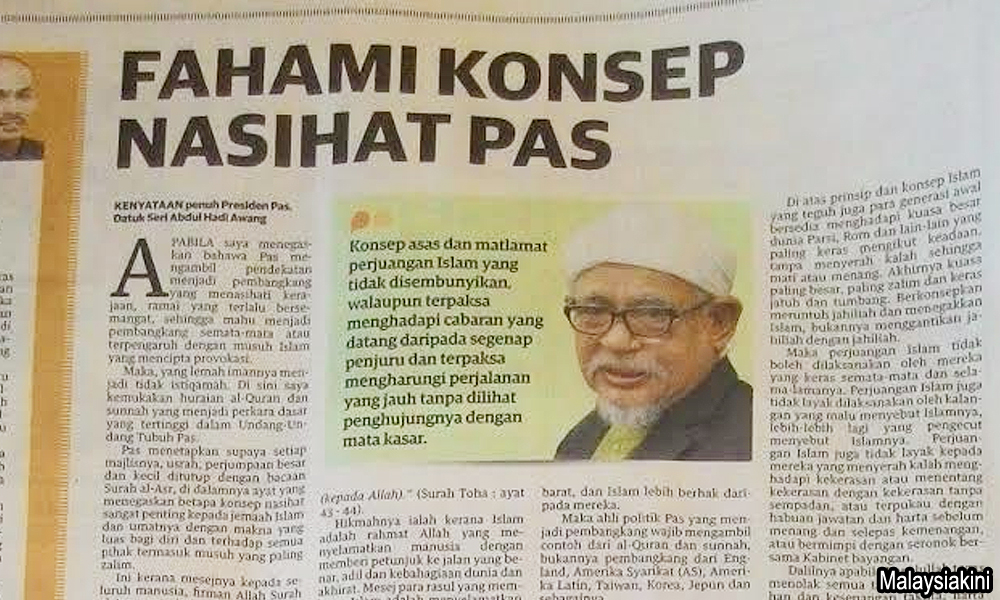 An opposition leader has rarely received such an honour from the Malay daily, much less from what has been Umno's political arch rival.
In the statement, which was also published on PAS' organ Harakahdaily yesterday, Hadi explained that PAS' advisory role to the BN government was not motivated by government posts, but by a desire to be the "saviour".
In the statement Hadi berated those who were "weak in faith" and who were not committed to Islam and wanted to "be the opposition for its own sake, or are influenced by enemies of Islam who cook up provocation".
The issue of PAS' ulama leadership being Umno-friendly became a major issue at heated muktamar earlier this year that saw the progressives annihilated from the party leadership.
It was heightened when Hadi rubbed shoulders with embattled Umno president Najib Abdul Razak at the regional conference for al-Azhar University graduates last week.
The duo graced the event, both dressed in Najib's trademark pink outfit, and were not only an attraction for photographers they but raised eyebrows nationwide.