Deputy International Trade and Industry Minister Ahmad Maslan is working hard to prove a point that having multiple jobs is a feasible option for Malaysians to earn a living.
He himself holds three jobs, Ahmad said.
"I have three jobs. MP, deputy minister, and Umno information chief. Many in Malaysia are working two jobs.
"Working hard to make an honest living," Ahmad said in a tweet today.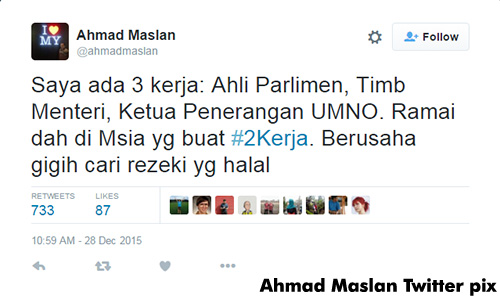 Ahmad had over the weekend become a household topic once again, after saying that Malaysians should take on two jobs to tackle the rising cost of living.
However, he defended his remarks today, saying he had been asked a question by reporters in the context of doing business online.
"Lim Guan Eng (is an) asssemblyperson, MP and (Penang) chief minister. Dr Wan Azizah Wan Ismail (is also an) assemblyperson, MP and the opposition leader.
"That's three jobs. I only suggested (those with) existing jobs (take on) online business. (Why get) angry?" the Pontian MP asked.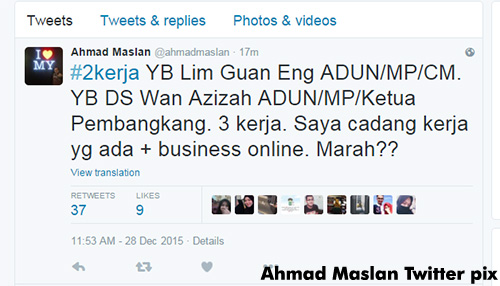 However, Ahmad's defence has not been well received and is currently being made the butt of jokes among Twitter users through the 2kerja and buat2kerja hashtags.
One Twitter user using the handle Che'gu Fix said Ahmad actually had four jobs, listing the fourth as "Umno comedian".
Even Pandan MP Rafizi Ramli joined in, joking that his second job is now to re-tweet other people's messages.
On a more serious note, Rafizi said the government should be doing something to help people so they don't have to work two jobs.
"The government should strive so that one job is enough to sustain a family. Working two jobs should be an option to get rich, not because you are forced to (work)," he said on his Twitter page.
PKR Youth chief Nik Nazmi Nik Ahmad said Ahmad needed to realise that his three jobs aren't quite the same as those working two jobs.
"Two jobs of a leader and that of the poor are very different. Why is it so hard for Ahmad to understand that?" Nik Nazmi asked.