The state investment fund 1MDB's former auditors Ernsts & Young and KPMG were terminated after asking questions about the fund's joint venture with PetroSaudi International, according to Wall Street Journal (WSJ) editor Tom Wright.
"Both Ernst & Young and KPMG were fired by Mr Najib. Both of them had questions about accounting relating to the treatment of investments relating to the 2009 PetroSaudi joint venture.
"We know this because of documents in the draft auditor-general report ," he said during an online questions-and-answers session today.
He was asked why successive audit firms have not reported any irregularities in 1MDB so far.
Ernst & Young was 1MDB's auditor since the latter started operations in 2009, but had either quit or was terminated in September 2010 without signing off any accounts.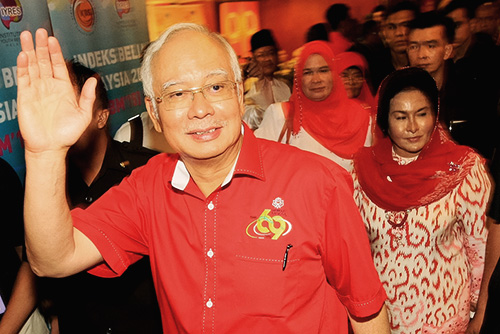 KMPG took over from Ernst & Young until December 2013, when Delloite was appointed.
Prime Minister Najib Abdul Razak ( photo ) is responsible for the appointment of 1MDB's auditors, in his capacity as finance minister. The ministry is 1MDB's only shareholder.
Najib is also the chairperson of 1MDB's board of advisers.
Wright, who was one of two authors of a report on the WSJ about 1MDB today, reiterated that Deloitte had supposedly received complaints of irregularities but could not find evidence of wrongdoing, based on 1MDB's minutes.
Meanwhile to another question, Wright said the story matters because even Najib himself recognised the need to reform political funding in Malaysia.
"Mr Najib has mentioned many times about the need for electoral reform in Malaysia. There are few rules about political spending, including the use of money from state entities.
"Why the fuss? Many people believe - Mr Najib himself has said so - that there should be changes to ensure a more robust democracy," he said, when asked why make an issue about the election-related spending in 2013 while also emphasising that the payments are legal.
Najib had pledged to reform political financing when he first took power in 2009, among other pledges to reform.
In August, amid the 1MDB scandal, he finally announced the formation of the National Consultative Committee on Political Funding, but denied that the move had anything to do with the scandal.
Wright stands by the report
In his article published in the WSJ today, Wright wrote that public entities had spent millions during the 2013 election campaign.
"The payments, while legal, represented a new milestone in Malaysia's freewheeling electoral system, according to ruling-party officials," the report said.
1MDB has dismissed the report as ' recycled unproven allegations ', while Najib had previously denied wrongdoing in the scandal.
Nevertheless, Wright has stood by the report and denies harbouring any hidden agenda against the government.
He asserted that the WSJ takes its reporting seriously, and is independent and based on the facts that it has gathered.
"We believe there are still many unanswered questions about 1MDB. Our reporting is independent and - needless to say - without any agenda," he said.
"I think our reporting on this issue, which has answered some questions and unearthed many more, does not need any further commentary," he said when asked again about 1MDB's statement by another netizen.
To another question, Wright said he has not received any threats over his reporting on 1MDB.