The MIC today expressed its disappointment with the Court of Appeals ruling on the Indira Gandhi unilateral conversion case.
"The MIC views with great discomfort the recent Court of Appeal decision on the Indira Gandhi case.
"This has once again reopened the Pandora's Box on the vulnerability of a non-Muslim parent in being able to protect the religious status of her child in the case of unilateral conversion of the child by the other spouse," MIC president S Subramaniam said in a statement today.
The appellate court on Wednesday overturned on technical grounds a High Court decision quashing the unilateral conversion of Indira's three children by her now Muslim ex-husband.
The Court ruled that matters of conversion, and whether or not someone is a Muslim, is the sole jurisdiction of the syariah courts.
Subramaniam said there had been attempts to remedy the situation in 2009, but that the attempts fizzled out.
Hurdles in moving forward
"There was an attempt to amend the Islamic Family Law (Federal Territories) Act 1984 to help resolve some of these issues.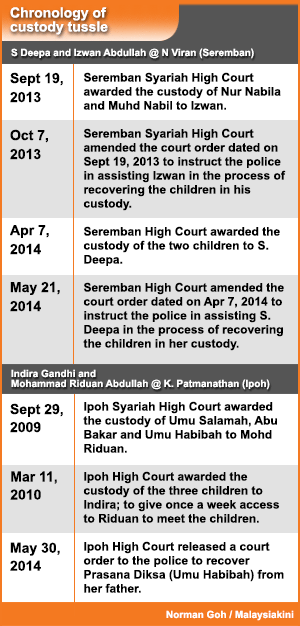 "Unfortunately there were some hurdles in moving this forward," he said without saying what the hurdles were.
He added Prime Minister Najib Abdul Razak had repeatedly stressed how the problem of unilateral conversion should be resolved and had asked for the relevant agencies to come up with a solution.
"Unfortunately the issue remains unsolved. The right of the unconverted non-Muslim mother in determining the religion of her minor child still remains vulnerable with no evident protection within our judicial system as exemplified by the recent judgment," Subramaniam said.
However, he stressed that MIC remained committed to finding a solution through the cabinet and the offices of the prime minister.